Three independent spirits face up to the realities of parenthood in London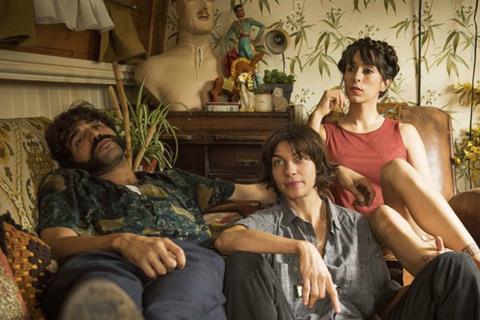 Dir/scr. Carlos Marques-Marcet. Spain, 2017, 111 mins.
After pondering the problems of long-distance love in his Goya-winning debut 10,000 Km, Spanish writer/director Carlos Marques-Marcet reteams with actors Natalia Tena and David Verdaguer to tackle stressed and stretched relationships in much closer confines. In Anchor and Hope, which follows a couple cohabiting on a cramped London canal boat with their friend-turned-sperm-donor, it's a lack of space that proves both trying and illuminating.
Anchor and Hope's protagonist's might not follow a formulaic route, but the film can't help doing just that more often than it intends
It's a film keen to buck tradition and offer its own alternative blend; a romantic comedy that champions lifestyles that don't fit the suburban mould through choice and economic necessity. That mix of the palpable and the persuasive marks every frame yet, while Anchor and Hope isn't subtle in its approach, it is nuanced in its emotional and naturalistic in its look and feel.
That balance should help the film etch out a modest festival run, though enjoying the same success as its predecessor is far from assured. After premiering in London, the feature is slated to open the Seville European Film Festival, before a Spanish theatrical release in late November.
Co-writing with first-timer Jules Nurrish, Marques-Marcet's trio of main characters embody the same overt yet mostly convincing spirit: each serves a clear purpose in the movie's journey of discovery, but comes coupled with the right amount earnestness and realism to make it work. Salsa teacher Eva (Oona Chaplin) sets the story in motion by deciding, post-funeral for her pet cat, that she wants to become a mother. Her girlfriend Kat (Tena) is visibly reluctant, especially about kissing their carefree watery life goodbye. Then her Spanish best friend Roger (Verdaguer) comes to visit, drunken chatter sparks a suggestion, and Kat wakes up to a boat a-rocking from a baby-planning frenzy.
While trouble starts brewing for the central couple, Roger is the film's surprise packet, taking to the possibility of fatherhood with unexpected aplomb. That's not the dream that Eva harbours though, faced with Kat's lack of enthusiasm, she indulges his eagerness. DIY fertilisation methods soon lead to scans and shopping trips, with Eva and Roger paving the way while Kat increasingly watches on. Eva's mother Germaine (Geraldine Chaplin, playing mother to her own daughter for the first time on screen) warns about the struggles that their unorthodox arrangement could inspire, speaking from her own commune experiences to caution about unforeseen consequences.
Anchor and Hope's protagonist's might not follow a formulaic route, but the film can't help doing just that more often than it intends. Once again, the movie mirrors its own metaphors. Within its narrative, it favours free-spirited figures living a barge-dwelling existence outside the norm, but sees them tied to the prescribed canal waterways. As a feature, it endeavours to eschew the usual rom-com trappings for a bolder, more inclusive and open-minded story, but falls prey to many of the same pitfalls that plague its conventional genre cohorts.
Still, as predictable as their tale may be, Chaplin, Tena and Verdaguer serve their characters well, with the former and latter particularly impressing with the material. Chaplin sells Eva's several layers of evolving inner tumult, while Verdaguer makes Roger's leap from ladies man to doting potential dad believable.
Marques-Marcet's sophomore outing is also a visually appeal affair; director of photography Dagmar Weaver-Madsen adds another stint lensing for the filmmaker to her resume — warm, intimate evocations of canal life and wide, telling glimpses of the surrounding natural and urban landscape. Indeed, her handsome work ensures that it's easy enough to get swept along with the film's dramas, though the 111-minute running time proves another of its heavy-handed touches.
Production companies: Lastor Media, Vennerfilm, La Panda
Sales agent: Visit Films info@visitfilms.com
Producers: Sergi Moreno, Tono Folguera
Co-producer: Sophie Venner
Executive producers: Jana Díaz-Juhl, Pau Brunet, Danielle Schleif. Axel Shalson
Screenwriters: Carlos Marques-Marcet, Jules Nurrish
Cinematographer: Dagmar Weaver-Madsen
Editors: Juliana Montañés, David Gallart, Carlos Marques-Marcet
Production designer: Tim Dickel
Costume designer: Vinyet Escobar
Composer: Merche Blasco
Main cast: Oona Chaplin, Natalia Tena, David Verdaguer, Geraldine Chaplin