SXSW Documentary Competition winner is a portrait of Paul Klee by Ken August Meyer, who suffers from the same autoimmune disease as the artist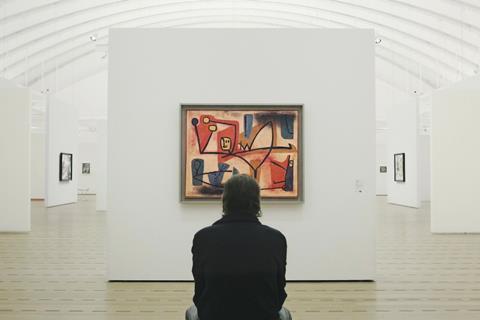 Dir: Ken August Meyer. US. 2023. 75mins
Named after the title of a painting by Swiss-born German Paul Klee, an experimental artist who suffered from the autoimmune disorder scleroderma, this thoughtful, intimate documentary is a study of Klee's work through the eyes of director Ken August Meyer, who also has the same condition. Drawing lines between past and present, creativity and faith, the incisiveness and passion of its director/subject should help it travel further after winning the SXSW Documentary Feature competition.
Seen through the lens of Meyer's condition, Klee's work takes on an undoubtedly deeper resonance
Meyer was working as an ad agency art director in Portland, Oregon when, in 2000, he was diagnosed with systemic scleroderma. He had been suffering the symptoms of this autoimmune disease — hardening skin, curling fingers — for years, and the diagnosis was a devastating event, given systemic scleroderma is likely to eventually affect major organs such as heart and lungs. As with many important moments in Meyer's life, it is recreated on-screen, with a recording Meyers' mother made of the doctor delivering the diagnosis, and a mannequin standing in for Meyer. This mannequin appears often during key recollections; scleroderma, says Meyer, makes him feel like he's turning into a living doll.
While detailing his own life since the diagnosis, Meyer also enthusiastically shares the great solace he has found in the work of Klee, a painter who studied at the Academy Of Fine Arts in Munich and lived and worked in Germany, including a stint teaching at the iconic Bauhaus, until forced back to Switzerland by the Nazi crackdown on 'degenerate art' in 1933. That same year he began to suffer the symptoms of a mysterious illness (which would be posthumously diagnosed as scleroderma) and the physical effect on his body was replicated in a seismic change in art style.
These later works — misshapen figures, thick-lined, vibrantly coloured abstracts and, in his final months, his own expressionistic form of angels — are something of an obsession for Meyer. To him, they represent a defiance, the ability to make something beautiful out of something terrible. They are also, he says, "a spiritual support group".
Only 2.5m people suffer from scleroderma worldwide, and Meyer's softly-spoken frank narration provides real insight to the pain and frustration of this unusual illness — but also the joy he finds in his wife and young daughter (seen in delightful home movies). As his condition worsens, eventually to the point where he has a (successful) lung transplant, he grapples with such questions as why him and what comes next. Sharing all of these insecurities on camera, along with unflinching medical footage— "it's not as painful as it looks" he remarks brightly following surgery to help correct his hands — Meyer, who also acts as the film's editor, is a likeable, informative and honest guide through his extreme experience.
He would say, however, that he is being guided by Klee and, seen through the lens of Meyer's condition, Klee's work takes on an undoubtedly deeper resonance. Speaking to Paul Klee's grandson Alexander while on a pilgrimage to Switzerland, Meyer learns that Klee had left a handwritten inscription in the margins of his last, unfinished piece: "Not all of the unexplained is in need of explanation." A fitting epitaph for both the artist, who died in 1940, and this perceptive film.
Production companies: New Nebula Society
International sales: Wieden + Kennedy, Danny Hernandez danny.hernandez@wk.com
Producers: Ken A Meyer, Jason Roark
Cinematography: Jason Roark
Editing: Ken A Meyer
Music: Peter Broderick