Dirs: Charlie Kaufman, Duke Johnson. US, 2015, 90 mins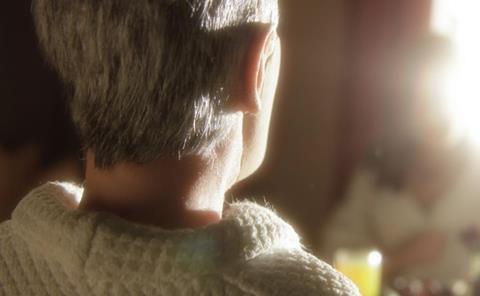 Charlie Kaufman is back – with a wistful, resonant film, a bracing, wry, honest dose of cinematic melancholy, in which an anonymous chain hotel somewhere in Cincinnati becomes an existential and emotional staging post for a depressed motivational speaker. Kaufman co-directed Anomalisa with stop-motion director Duke Johnson – for this is an animated feature, which recasts Kaufman's own 'sound play' of the same name – performed on stage in New York, LA and London in 2005 – in puppet form, with voices supplied by David Thewlis, Jennifer Jason Leigh, and Tom Noonan.
These puppets are particularly disconcerting: realistic, down to Michael's saggy paunch and genitalia, yet with the cracks between their facial plates still visible
Between 1999, when Being John Malkovich put Kaufman the writer on the radar, and Eternal Sunshine Of The Spotless Mind in 2004, when his star was so high that he began to outshine the directors of 'his' films, Kaufman was on a roll. Since then, he's been in something of stop-motion mode himself, with the commercial disappointment of his first film as director, the tricksy post-modern experiment Synecdoche, New York (2008), proving troublesome for future funding. Enter Kickstarter, which helped finance Anomalisa by contributing just over $400,000 to the film's budget (hence over a minute of donor credits in the end titles). Downbeat, but in a good sense, Anomalisa will not be an easy sell for HanWay, but it does demand to be seen – if only for some of the most realistic puppet sex scenes ever committed to film.
Based in LA, but currently in Cincinnati for a talk he's due to deliver, the film's unhappy central figure, Michael Stone – voiced in a tired Lancashire accent by David Thewlis – is the middle-aged British author of motivational business book How May I Help You Help Them?, aimed at firms keen to improve their customer satisfaction ratings (one of the film's running jokes is Michael's ill-disguised impatience with the cheery, chatty hotel staff who apply his lessons to the letter).
Bored and with time to kill, he calls up Bella, a former partner he dumped, with no explanation, ten years earlier. She agrees to meet him in the hotel, but when it becomes clear he's only interested in getting her into bed again the still fragile Bella storms out. Stone eventually gets lucky with Lisa (Jennifer Jason Leigh), the mousier of two girls from Akron who idolise the author and are in town to hear him speak.
Told thus, Anomalisa seems almost a short film, but the back-of-a-postcard storyline insulates Kaufman from the overweening ambition of Synecdoche and allows the director to focus on an imperfect man's small moment of crisis in a nowhere place, and to expand it from the inside. As with Lost In Translation, a hotel with its minibars and muzak, its frustrating electronic key cards and endless, reassuring variations on browns and beiges, becomes a limbo, a transitional space where things unravel, but also where new possibilities seem just a room-service-call away.
And if Michael – a bit of a bastard, in the final analysis – is a tough everyman to spend 90 minutes with, Lisa is a delightful creation, a woman who seems to have taken up permanent residence in Low-Self-Esteem Avenue yet, when confronted by someone who seems, whatever his motives, to take an interest in her, reveals a quiet strength. There are plenty of classic Kaufman touches too to keep the fanboys happy – including a wonderful dream sequence involving the hotel's deputy manager, a golf cart, and a call centre full of operators with identical faces.
The animated form of the film is central to its effect – puppets (remember the Heloise and Abelard marionettes from Being John Malkovich?) are especially weird when they behave like real people, Kaufman reminds us, because they tend to exaggerate the mundane by turning it into a sort of ritualistic theatre. And these puppets are particularly disconcerting: realistic, down to Michael's saggy paunch and genitalia, yet with the cracks between their facial plates still visible, so that the forehead and lower face are separated by a line at eye height, with both divided, mask-like, from the back of the head.
Less convincing is the device of having every character who is not Michael or Lisa voiced, in the same male, mid-American accent, by Tom Noonan. Yes, we get that life, and people, have become colourless for Michael, hence his fascination with the voice of the only woman who sounds different to him – but it's still a technique that probably worked better on stage, where the actors were visible, than it does here.
Carter Burwell's score is a delight, sometimes tuning cheekily into the hotel's own muzak, but in other places underlining the poignancy that is at the heart of a film which, more than Kaufman's previous work, seems to trade chords with Wes Anderson in his more humanistic, least whimsical moments. That said, there's also a fair bit of painful-to-watch awkwardness here which recalls, at times, a British strain of comedy-of-embarrassment, part Mike Leigh, part Ricky Gervais. But it's difficult to imagine Anderson, Leigh or Gervais crafting one of the most believable sex scenes we've seen on screen in recent years – how ironic that it should be acted out by puppets.
Production companies: Starburns Industry, Snoot Entertainment
International sales: HanWay Films, info@hanwayfilms.com
Producers: Rosa Tran, Duke Johnson, Charlie Kaufman, Dino Stamatopoulos
Executive producers: James A. Fino, Dan Harmon, Joe Russo II, Keith Calder, Jessica Calder, Aaron Mitchell, Kassandra Mitchell, Pandora Edmiston, David Fuchs, Simon Oré, David Rheingold, Adrian Versteegh
Screenplay: Charlie Kaufman
Cinematography: Joe Passarelli
Editor: Garret Elkins
Production designers: John Joyce, Huy Vu
Music: Carter Burwell
With the voices of: Jennifer Jason Leigh, Tom Noonan, David Thewlis