Dir. Danny Perez, 2016, USA-Canada, 94mins.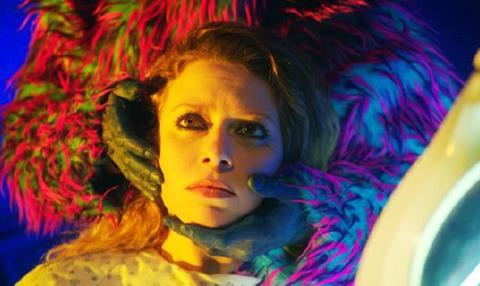 Unusual pregnancies have been a horror theme at least since Rosemary's Baby, but writer-director Danny Perez's debut feature revolves around one of the most extreme cases ever put on film – climaxing in an extraordinary birth that harks back to the gruesome mutant parturitions of the It's Alive franchise or the various offshoots of the Alien saga.
Antibirth is intentionally ramshackle and hallucinatory as storytelling
As ever, the premise affords a lead actress a showcase role and Natasha Lyonne impresses as damaged and desperate party girl Lou, who blithely smokes, drinks and consumes street drugs while her belly swells. In a witty touch, a resident mad scientist finally tells her this behaviour is why she was chosen for a frankly insane experiment … her body is poisoned to just the right degree to be a suitable host for a creature which thrives on toxins.
Living a lifestyle which makes Amy Schumer Trainwreck look like Debbie Reynolds in The Singing Nun, Lou struggles to remember what exactly happened on the evening of a rave when she suspects Gabriel (Mark Webber), drug dealer boyfriend of best pal Sadie (Chloë Sevigny), tried an experimental product on her.
She also realises that at some point during the party she got pregnant, though she refuses to see a doctor – getting health tips from a friendly vet – or moderate her behaviour. She does get curious about what's growing inside her, especially when paranoid military veteran Lorna (Meg Tilly) shows up expounding X-Files theories about 'missing time', alien implants and sinister forces experimenting with exta-terrestrial biomatter.
Lou also realises that Sadie is at least passively complicit in what happened to her, in the hope that Gabriel will make enough money off this shady deal to finance her attempt to get custody of her own abandoned child – and the fracture of their friendship is the most emotional aspect of the film.
Antibirth is intentionally ramshackle and hallucinatory as storytelling, seen through the viewpoint of characters who are mostly too stoned to concentrate – but it's also highly crafted and unsettling. The muppet-costumed attendants at a local kids' attraction, who feature in hypnotic TV commercials, become more sinister and sharper-toothed with each appearance, as the place's involvement in Gabriel's racket becomes apparent.
Lyonne is vulgar, vulnerable and grotesque throughout, peeling off alien skin patches and gamely waddling into confrontations. Sevigny and Tilly – in her first major screen role in two decades, returning perhaps to the timbre of her work in Abel Ferrara's Body Snatchers (1993) – are unusual supporting characters and add value. As befits a film which indicts men's control over women's bodies, Antibirth gives these actresses much more to work with than the usual heroines and femmes fatales of horror.
Some viewers will break with the film at about the time Lou gives birth to something that resembles the living severed head of the Creature From the Black Lagoon (followed swiftly by a logical but outrageous afterbirth). This astonishing – or ridiculous – monster action is surrounded by freeform paranoid raving from in-the-know characters, with Neville Edwards ably shouldering the most likely exposition as a particularly perverse Man in Black.
A seam of good character acting runs through the outrageous horror, and the promising Perez works hard to ground the flights of fancy in credible low-life excesses.
Production Companies: Traverse Media, Hideaway Pictures, Culmination Productions, Green-Light International, Timshel Pictures, WeatherVane Productions
International Sales: GreenLight International
Producers: David Anselmo, Justin Kelly, Natasha Lyonne, Roger M. Mayer, Cole Payne
Executive Producers: Tommy Ardolino, Lee Broda, Tim Burke, Tom Butterfield, Jeff Elliott, Anders Erden, Jeremy Loethen, Ben McConley, Chad Moore, Jeff Rice, Gregory P. Shockro, Jason Van Eman, Rob Weston
Co-Producer: Veronica Radaelli
Screenplay: Danny Perez
Cinematography: Rudolf Blahacek
Editor: Aden Bahadori
Production Designer: Peter Mihaichuk
Main Cast: Natasha Lyonne, Chloë Sevigny, Meg Tilly, Mark Webber