Dir: Miles Joris-Peyrafitte. US, 2016, 105 mins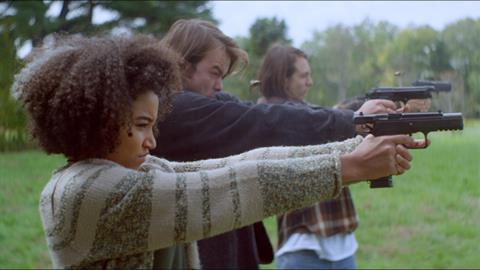 Although it's never made explicit – so little is in As You Are – the title of Miles Joris-Peyrafitte's debut feature is a clear allusion to Nirvana's song Come As You Are. This subtle but passionate essay on teenage identity and desire not only honours the Kurt Cobain school of teen spirit but brings something fresh and richly intelligent to the field of US independent cinema.
The film showcases some superb acting, not only from the three young leads but Mary Stuart Masterson, who nicely catches the mix of sensuality and fatigue
With its striking performances from a young lead trio, stylistic elegance and narrative complexity, this Sundance-premiered title - now in official selection in San Sebastian, should continue to make a mark at festivals and in niche showcases internationally – establishing director Miles Joris-Peyrafitte as a name to watch.
At once homoerotic teenage love story, counter-culture cri de coeur and teasingly unpacked investigative drama, the film begins with two unexplained images: a young man examining his facial wounds in a mirror, and an eerily detached overhead shot of two figures walking in woods, followed by the sound of a gunshot.
The story that follows takes place in an unnamed small town, at a date that remains unspecified until we hear a radio announcement of Cobain's death, tagging it as 1994. Then teenager Jack (Owen Campbell, from TV's Boardwalk Empire and The Americans) is being quizzed on video by an offscreen voice about the events that follow in flashback.
Jack is a solitary high-schooler living in a house on the edge of woods, with his presumably divorced mother Karen (Mary Stuart Masterson). Karen, with whom Jack has a tender, relaxed closeness, announces she has a new boyfriend – a security specialist (in reality, a bouncer) named Tom (Scott Cohen). One evening, Tom takes them to dinner with his son Mark (British actor Charlie Heaton, recently in Netflix hit Stranger Things), a moody rebel whose scowl from under a floppy fringe clearly makes a mark on Jack. The two instantly bond, via spliffs and a shared love of grunge music, and become inseparable – even more so when Mark and his dad move into Karen's house.
Soon, though, two things happen that change the dynamic between the boys: Tom shows his colours as an authoritarian, and the boys become increasingly close to schoolmate Sarah (Hunger Games actress Amandla Stenberg), forming a Jules et Jim threesome that's more platonic than not – up to a point.
As the offscreen interrogator – eventually seen as a police detective (John Scurti) – leans on several characters for information about an unspecified incident, our understanding of the relationships involved becomes ever more nuanced. What seems to be a budding gay relationship between the boys is never that clear-cut, partly because of Mark's elusive sexual identity, partly because of the ambivalent role played by Sarah.
The film plays teasingly between the events and the characters' partial and unreliable recollections of them, as coaxed out by the detective, who sometimes plays affable confidant, sometimes menacing interrogator. There are few broad strokes – Tom's boorish patriarchal machismo being the film's most generic aspect – but the slow unfolding of the narrative makes for a nicely tantalising package of uncertainties.
The film showcases some superb acting, not only from the three young leads – who acutely catch the unresolved fluidity of teenage desire – but also from Masterson, who nicely catches the mix of sensuality and fatigue in the part of a middle-aged woman who's delighted to be desired but increasingly pained by the trouble that comes with it. Caleb Heymann's cinematography includes some quietly virtuoso moments – notably a leitmotif of unsettling detached shots from directly overhead. And the score by the director and Patrick Higgins, taking in both dramatic noise and a delicate 'post-rock' feel built on contemplative guitar, completes a stylish, unflashily provocative, highly accomplished statement.
Production companies: Votiv Films, Heretical Reason Productions, Buffalo 8
International sales: Alma Cinema, www.almacinema.com
Producers: Brent Stiefel, Sean Patrick Burke, Joseph Mastantuono, Justin Lothrop
Screenplay: Miles Joris-Peyrafitte, Madison Harrison
Cinematography: Caleb Heymann
Production designer: Audrey Turner
Editor: Abbi Jutkowitz
Music: Miles Joris-Peyrafitte, Patrick Higgins
Main cast: Owen Campbell, Charlie Heaton, Amandla Stenberg, Mary Stuart Masterson