Adilkhan Yerzhanov's 12th feature is a return to genre form in this dark comedy thriller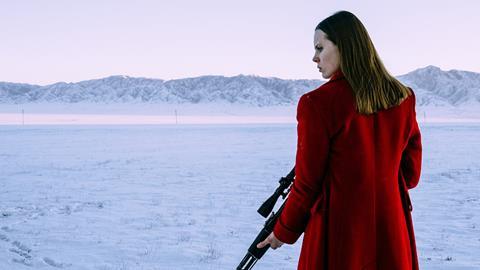 Dir/scr: Adilkhan Yerzhanov. Kazakhstan/Russia 2022. 90 mins.
Prolific, genre-oriented Kazakh writer-director Adilkhan Yerzhanov delivers yet another tense, darkly humorous thriller with Assault (Shturm) his 12th feature since his 2011 debut Realtors. Set, like most of his work, in the environs of the remote, fictional village of Karatas, this is a Western-inflected ensemble about a ragtag octet who must work collectively to end a school siege.
The direction is slick and professional
Premiering in the Big Screen competition at Rotterdam, it will likely find berths at those numerous festivals worldwide which have showcased previous, critically-esteemed Yerzhanov enterprises such as The Gentle Indifference of the World (2018), A Dark, Dark Man (2019) and Yellow Cat (2020). But while the direction is slick and professional, with ample talent on display in several key areas — some amusingly pithy dialogue notwithstanding — the script ultimately gives the impression of needing further work. It could be that Yerzhanov needs to slow down somewhat from his one-film-per-annum pace if he is to fulfil his considerable potential and establish himself on the world stage. Predictably, his next feature — Ademoka's Education — is already in post-production with a 2022 festival bow presumably on the cards.
The functionally-monikered Assault (presumably a partial nod to John Carpenter's similarly taut Assault on Precinct 13) could easily have been entitled Tazshi's Education: the protagonist of that name is a thirtyish maths teacher who is forced by extremely unlikely circumstances to make the leap from theory to practice.
For what is presumably the first time in his life, Tazshi (Azamat Nigmanov) — in the demoralisingly messy throes of a divorce from wife Lena (Aleksandra Revenko) — finds himself at the epicentre of ultra-dramatic events when six grey-masked, heavily-armed, paramilitary-attired people march blithely into his school. The plot is thus set in motion amid screenwriting developments of considerable contrivance: Tazshi happens to be enjoying an illicit mid-lesson cigarette in the toilets when the other staff and their pupils quickly flee the scene; he happens to have taken the precaution of locking his own charges into their classroom while he popped out. And if this wasn't enough, his own young son happens to be one of the endangered ten…
Initially claiming that he had ushered his pupils to safety when quizzed about the matter, Tazshi eventually confesses the truth. His overpowering feelings of guilt and shame are gradually converted into a desire to make amends — and this meek, physically unprepossessing chap duly achieves expiation and redemption through violence, in standard Hollywood action-movie tradition.
Tazshi's development of backbone provides the main narrative spine of a picture which otherwise falls disappointingly short in terms of fleshing out characters: his seven colleagues-in-arms, who include Lena, are largely more two-dimensional. That said, Berik Ajtzhanov deftly steals the show as gruff, apparently macho sports teacher Sopa, who turns out to be a surprisingly papery tiger when push comes to shove.
And while the assault itself is a bit of an anticlimax — effectively all over in five minutes with rather less bloodshed than either we or the octet anticipate — the 37-hour countdown which precedes it is accomplished in engaging, absorbing, pulse-quickening style. Time-stamps ("13 hours before the assault") divide the action into 15 chapters of varying lengths, as the eight 'assailants' painstakingly plot their strategy against the 'terrorists'. That the latter are perpetually, inexplicably mute blanks with no apparent political or financial goals means they are little more than a functional cipher of enigmatic, generic threat.
Their opponents' preparations — necessary because the nearest SWAT team (in Western terms, the cavalry) are temporarily prevented from access by snowed-in roads — involve sketching an actual-size schematic of the school into the pristine tundra surrounding their police-station HQ. Such sequences highlight Yerzhanov's unfussy compositional flair, with Aidar Sharipov's widescreen images conjuring a surreal landscape of human-dwarfing electricity pylons beneath a pearlescent January sky.
The other notable creative contribution is provided by Galymzhan Moldazanar's score — a genuine crescendo in that it steadily gains in loudness and impact over the course of the picture's brisk 90 minutes. Again underlining the debt to Carpenter (and thus to Carpenter's own model when essaying this kind of fare, Howard Hawks) the soundscape swells with electronic, percussive beats that propel the characters and audience alike towards the moment of truth. In a touch which Carpenter and Hawks would approve of, the male-only assault actually commences with sniper-rifle gunshots from the unflappably sharpshooting Lena. And even if Yerzhanov is still some way from the finished article, it's to his credit that comparisons with such genre giants can even be seriously considered.
Production company: Short Brothers, Look Film, Forest Film
International sales: Riverlet Films, info@riverletfilms.com
Producers: Alexander Plotnikov, Boris Khlebnikov, Natalia Drozd, Olga Khlasheva, Serik Abashev
Production design: Ermek Utegenov
Editing: Adilkhan Yerzhanov
Cinematography: Aidar Sharipov
Music: Galymzhan Moldanazar
Main cast: Azamat Nigmanov, Aleksandra Revenko, Berik Ajtzhanov, Nurlan Batyrov, Daniyar Alshinov, Nurbek Mukushev, Teoman Khos