Dir: Felix van Groeningen. Belgium/France. 2016. 127mins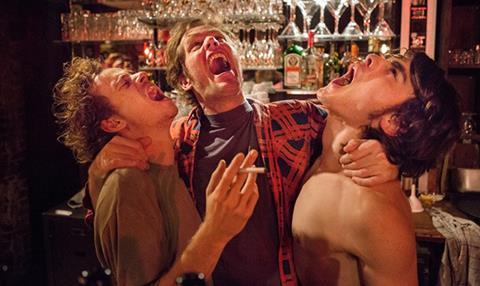 Organised around the spectacular highs and crushing lows experienced by two brothers running a Flemish rock and electro-house bar, Felix van Groeningen's jagged fraternal bromance improves on his well-received but manipulative bluegrass family melodrama The Broken Circle Breakdown (2012). The propulsive Belgica should go down a treat amid the populist vibe of the Sundance festival, where it opens the World Dramatic Competition.
Van Groeningen conveys kinetically the combined power of a ferocious beat, copious drugs, and sexual energy to endow revellers with transient communal utopianism
Infectious clubbing sequences aside, van Groeningen's fifth feature is serious enough to roll several parables into a single story. Eschewing overt preachiness, it not only highlights the dangers of rationalising anti-establishment idealism as an excuse for wall-to-wall hedonism but those run by men psychically blocked from growing up. "To everything there is a season" is Van Groeningen's implicit message to aging 24-hour-party people who should know when to quit.
The eponymous bar itself is a microcosm of Belgian society ill-prepared to adjust to the stringencies of 21st century entrepreneurship, as was the solar-panel factory workforce in 2014's Two Days, One Night. That's not to say Belgica resembles the Dardenne brothers' gruelling realist drama. As the bar – inspired by Ghent's legendary Charlatan club – is transformed by Jo (Stef Aerts) and his older brother Frank (Belgian rock star Tom Vermeir) into the city's hottest nightspot, Van Groeningen conveys kinetically the combined power of a ferocious beat, copious drugs, and sexual energy to endow revellers with transient communal utopianism.
At the start, twentysomething Jo, who lost a diseased eye in childhood, has returned to Ghent after an unspecified absence. Bankrolled by his and Frank's mother, he has opened Belgica single-handedly and is hiring bands to attract punters. Approaching his mid-thirties, Frank is a bored partner in an ailing second-hand car dealership who wants in on Jo's potentially glamorous enterprise.
More practical and streetwise than Jo, he proves himself a fixer: first mending an overflowing toilet, then bribing a licensing inspector to more than double the refurbished and expanded space's legal capacity. He also imports the Shitz, a hot punk combo led by a Dionysian singer (Boris Van Severen), as the house band. For a while, brotherly love flows. Initially furious that Frank wants to invest their savings in the bar, his wife Isabelle (Charlotte Vandermeersh) – a kennels-owner virtually bringing up their small son alone – is as thrilled as he is by Belgica's triumphant opening.
A shortage of conflict early on might blindside audiences accustomed to the eventful plotting of mainstream movies. The brothers' coke use is depicted matter-of-factly. A security chief's attempt to muscle in on the bar is ominous, but doesn't pay off for a good hour. Ditto the gregarious Frank's evolving into Belgica's figurehead and the introspective Jo's avoidance of the limelight. The brothers' true colors emerge only when the bar's glory days are over; despite his impaired vision, Jo's the one who sees the big picture.
The bar's collectivist spirit is damaged when womanising Frank begins sleeping with long-time worker Nikki (Sara de Bosschere) then humiliates her by taking up with a younger model. Jo is ruthless enough to fire Nikki after Frank brawls with her and Jo's girlfriend Marieke (Hélène De Vos), yet responsible enough to suggest to Marieke they settle down when she becomes pregnant. Her response triggers his emotional crisis.
Frank, the movie's tyrant, is way ahead of him. He commits a catalogue of appalling offences that alienate the bar's reliable bouncer (Dominique Van Malder); Isabelle after the birth of their newborn; and Jo after Frank has run the business into the ground. Frank loses his faint grip on reality in the climactic orgy. To Van Goeningen and his co-writer Arne Sierens' credit, they don't overstretch the psychological backdrop to his self-destructiveness and Jo's yearning for stability, but – involving their unseen father – it's ever-present, the elephant in the room. Vermeir and Aerts plausibly evoke their characters' suffering in radically different ways.
Belgica drags around the 100-minute mark, but it's revitalized by the formidable soundtrack scored by Ghent's Soulwax (brothers Stephen and David Dewaele). This is not simply a string of pulsating dance tunes; it includes muted strains of ambient synthetic or keyboards music – signalled by sudden diminuendos – that accompany reflective images in editor Nico Leunen's observational montages.
Such montages usually occur near the midpoints of movies, allowing them to draw breath or summarising a new state of affairs. Van Groeningen's incorporating of two of them in quick succession before Belgica has settled into a rhythm demonstrates unusual formal daring.
Production company: Menuet Producties, Pyramide Productions, Topkapi Films
International sales: The Match Factory, info@matchfactory.de
Producer: Dirk Impens
Co-producers: Francis Boespflug, Stéphane Parthenay, Arnold Heslenfeld, Laurette Schillings, Frans van Gestel
Screenplay: Arne Sierens, Felix van Groeningen
Cinematographer: Ruben Impens
Production designer: Kurt Rigolle
Costume designer: Ann Lauwerys
Editor: Nico Leunen
Music: Soulwax
Website: http://www.belgicadefilm.be/en/
Main cast: Tom Vermeir, Stef Aerts, Hélène De Vos, Charlotte Vandermeersch, Stefaan De Winter, Ben Benaouisse, Dominique Van Malder, Boris Van Severen, Sara De Bosschere