Jerzy Sladowski hops on a Russian riverboat cruise and ends up with a hugely-engaging documentary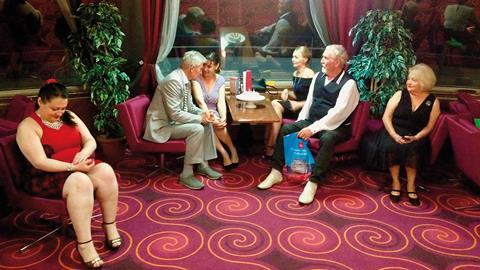 Dir. Jerzy Sladkowski. Poland/Finland/Sweden. 2020. 86 mins.
Bitter Love is a leisurely, contemplative and often sweetly funny drift down the waterways of love, longing and regret, Russian-style. An oddly-toned offering by Polish director Jerzy Sladowski – whose recent work includes 2015 IDFA prize-winner Don Juan - Bitter Love is ostensibly a documentary about a group of Russians looking for escape and romance on a riverboat cruise, although it comes across more as an ensemble character study, in which various people interact in ways that often feel more staged than strictly spontaneous. Even so, whatever dramatic tricks it is playing, Bitter Love is a hugely engaging and revealing film, and this cinematic Volga boat song should prove a popular minor-key feelgood melody as an online choice in the current CPH:DOX selection.
Generous and life-affirming
Sladowski's characters – for want of a better word – are a group of people cruising on the Volga, on the riverboat Maxim Gorky. At the start passengers, across a wide age range, are seen letting loose brightly-coloured balloons, each containing a note of their fondest wish. Some of the travellers just want to get away from it all, some are couples, but many are singles hoping that the slow ride will be a fast route to romance.
The first encounter we see sets the tone, and couldn't be more Russian. A middle-aged woman called Oksana, or Xenia – who, like many of the voyagers, has come laden with emotional baggage – talks about her sorrows to a burly older bald guy named Yura. She starts by talking about gender politics in a recent film adaptation of Anna Karenina, switches to Chekhov, and mournfully ponders, "What meaning does this life have at all?" It turns out that Yura, despite his wrestler-like demeanour, is a romantically-inclined softie who accompanies himself on guitar as he sings his own soul-searching ballads. Also on the journey are Yulya, a short elderly woman who falls for a tall affable old gent, only to find very quickly that he's not a reliable prospect; her confidante, a part-time tarot reader; and an anxious young opera singer and her pianist boyfriend, who regale the tour party with classical recitals.
Most entertaining of all are the elderly long-term couple who, after repeated on-off turmoil, might or might not finally pledge their troth on the water: Lyuba, a no-nonsense woman who worries about being too masculine, and her laid-back beau Sasha who's clearly devoted to her despite the shouting (and occasional clouting). The big problem between them, however, is Sasha's full white beard, which Lyuba is almost pathologically opposed to, and at one point Yura blunders in, counter-productively attempting to play diplomat between them on this score. When Sasha comes up with a deliberately provocative solution to the problem, the result is an absolutely priceless comic moment.
The film is entirely shipbound, apart from one interlude where the assembled party make a beach stop for some splashy larks; there are also some handsome landscapes en route, and some gasp-inducing, only slightly postcardy skies. Otherwise, most of the scenes are intimate two- or three-handed dialogues in more or less enclosed spaces on the boat, or sometimes the restaurant area. There's no reason to think that these scenes are scripted, but they are clearly set up insofar as they take place in private, with the other travellers mysteriously disappearing for the duration, for the most part neither seen nor heard in the background.
Even so, the emotional tenor of these moments appears authentic, with people tearing up at times or losing their patience with each other; and however Sladkowski made these moments happen, the participants (named only in a concluding 'thank you' list in the end credits) enter into the spirit of the thing candidly and without vanity. There's certainly a large degree of artifice involved, and manipulation – although one guesses that it's manipulation of the viewer rather than the subjects, who never come across as being exploited, compromised or made to look foolish. Bitter Love may not be the most challenging of documentaries, but it's a generous and life-affirming one – with the sweet-natured payoff that you absolutely hope it will deliver.
Production companies: Ginestra Film, Made, Ragusa Film
International sales: Ginestra Film, antonio@ginestrafilm.se
Producers: Antonio Russo Merenda, Ulla Simonen, Lucyna Kowalska
Cinematography: Wojciech Staron
Editor: Jakub Sladkowski
Music: Timo Hietala