A unique, albeit rarefied, example of hybrid cinema set on the last day of an American dive bar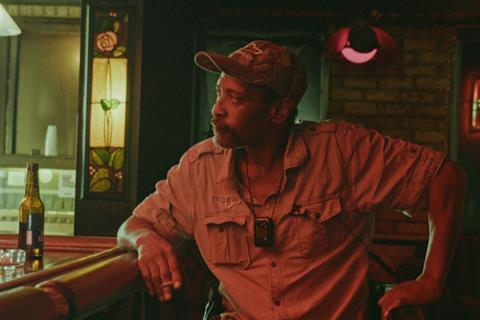 Dirs. Bill Ross IV, Turner Ross. US. 98 mins. 2020.
It's the last day of the Roaring 20's Cocktail Lounge before it shuts down for good, or so it seems, and acclaimed filmmakers Bill and Turner Ross offer a shaggy-dog quasi-documentary snapshot of several bar patrons closing out the place in late 2016. Like the Ross brothers' previous observational nonfiction portraits of places and people—a trio of New Orleans kids in Tchoupitoulas (2012); a Texas borderland town in Western (Winner, Special Jury Prize, Sundance 2015); a Brooklyn performance of Color Guard dancers in Contemporary Color (2017) —their latest project, screening in Sundance and Berlin, is another atmospheric experience that immerses the viewer into a slice of its subjects' lives. Not a lot happens, which makes the film more suited to festivals and museums than commercial exploitation. But for discerning audiences and programmers, the film is a unique, albeit rarefied example of hybrid cinema that reveals emotional truths through staged reality.
Bloody Nose, Empty Pockets feels like a relic of the New American Cinema, resembling a real-life 'Midnight Cowboy' or an Altman-esque fable
If the last three films captured broader swathes of communities, Bloody Nose, Empty Pockets is narrower in focus. Set almost entirely inside what appears to be a Las Vegas dive bar, the landscapes are less lyrical (we see a few dilapidated street signs on the outskirts of Vegas), and the fireworks, so poetic in Western, are now more muted (the drunken characters rejoice by lighting a few sparkers in the parking lot). Moreover, it's also the Ross's most constructed film – the inhabitants of the bar aren't regulars at all, but were cast by the filmmakers and met for the first time during the shoot. And the Roaring 20's itself wasn't actually closing, and is located in New Orleans, not in Las Vegas.
No matter, whether fiction, documentary or somewhere in between, the result is a loose and melancholy look at a motley crew of Americans living on the fringes of society that evokes a late '60s/early '70s vibe. Even from its first music cue (Buck Owens' 1969 country tune 'Big in Vegas') and the font of the opening credits (yellow and rounded late '60s-style), Bloody Nose, Empty Pockets feels like a relic of the New American Cinema, resembling a real-life Midnight Cowboy or an Altman-esque fable; one of the characters even looks a bit like Elliot Gould in The Long Goodbye.
Starting in the late morning and ending roughly 24 hours later, Bloody Nose, Empty Pockets gets close to its rag-tag collection of down-and-out misfits, caretaking bartenders, and grizzled outsiders as if you were sitting right alongside with them, getting a stiff drink and donuts at 11am. It's a place "where everybody knows your name," to quote the song from Cheers, but the desolation on display is a far cry from that famous TV show's idealised Boston pub.
"I ruined my life sober before I came to you," says Michael, the film's ostensible protagonist, explaining his misery to a bartender as less about alcoholism and more about himself. A 58-year-old former actor with long white-ish hair, Michael is one of the more poignant and senior patrons of the bar. There may be little chance of Michael finding redemption here but, in a surprisingly intimate scene, he pleads with a young musician not to follow his own wayward path.
The film itself unfolds in its own laidback vérité way; some new faces show up, including a transgender character, and some leave; there's lively dancing to Kool & The Gang's 'Celebration' and slow dancing to Percy Sledge's 'Come Softly to Me'; there are flirtations and some passing out. A female bartender tries to take care of her teenage son, who is seen smoking and drinking outside the bar with his friends. Occasionally, there are cutaways to what's on the TV, which early in the day broadcasts ironic bits of American Dream-style materialism, from Jeopardy to The Price Is Right, and then later in the evening clips from black-and-white movies. But we never really get to understand Michael or any of the bar's other habitués (much less their names), or what demons have put them there.
Rather, the Ross brothers' handheld approach emphasizses the real lived-in experience of those 24 hours; their long-lensed cameras focus on the characters' faces as twinkle lights blur in the background. But at the same time, they don't allow us a more penetrating look at these individuals. Instead, we get brief glimpses, stolen sorrowful glances. There's a deeply affective and emotionally raw moment, for example, when an African American veteran speaks about being "treated like shit" by society, but then admits, with tears on his face, "You can always come to this bar and feel like family."
And that, of course, is what Bloody Nose, Empty Pockets is all about—the mutual tenderness, drunken candour, and sudden solidarity that can emerge between a group of people who come together and have nothing else. When Peggy Lee's 'Is That All There Is?' (also from 1969) comes on the soundtrack at the film's end, it offers a fitting refrain about disappointment, disillusionment, and drinking in the face of adversity that powerfully resonates with the film. As she sings, "If that's all there is my friends, then let's keep dancing/Let's break out the booze and have a ball."
Production companies: Concordia Studio, Department of Motion Pictures Production, XTR
Contact: michael@thedofmp.com
Producers: Bill Ross IV, Turner Ross, Michael Gottwald, Chere Theriot
Editing: Bill Ross IV
Cinematography: Bill Ross IV, Turner Ross
Music: Casey Wayne McAllister