Lucy Brydon makes her directing debut with this intense drama about anorexia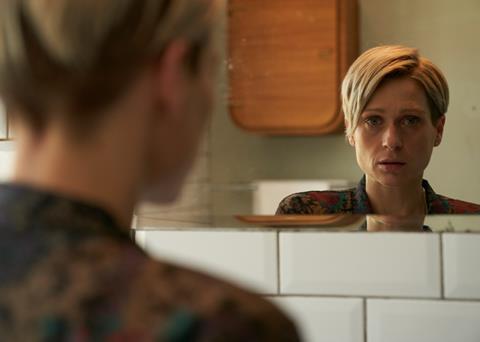 Dir/scr Lucy Brydon. UK. 2020. 92 mins
The first feature from writer and director Lucy Brydon reframes the accepted narrative on eating disorders. Usually portrayed as a condition which predominantly affects teenage girls and something which, like puberty, eventually passes, here anorexia lays waste to the life and relationships of an adult woman. Stephanie (Siân Brooke) is herself the mother of a teenager, but her lifelong battle with anorexia has left their relationship a minefield of unresolved tensions. This intimate, performance-driven drama confronts uncomfortable truths about a condition which inflicts physical, emotional and mental damage on both sufferers and their families.
The candour of approach makes for uncomfortable viewing at times
The candour of approach makes for uncomfortable viewing at times – this is not the kind of film which opts for easy reassurances or a feel-good trajectory of conquered demons. Sometimes, Body Of Water suggests, the demons get to triumph. It's a sobering, unsensational account of the disease which could strike a chord with an audience which is likely to skew towards a young to middle-aged female demographic. Further festival interest is possible, and the film might also be a good fit for a curated streaming platform.
As Stephanie leaves the treatment facility where she has spent the last seven months, her eyes are drawn back to the closing door. There's something almost longing in her gaze; certainly an acknowledgement that the real hard work – surviving in the world outside the ward – is only just beginning. It's her fourth session of treatment; Stephanie knows all too well the drill, and the failure rate.
Collected by her mother, Susan (Amanda Burton), who briskly fires an opening salvo in what becomes clear is a cyclic pattern of concern and criticism, Stephanie cautiously asks after the teenage daughter who has been living with Susan. But 15 year-old Pearl (Fabienne Piolini-Castle) is not about to forgive her mother for what she deems as weakness and failure. She sets out her boundaries and primary among them is that her mother doesn't get to see her compete in a swimming competition scheduled for the coming week.
Pearl's swimming is just one of the several references to water which filter through the story. Stephanie compulsively drinks glass after glass of tap water, hoping to reduce the need for actual food to fill her stomach. And a recurring shot of bare feet on a pebbled beach, with the sound of waves crashing out of shot, heralds the film's closing sequence. Even the score has a trickling, aqueous quality.
In the central role, Brooke, who lost weight for the film, is lit to accentuate the pained angles of her bone structure. Otherwise, the look of the film is muted, the colours washed out. It's an aesthetic decision which makes sense, particularly as the disease gradually stakes its claim over Stephanie's life once again, but it doesn't exactly scream cinema. More effective is the deft camerawork which anxiously scans Stephanie's face, registering each trigger point, each internal battle, each flicker of gratification when her illicit posting on a 'pro-ana' website draws praise and affirmation.
Production companies: Lions Den Films, Boudica Films, Bright Shadow Films
International sales: Lion's Den Films dan@lionsdenfilms.com
Producers: Dan Cleland, Jeannette Sutton
Cinematography: Darran Bragg
Editing: Erline O'Donovan-Clark
Production design: Sarah Jenneson
Music: Rory Attwell
Main cast: Siân Brooke, Amanda Burton, Fabienne Piolini-Castle, Nick Blood, Kazia Pelka, Francess Pooley