Exquisite animation from India opens Critics Week at Venice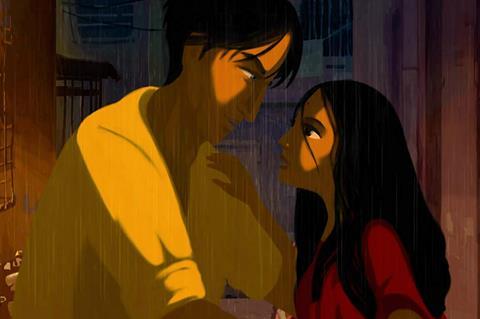 Dir/scr. Gitanjali Rao. India/France/UK/Quatar. 2019. 95 mins.
There's a story of star-crossed lovers at the centre of Bombay Rose, but viewers may be more entranced by the vibrant animation, gliding colours and resonant sounds which accompany it. Set in the slums of India's capital city Mumbai and with its heart firmly beating to the music of Bollywood, Gitankali Rao's debut feature is a stunningly realised work of animated film-making. Erratic storytelling aside, this seems set for wide festival distribution after opening Critic's Week in Venice, and could perhaps attract awards attention in the same way as 2017's The Breadwinner.
Rao is a stunning artist
There's a clunky element to the narrative here which isn't quite as fluid as Bombay Rose's nostalgia-soaked score. Rao, a self-taught animator and film-maker, takes detours into the past, onto the Bollywood big screen, through black and white and back again to colour, three separate story strands and a big-screen fantasy. It can be a lot to take on board. Technically, though, this is impressively inventive; a 3-D cel animation which is cleverly choreographed and painted frame by frame over a six-year production period.
Bombay Rose is at heart a dark story, yet it can also shine brightly, dealing with heartbreak and hope, a perilous life in the slums of Mumbai in which death is always close by but a big-screen Bollywood escapist ending is equally only a cinema ticket away. A soundtrack which merges the original music of Yoav Rosenthal with soulful classics from the likes of Caetano Veloso smooths our way through the silken story.
The central characters here are Hindu club dancer Kamala (the voice of Cycli Khare), who has fled an arranged marriage with her ailing father and her bright younger sister. Eking out an existence in Mumbai's slums, and at the mercy of her pimp, she encounters Samil (Amit Deondi) who is in an even more precarious position than her. Samil has fled Kashmir where his parents were executed and is living a tenuous life on the streets, without even the "security" of Kamala's father's failing watch repair shed. A rose connects Kamala to Samil and a third narrative skein.
This story has a marked tendency to float back and forth – Rao thinks nothing of turning Kamala's simple trip from the market where she buys jasmine into a sumptuous Mughal painting where she is transformed into a princess. Then there's Bollywood. Bombay Rose starts with a scene in a cinema where action star Raja Khan's latest action blockbuster is playing. Kamala's bright little sister, meanwhile, has befriended her ageing English teacher Mrs De Souza, a former Bollywood star who harks back to the days of Howrah Bridge.
Like all of Bombay Rose's ageing characters, Mrs De Souza (voiced by Amardeep Jha, from Devdas) has the sense of being barely there, a feeling which calls to mind some of Miyazaki's work in the nursing home where Ponyo played out, for example. With exaggerated facial features, the elderly seem to be just passing through, always on the verge of fading away. This is juxtaposed with more lively market scenes, and in particular a deliriously hypnotic drum dance at the film's climax which plays out on the seafront.
To call the animation style painterly is more of a classification than an adjective. Rao is a stunning artist and her imagery should be enough to pull the audience through her stop-start storytelling. There's an obvious comparison to Nora Twomey's The Storyteller, but there's also a lightness here and a Mumbai brightness, the sense of a happy ending being almost within the grasp of these characters, that makes Bombay Rose an easier watch. It's never quite certain whether she Rao will chose real life over a Bollywood ending. Or can both co-exist on her screen?
Production company: Les Films D'Ici, Cinestaan Film Company
International sales: C International Sales
Producers: Anand Mahindra, Rohit Khattar
Screenplay: Gitanjali Rao
Animation: Gitanjali Rao
Production design: Rupali Gatti
Editing: Gitanjali Rao
Music: Yoav Rosenthal
Main voice cast: Cycli Khare, Amit Deondi, Gargi Shitole, Makrand Deshpande