Dirs: Anthony Russo, Joe Russo. US. 2016. 147mins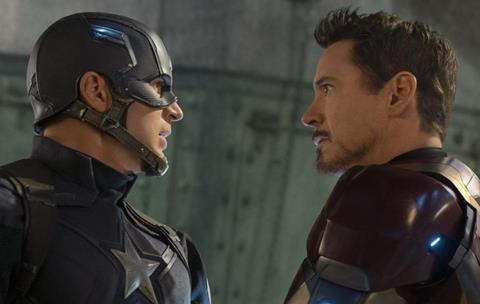 A gargantuan entertainment that finds room for a little emotional resonance underneath the sterling spectacle, Captain America: Civil War confidently juggles several Marvel superheroes, introduces a few more and even reintroduces an old favourite for a well-paced, thoroughly satisfying, completely overstuffed action-thriller.
Unresolved feelings create expectations for where this very enjoyable series of movies may go next, which is exactly how the Marvel brain trust likes it.
A little more mournful in tone than previous Marvel films, Civil War is the latest validation of the studio's investment in sharp character-driven stories and adroit actors, resulting in a blockbuster in which the plot has legitimate significance — even if, deep down, we know that this showdown between Captain America and Iron Man won't be the final word in a franchise that's already planning several more sequels.
Hitting multiple territories, including the UK, by late April before arriving in US theatres on May 6, Civil War will try to become the fourth Marvel film (after The Avengers, Avengers: Age Of Ultron and Iron Man 3) to gross more than $1 billion worldwide. Featuring Captain America, Iron Man and a few other Avengers — not to mention Spider-Man — this follow-up to 2014's Captain America: The Winter Soldier (which netted $714 million globally) seems poised to kick off the summer movie season in fabulous fashion. Strong reviews, which will probably compare it very favourably to another comic-book movie about warring superheroes, the much-maligned Batman V Superman, will only further boost Civil War's must-see status.
After the accidental death of innocent bystanders during a battle in Lagos, Nigeria, Captain America (Chris Evans) draws the ire of the world's governments, who want the Avengers to sign an accord that puts them under the jurisdiction of the United Nations. Tony Stark (Robert Downey Jr.), better known as Iron Man, thinks that's a good idea, adamant that their powers need to be checked. But Captain America disagrees, fearful of what will happen if the UN blocks the Avengers from pursuing their mission to protect earth from evil.
The tension between these two heroes intensifies when Captain's old friend Bucky Barnes (Sebastian Stan), a.k.a. the Winter Soldier, is believed to have been behind a fatal bombing of a UN security meeting. Barnes swears he's innocent, despite video evidence to the contrary, and Captain America rushes to his defence, which puts him in the crosshairs of Iron Man, Black Widow (Scarlett Johansson) and other Avengers who believe that their colleague has gone rogue.
Like The Winter Soldier, Civil War was directed by Anthony and Joe Russo and written by Christopher Markus and Stephen McFeely, and the two films share an emphasis on smart, spare narratives that boast a mystery-thriller element. In Civil War, the central question is whether the Winter Soldier was indeed behind the bombing — and if not him, then who? (Also, what does a mysterious lone operative named Zemo, played by Daniel Brühl with eerie calm, want with Barnes?)
Of course, to call this film's story "spare" might seem odd considering how many characters figure into the plot. But as opposed to the Avengers movies, in which several major superheroes need sufficient screen time to satisfy their specific fan bases, Civil War is ultimately the story of Captain America and Iron Man's ideological divide, which throws them into conflict, and so all the supporting players line up behind these two combatants. This strategy works to the film's advantage: Anthony Mackie's Falcon, Jeremy Renner's Hawkeye, Paul Bettany's Vision and others get some good lines and nice moments in the big battle scenes, but there's no question that they're merely complementing the principal protagonists' struggle.
Still, as is often the case with Marvel movies, Civil War can't help but feel weighed down by the larger franchise obligations, the filmmakers having to spend time explaining away absences — in this case, the Hulk and Thor — and making room for new characters who will expand what's commonly known as the Marvel Cinematic Universe. And so Tom Holland arrives to play Peter Parker, the nerdy Queens teen who fights crime as Spider-Man — which will set in motion a reboot of that popular character — while Chadwick Boseman comes aboard as the acrobatic Black Panther. The Russos do an impressive job administering Marvel's brand maintenance quickly and efficiently, but there remains a mild frustration that, in order to fully invest in Civil War's outcome, one needs to be familiar with about eight previous films to glean different characters' complicated history.
And yet, Civil War is an exciting, often giddy pop pleasure. Admittedly, Captain America and Iron Man's duelling viewpoints work better as an excuse for spectacular fight sequences than as insightful political commentary about the pros and cons of unilateral intervention. Even at their best, the Marvel films have never had the thoughtful tenor that highlighted director Christopher Nolan's noir-tinged Dark Knight trilogy, but Civil War compensates by drawing on our years-long connection to these likeable, nuanced superheroes. Because the Avengers are played by committed, empathetic actors who have built up a rapport over the course of numerous movies, we feel their sense of betrayal and apprehension once they start taking sides and declaring war on each other.
It's perhaps telling that when the forces of Captain America and Iron Man finally do square off, the results are more fan-boy euphoric than sombre tragedy, as the Russos revel in the sight of everybody from Spider-Man to Ant-Man (Paul Rudd) to Iron Man duking it out. However, there are dark surprises lurking in Civil War, and Evans and Downey's ability to wring pathos from their feud has just enough resonance that we can understand why these two men have turned against one another in the name of what they think is right. For Captain America, it's his loyalty to his childhood friend Barnes, who was brainwashed long ago to become a killing machine, while for Stark, it's a growing belief that he's done more harm than good with his high-tech weapons and obscene wealth.
That conflict leads to one of the most touching moments in any Marvel movie, and although Civil War keeps the proceedings mostly playful, as the film ends we recognise that relationships among the Avengers have been profoundly strained. Those unresolved feelings create expectations for where this very enjoyable series of movies may go next, which is exactly how the Marvel brain trust likes it.
Production company: Marvel Studios
Worldwide distribution: Disney, www.movies.disney.com/all-movies
Producer: Kevin Feige
Executive producers: Louis D'Esposito, Victoria Alonso, Patricia Whitcher, Nate Moore, Stan Lee
Screenplay: Christopher Markus & Stephen McFeely
Cinematography: Trent Opaloch
Production design: Owen Paterson
Editors: Jeffrey Ford, Matthew Schmidt
Music: Henry Jackman
Website: www.marvel.com/captainamerica
Main Cast: Chris Evans, Robert Downey Jr., Scarlett Johansson, Sebastian Stan, Anthony Mackie, Don Cheadle, Jeremy Renner, Chadwick Boseman, Paul Bettany, Elizabeth Olsen, Paul Rudd, Emily VanCamp, Marisa Tomei, Tom Holland, Frank Grillo, Martin Freeman, William Hurt, Daniel Brühl