Dir. Todd Haynes. UK-US. 2014. 118mins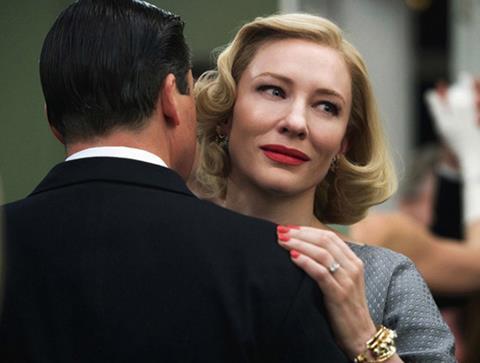 An exquisite sadness envelops Carol, a delicate romantic drama guided and dominated by a wonderfully nuanced performance from Cate Blanchett, who plays the titular 1950s woman facing an anxious crossroads. The first film from director Todd Haynes since 2007's I'm Not There, this love story between Carol and a younger, more impressionable woman (played by Rooney Mara) aches with the quiet longing of both its characters, whose attraction needs to be kept behind closed doors. It's such stately, evocative, confident filmmaking, the only reservation being that it's also a bit chilly.
This is among Blanchett's most muted work, and she deftly and slowly teases out the cracks in this proud woman's gorgeous exterior.
Playing in Competition at Cannes, Carol will be released in the US through the Weinstein Company, which is surely planning a major awards push, especially for two-time Oscar-winner Blanchett. Her star power — aided by Haynes' art-house following and Mara's rising profile — will ensure must-see status for this sure-to-be well-reviewed beauty. As for the material's lesbian subject matter, it's depicted in such a tasteful, lovely way that it's hard to imagine Carol generating much controversy on that front.
In the winter of 1952, New York City housewife Carol (Blanchett) meets department-store employee Therese (Mara), an immediate spark noticeable between them. Soon, they conspire to meet for lunch, their coy conversation barely hiding their attraction. With her divorce from stuffy businessman Harge (Kyle Chandler) imminent, Carol (who's had previous lesbian relationships) wants to take Therese away for the holidays while her husband insists on going with their young daughter to his family's house for Christmas. A bit directionless, the early-20s Therese sees in Carol not just a seductive, assured woman but also a mentor and lover.
Based on Patricia Highsmith's novel The Price Of Salt, Carol finds Haynes somewhat returning to the 1950s milieu of Far From Heaven, although his new movie doesn't go so far as to deconstruct the period's rigid conformity through the prism of a Douglas Sirk aesthetic. Instead, Carol is far subtler, and perhaps more resigned, about the harmful effects midcentury American conservatism had on those who couldn't fit into narrow societal perceptions of what was "normal" behaviour.
Carol's tale is a quietly heartbreaking one, but it's a testament to Blanchett's deeply intelligent portrayal that we don't realise that for quite some time. In Blanchett's hands, Carol always comes across as a well-coiffed, elegantly made-up, dryly witty sophisticate. Her courtship of the less-confident Therese is a collection of precise, unassuming, just vaguely haughty comments that make her romantic intentions clear without being overt. (We sense that Carol, whose husband knows about her past lesbian relationships, has learned how to speak in code in a society that finds her sexuality aberrant.)
In the past, Blanchett has sometimes amped up the acting pyrotechnics — as she did in her Oscar-nominated turn in I'm Not There channeling the young, feisty Bob Dylan — but she understands that Carol can't afford to be flashy. Consequently, this is among Blanchett's most muted work, and she deftly and slowly teases out the cracks in this proud woman's gorgeous exterior.
Haynes and Blanchett build the film around Carol's wistful, possibly fleeting romance with Therese, and as a result the other half of this love affair doesn't get fully developed. Because of Mara's star-making performances in the American remake of The Girl With The Dragon Tattoo and Side Effects — both of which saw her playing dangerous, unstable characters — Therese's innocent eyes lead one to wonder if, once again, the actress is portraying someone with a darker side. But unfortunately, Therese stays a somewhat passive character. While this approach is partly by design — the sheltered Therese has never dated a woman before — the character's brittle transition to adulthood feels a touch too remote. Unlike Blanchett, Mara can't quite articulate a world of secret thoughts and buried needs in the simplest of expressions.
Considering that Haynes has often preferred a slightly detached, intellectual approach — he last made the 2011 HBO miniseries Mildred Pierce — Carol is probably his most plainly emotional film, although it remains an icy construction, the obstacles awaiting the characters' love affair and the difficulties Carol will face during divorce proceedings presented from a remove that tamps down the poignancy. To be sure, such an effect produces a rich, endless melancholy, but it can also leave the movie feeling too restrained for its own good.
That said, the movie's most palpably expressive element is longtime Coen brothers composer Carter Burwell's score, which is devastatingly spare and sad, recalling some of the lonely grandeur of his work on the filmmakers' True Grit remake. Shot on film in Super 16 by frequent collaborator Ed Lachman, Carol effortlessly recalls a bygone era with a tart mixture of nostalgia and self-awareness: Haynes acknowledges the stylishness of the period (accentuated by Sandy Powell's excellent costumes) but also recognises the silent bigotry that constantly threatens Carol's hopes for love and happiness.
Production companies: Film4, StudioCanal, Hanway Films, Goldcrest, Dirty Films, InFilm, Number 9 Films, Killer Films, Larkhark Films Limited
International sales: HanWay Films, jls@hanwayfilms.com
Producers: Elizabeth Karlsen, Stephen Woolley, Christine Vachon
Screenplay: Phyllis Nagy (based on the novel The Price Of Salt by Patricia Highsmith)
Cinematography: Ed Lachman
Editor: Affonso Gonçalves
Production design: Judy Becker
Costume design: Sandy Powell
Music: Carter Burwell
Main cast: Cate Blanchett, Rooney Mara, Sarah Paulson, Jake Lacy, John Magaro, Cory Michael Smith, Kyle Chandler