Sony's Sundance acquisition is anchored by the exceptional young actor Jahi Di'Allo Winston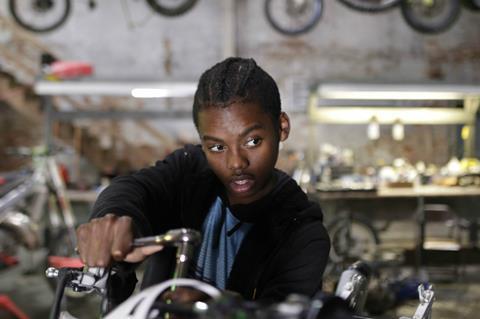 Dir. Angel Manuel Soto. US. 2019. 121 min.
Using Baltimore's famous dirt-bike riding scene as an evocative backdrop, Charm City Kings is a by turns a poignant and clichéd coming-of-age tale about growing up poor and black in an American city. While we've been down these urban streets before, from as far back as Boyz In The Hood to more recently The Hate U Give, the film's stellar breakout performance by young actor Jahi Di'Allo Winston (Queen & Slim) and confident direction from director Angel Manuel Soto (The Farm) could yield some success for the film in the US —when it's released in April by Sony Pictures Classics—and possibly international territories where the milieu may hold some curious allure.
Inspired by a critically acclaimed 2013 documentary called 12 O'Clock Boys, the film follows Winston's 'Mouse', a 14 year-old boy who relishes 'The Ride', a Sunday summertime ritual in which motorcyclists of all types take to the streets, do wild stunts, and taunt the police. "It's like the ocean," says a dreamy-eyed Mouse, before toughening up his language—"The shit's lit." Along with his two friends Lamont and Swear-ta-gawd, Mouse just wants respect in his tough neighborhood, which, riddled with drugs and violence, has taken the life of his older brother.
Will Mouse follow in the footsteps of his sibling, guided by ex-con Blax (Meek Mill) and his notorious gang, the Midnight Clique, or will he take a safer path, guided by the responsible black cop Rivers (Will Catlett), who has taken it upon himself to be his mentor? There's also a budding flirtation with a new good girl in town—who doesn't even have a cellphone!
The film starts off surprisingly innocent, combining the vivid authenticity of Baltimore's poor areas with Goonies-style banter between Mouse and his friends, with the overweight Swear-ta-god often the butt of the joke. When they first arrive at The Ride, De Soto's always roving camera captures a scene full of energy and vitality, romanticising the dirt bike riders as if seen through Mouse's envious eyes. When a fantastically kinetic chase scene breaks out between the cops and bike riders, it's easy to see why Mouse is so enthralled. (Based on the sequence, De Soto would seem comfortable directing the next installment of an action franchise.)
As the story progresses, so, too, does Mouse's conflict, with Blax representing one side, and Rivers on the other. And as is the case with so many kids from neglected areas, it should come as little surprise which direction he chooses—with tragic results.
At two hours, Charm City Kings has its lagging moments, and some of the narrative panders to the audience, with one particularly false note involving a surprise rescue of the three kids. There are other issues with the script: the two father figures Blax and Rivers are more symbols than well-developed characters. And in his feature debut, hip-hop artist Meek Mill doesn't communicate the heavy burdens that Blax carries with him.
But as the young star of Charm City Kings, Jahi Di'Allo Winston sure does. For such a young man, he has an incredibly naturalistic and charismatic screen presence. From the way he walks, slightly bobbing his head, to his killer smile, to channeling a range of emotions, from anger to confusion to sadness, the young actor is a real discovery. In fact, the scenes between he and If Beale Street Could Talk's Teyonah Parris as his mother, are the film's most effective and heartbreaking. Sure, the motorcycle wheelies are cool, but there's nothing more intense than the raw emotion that comes from a mother trying to protect her child.
Production Companies: Overbrook Entertainment, Sony Pictures Classics
International sales: Sony Pictures Releasing International
Producers: Caleeb Pinkett, Clarence Hammond, Marc Bienstock
Screenplay: Sherman Payne
Production Design: Scott Dougan
Editor: Luis Carballar
Cinematography: Katelin Arizmendi
Music: Alex Somers
Main cast: Jahi Di'Allo Winston, Meek Mill, Will Catlett, Teyonah Parris, Donielle Tremaine Hansley, Kezii Curtis