An Indian teen experiences a horrific night with her boyfriend and his aggressive boss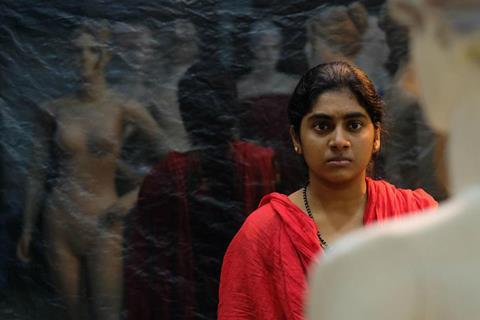 Dir: Sanal Kumar Sasidharan. India. 2019. 116mins
Keralan Indian director Sanal Kumar Sasidharan put his audiences through the mill with the chilling road-horror-movie Sexy Durga, which picked up the main Hivos Tiger award at Rotterdam in 2017. The same doom-laden tension and the same premise – a male-driven car that becomes a prison for a vulnerable young woman and her partner – mark his sombre follow-up, which charts a village girl's abduction and rape in harrowing detail, before veering into a strange dream territory tinged with folk tale elements in its final third.
As grimy realism and unrelenting sick tension give way to something more dreamlike and symbolic, Chola becomes more problematic in its male director's depiction of the female experience
Chola is that rare thing, a regional Indian arthouse film made by a director with a distinctive personal style and vision who is working outside of the country's commercial cinema system. It's also, for much of its running time, a tough, anguished, gut-wrenching ride; a fact that is likely to limit its audience to ultra-resilient cineastes.
Two men wait by a jeep on a road somewhere up in the rain and clouds of Kerala's hill country. One (Akhil Vishwanath), who is never named in the film, is a bit of a jester, as thin as a rake and in nervous perpetual motion; the other (Joju George, who also produced the film), called 'Boss' by the first, is a hefty brute with a t-shirt bearing the words EAT EAT EAT, who moves only reluctantly, but exudes taciturn menace. They're waiting for Janaki (Nimisha Sajayan), the thin guy's sweetheart, who eventually emerges from the mist and is persuaded by her coaxing, joshing paramour to get into the jeep, though she's worried about the presence of his boss – which clearly hadn't been mentioned when the boyfriend promised to take her on a little jaunt.
What follows is a descent ­– literally, as the jeep is seen from above, winding down tortuous mountain roads – from the wild, rainswept natural world of the hill country to a dirt-choked seaport city and back again. Sajayan is riveting as a simple country girl whose wide-eyed amazement at seeing so much that is new to her – skyscrapers, shopping malls with escalators, the sea – is always accompanied by apprehension at being here alone with an attentive but empty-headed boyfriend and the surly other that he kowtows to. When night begins to fall and Janaki is told that it's too late to return to the village, where her mother has heard about her elopement, the knot of fear in the girl's stomach begins to turn to terror.
There's an inevitability in what happens next that is invisible to Janaki's hopeless, gangly suitor, present only as an awful premonition to her, but as clear to the audience as the cockroaches on the grimy wall of the 'Paradise Lodge', the seedy hotel where the trio end up. By now, we're steeled for a decent into utter hell. In a way, that's what we get, but it soon comes with a change of register as the three differently damned souls leave the city behind, enter the jungle and, abandoning the jeep, enter a strange, dank forest realm of waterfalls, deep rock pools and fast-running streams.
It's here, as grimy realism and unrelenting sick tension give way to something more dreamlike and symbolic, that Chola becomes a more problematic in its male director's depiction of the female experience. Questions of victims' attachments to their abusers are raised in sequences that see Janaki suddenly reject her boyfriend and follow the man who assaulted her through what seems to be his natural watery realm, sometimes pushing him away but always following in the end, with human language now reduced to grunts and yells and wails. The unsettling sound design and a surging, metallic electronic soundtrack by Russian composer Sergey Cheremisinov have already announced this other-wordly shift, which is also charted by first-time DoP Ajith Aacharya's fine camerawork and framing – all about skin and surface and colour in the city scenes, more meditative and aloof in the hill country segments.
What's lacking in this three-person chamber drama is the social and religious context that would put Janaki's experience into a wider context. The director has talked about being inspired by news stories from his native Kerala (where the entire movies is shot) such as the 1996 Suryanelli rape case, which involved the abduction and systematic abuse of a 16-year-old schoolgirl.
But you would have to be both well-informed about the local context and a subtle lateral thinker to apply such extra-textual episodes to what we see on screen in the film's slippery, aqueous final scenes.Does the brutish boss represent the traditional values that India is re-embracing, while her flighty boyfriend with his neo-hippy look and casual, jokey manner is the country's Western-influenced youth, powerless to turn back the repressive, patriarchal tide? Who knows. Too much is left unexplained at the end of Chola for this ambitious, ambiguous fusion of social and magic realism not to feel like a botched attempt at feminist solidarity that, in its portrait of a resigned victim who develops a zombie-like attachment to her abuser, inadvertently plays into the hands of forces it sets out to oppose.
Production company: Appu Pathu Pappu Production House
International sales: Good Move Media, chan@goodmovemedia.com
Producer: Joju George
Screenplay: K V Manikandan, Sanal Kumar Sasidharan
Production design: Dileepdaz
Editing: Sanal Kumar Sasidharan
Cinematography: Ajith Aacharya
Music: Basil C J, Sergey Cheremisinov
Main cast: Joju George, Nimisha Sajayan, Akhil Viswanath