Dir. Peter Travis. 2016. UK. 107mins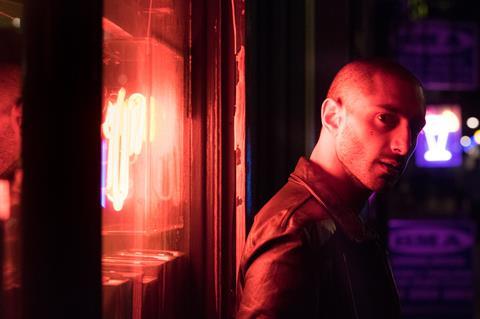 After vividly etched, profile-raising supporting roles in Nightcrawler and Jason Bourne, Riz Ahmed steps back up to leading man status in City Of Tiny Lights playing a cynical Chandleresque private eye on the mean streets of multicultural London. The screen version of Patrick Neate's 2006 novel attempts to bring a fresh perspective to the traditional film noir thriller but winds up falling back on all the old familiar cliches from world weary narration to flirtatious banter that falls far below the Bogart-Bacall benchmark.
The problem with City Of Tiny Lights is a plot that is all too easy to second guess and stretches of dialogue which fail to sparkle
The result is a sluggish, workmanlike affair that could struggle theatrically, especially with the competition on offer from the abundance of flawed detectives readily available on television channels.
Ahmed, due a significant career boost at Christmas when Rogue One is released, delivers wry, nicely understated performance as private eye Tommy Akhtar is the best thing about City Of Tiny Lights. He handles the sarcastic dialogue with ease and his shaven head and fighter's swagger make him look tough enough to withstand the numerous beatings and blows to his head. Akhtar is a booze-swilling, bleary-eyed cynic haunted by the ghosts of a tragic event in his youth. Was there ever a happy go lucky, teetotal private eye? Frequent flashbacks to 1997 fill in the details of the past; friendships betrayed, a life lost and a love denied.
The contemporary story begins when Tommy is visited by prostitute Melody (Cush Jumbo) who wants him to investigate the disappearance of flatmate and fellow prostitute Natasha. The trail leads him to a cheap hotel and the corpse of a prominent Pakistani businessman. As the plot thickens to touch upon corrupt property deals, radical Islam and the heavy hand of international security agencies,
Tommy is also reunited with Michelle (Billie Piper), the girl he lost all those years ago. He encounters boyhood pal Haafiz "Lovely" Ansari (James Floyd) who is now a successful businessman and pillar of the community. As the busy plot unfolds, past and present are gradually united.
The problem with City Of Tiny Lights is a plot that is all too easy to second guess and stretches of dialogue which fail to sparkle. "I wouldn't have you down as a sensitive type," Akhtar is told. " Only when I shave, " he replies. There's just no snap or bite in the exchanges. Attempts to bring something fresh to the genre - an Asian lead character, his cricket-loving Bangladeshi-born dad (Roshan Seth), the activities of sinister Islamic clerics - all wind up feeling like window dressing. The film seems much more at home with Akhtar being clubbed over the head by hired thugs in the best Robert Mitchum tradition than it ever does with reflecting the complexities of modern Britain.
Secondary characters feel underdeveloped or ill-served by the material with Billie Piper's glamorous Michelle and Screen's 2012 Star Of Tomorrow James Floyd as "Lovely" given little opportunity to show what they can really do. Vincent Regan is a strange casting choice, labouring with an American accent as sinister Agent Schaefter.
Continuing to shift between film and television, City Of Tiny Lights marks another eclectic credit for director Pete Travis in the afterglow of Dredd (2012). He opts for the obvious rain-swept streets and shadowy city nights to lend atmosphere to the tale but doesn't succeed in making it feel distinctive. In the end, you suspect City Of Tiny Lights might well have worked better as a pilot for a television series in which Tommy Akhtar and modern London could have been more fully explored.
Production companies: NDF International, Sixteen Films
International sales: Protagonist Pictures fred@protagonistpictures.com
Producers: Ado Yoshizaki Cassuto, Rebecca O'Brien
Screenplay: Patrick Neate from his novel
Cinematography: Felix Wiedemann
Editor: David Charap
Production designer: Victor Molero
Music: Ruth Barrett
Main cast: Riz Ahmed, James Floyd, Cush Jumbo, Billie Piper, Roshan Seth