Pixar travels to the Land of the Dead for a Mexico-set adventure story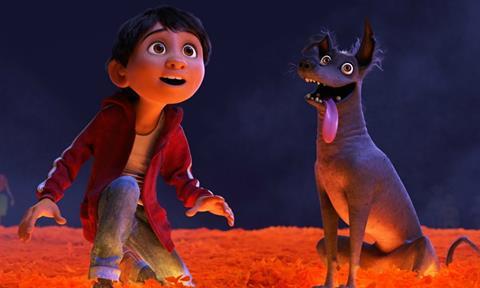 Dir: Lee Unkrich. US. 2017. 105mins
With a fetching soundtrack and an array of visual delights in search of a comparably imaginative narrative, Coco is sweet and sentimental without being particularly engaging. The latest from Pixar finds the formerly groundbreaking animation company immersing itself in the culture and customs of Mexico, telling a story about the importance of family and the dangers of forgetting one's history. But in its zeal to pay proper respect to Mexican traditions and to avoid any hint of appropriation, Coco fails to give as much attention to its perfunctory characters or mediocre plotting, resulting in a family film which is reverent rather than inspired.
The filmmakers' clear appreciation of Mexican traditions is commendable
Opening November 22 in the US, this Disney release represents a commercial gamble, considering it features neither huge stars nor a recognisable Pixar franchise. Coco's worst-case scenario would be 2015's poorly received The Good Dinosaur, which only grossed about $332 million worldwide, but decent word-of-mouth should save this new film from a similar fate.
Coco revolves around Miguel (voiced by Anthony Gonzalez), a 12 year-old boy who dreams of being a singer and guitarist, despite the fact that his family outlawed music after his great-great-grandfather left his wife and baby to become a troubadour. Idolising Ernesto de la Cruz (voiced by Benjamin Bratt), a heartthrob and acclaimed singer-songwriter of an earlier age, Miguel begins to suspect that he might be that very black-sheep ancestor. This suspicion is almost as shocking as Miguel's discovery that, by strumming de la Cruz's fabled guitar, he has transported himself to the Land of the Dead, where he must make contact with the legendary crooner or be trapped there permanently.
Director Lee Unkrich (who previously helmed Toy Story 3) and his creative team did extensive research into Mexican culture — specifically, the tradition of Día de Muertos (or Day of the Dead), which is an annual celebration and commemoration of deceased family members. Coco is set around that holiday, and the film's original songs and traditional Mexican music — which draw from marimba, mariachi and cumbia — are vibrant and emotional, creating a sonic tapestry as intricate as production designer Harley Jessup's lavish, colourful depiction of the Land of the Dead as a kaleidoscopic metropolis.
Pixar films often dive deep into specific ecosystems — whether it's the ocean or the inner workings of the human brain — to construct clever, organic stories that derive from those vivid environments. Unfortunately, that doesn't happen in Coco, which has such strong texture and sense of place but a static, generic going-on-a-quest narrative structure.
Part of the problem is that whiny Miguel isn't nearly as resourceful, funny or empathetic as the studio's best protagonists. He eventually meets Hector (voiced by Gael García Bernal), a shifty ghost who swears he is friends with de la Cruz and can introduce the boy to him. But their search is hampered by the characters' bland bickering, which doesn't have much comic gusto. Plus, Coco lacks the emotional sophistication of Pixar's finest films — leading one to suspect that the movie will play best with younger viewers — and telegraphs a couple of plot twists long before they occur.
Still, the filmmakers' clear appreciation of Mexican traditions is commendable — especially the incorporation of Mexican spirit animals within the Land of the Dead, which lend the proceedings a surreal, dreamlike quality. In its early days, Pixar raised the bar for animation artistry, and it's cheering to see the company continue to challenge itself by telling stories that embrace inclusiveness and cultural diversity. But it's harder to applaud the worthiness of that ambition when Coco takes few narrative risks, peddling a simplistic story in which our hero learns pat lessons while failing to undergo any sort of significant inner journey.
Of the ensemble, Bernal is the most charming, doing what he can to elevate Hector into an endearing fool who eventually reveals unexpected depth. As the strutting de la Cruz, who is just as famous in the Land of the Dead as he was when he was alive, Bratt overdoes the pomposity, which alerts the audience that maybe he is not deserving of Miguel's adoration. Gonzalez has a lovely voice when he's plaintively singing the film's acoustic-guitar ballads, effortlessly suggesting his character's burgeoning talent. But like Coco itself, one waits for Miguel to fully live up to his potential.
Co-director: Adrian Molina
Production company: Pixar Animations Studios
Worldwide distribution: Disney, www.movies.disney.com
Producer: Darla K. Anderson
Executive producer: John Lasseter
Screenplay: Adrian Molina and Matthew Aldrich, original story by Lee Unkrich, Jason Katz, Matthew Aldrich and Adrian Molina
Cinematography: Matt Aspbury (director of photography-camera) and Danielle Feinberg (director of photography-lighting)
Production design: Harley Jessup
Editor: Steve Bloom
Music: Michael Giacchino
Website: www.movies.disney.com/coco
Main Voice Cast: Anthony Gonzalez, Gael García Bernal, Benjamin Bratt, Alanna Ubach, Renée Victor, Jaime Camil, Gabriel Iglesias, Ana Ofelia Murguía, Edward James Olmos