Malaga opens with Jorge Coira's high-speed thriller starring Luis Tosar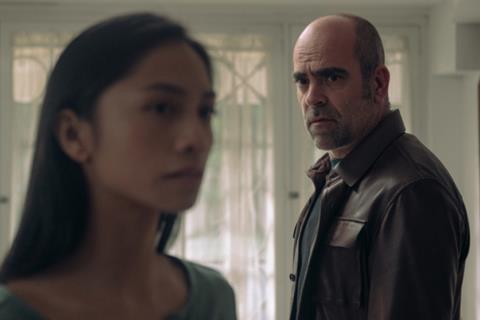 Dir: Jorge Coira. Spain. 2022. 105 mins.
A high-speed, intense, and slickly packaged ride through the dark and nasty tunnels of state power, Jorge Coira's second feature Code Emperor is an all-too rare Spanish attempt to marry genre to real-life politics. The results of these attempts can be gripping, as shown by Alberto Rodríguez's Smoke And Mirrors and Rodrigo Sorogoyen's The Realm, and though a lack of stylistic flair and nuance leaves Coira's more directly thriller-ish Malaga festival opener trailing behind these examples, it still more than delivers on the dramatic and performance levels, with most of the weight falling on the shoulders of the ever-reliable Luis Tosar. Carefully calibrated for that contemporary, international tech feel, Code Emperor is currently on release in Spain theatrically via A Contracorrente before a move to Netflix globally.
There's enough plot and character here for a miniseries
Code Emperor opens with Filipina maid Wendy (Alexandra Masangkay) being rescued from a mugging by secret serviceman Juan (Tosar), whose true motive is to bug the home of Wendy's employers, suspected of dealing in dirty bombs. Heroically trying to save the world is just one part of Juan's job, however: following the instructions of his avuncular boss Galán (the much-loved Miguel Rellán, here cleverly cast against type), Juan is also employed to cover up career-threatening scandals, which he does rather elegantly when famous footballer Fernando (Aron Piper) beats up his girlfriend.
In the film's most interesting strand, Juan also receives a salary for creating question marks around the reputations of politicians which can then be used to blackmail them (the film assumes that blackmail is the true currency of power). Said politico is the suspiciously clean and well-groomed Angel Gonzalez (Denís Gómez), while the bait is Marta (Georgina Amorós). The media's involvement in all this is encapsulated by reporter Charo (María Botto), desperate for her next scoop and also in Juan's extensive contacts list.
A lot of what Juan does is distinctly unheroic, and Spanish viewers will be quick to pick up on similarities to a real-life case currently in the news, featuring a police commissioner who stands accused of all manner of state-sanctioned criminal activity. There's a moral ambiguity running through Juan's profession—and, indeed, his life, because beyond his job, this lone wolf doesn't really have much of one—something that the script, by veteran Jorge Guerricaechevarría, smartly exploits at every turn. In amongst all the shifting truths that make up Juan's world, it is his tightly wound self-control that defines the film's tone.
Wendy is one of the few people that Juan has met who isn't pretending to be someone else. Drawn to her somewhat stereotypical innocence, Juan will start to wonder whether, despite having created plenty of fake online identities, his own identity isn't fake. Indeed, Code Emperor peddles the notion, perhaps reassuring to viewers whose noses are being rubbed daily in the political mess, that even those who, like Juan, don't believe in such old-fashioned notions as "the truth" can be persuaded that there is such a thing, and that it matters.
The final speech by Galan to Juan offers a brief introductory class in institutional corruption that sums things up very nicely. It all feels like a plausible enough riff of the way that power operates through the favours that the state/finance/media triangle perform for each other, while a lot of the information the viewer needs to make sense of a fast-moving but coherent plotline is delivered via computer screens, using an Internet that works implausibly well.
There's enough plot and character here for a miniseries, and despite sometimes feeling cramped and rushed, Code Emperor handles it well. Detours to Budapest and Panama - to remind us how international crime is, whilst upping potential audiences in those territories – feel surplus to requirements.
Tosar is guaranteed to bring a touch of quality to each of the seemingly hundreds of projects he is attached to, but here, the great actor is, as he persuasively delivers lie after lie, a good actor. In Spain at the moment, nobody does the tough/tender combination better, and nobody can march through a room quite as threateningly. Viewers may raise a Tosar-sized eyebrow at the older man/younger woman relationship with Wendy, but their circumstances make it credible. Other performances are solid, with actors finding nuance in characters whose time onscreen is inevitably limited.
Humour is in short supply but there is wit. Sandra Sánchez's editing satisfyingly stays one beat ahead of the viewer, but the electrical hums and drones of the score are laid on too thickly and can become a distraction through some scenes.
Production companies: Vaca Films, Proyecto Emperador AIE, Playtime, Netflix
Worldwide distribution: Netflix
Producers: Emma Lustres, Borja Pena
Screenplay: Jorge Guerricaechevarría
Editing: Sandra Sánchez
Cinematography: Pablo Rosso
Art direction: Marta Blasco
Music: Xavi Font, Elba Fernández
Main Cast: Luis Tosar, Alexandra Masangkay, Georgina Amorós, Denís Gómez, Laura Domínguez, María Botto, Aron Piper, Fran Lareu, Miguel Rellán, Santi Prego