Same as it ever was, wonderfully so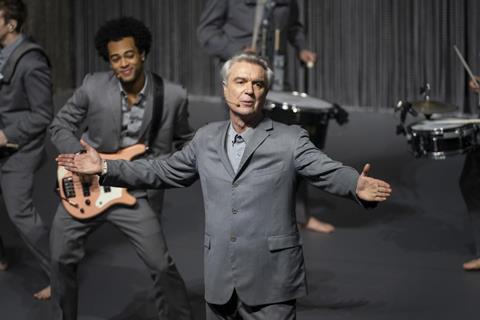 Dir. Spike Lee. US. 2020. 105 mins.
Stop Making Sense, Jonathan Demme's film of the 1983 Talking Heads concerts at the Hollywood Pantages Theatre, is routinely described as one of the best music documentaries ever made, with some justification. Many of those who attended David Byrne's American Utopia, which toured globally in 2018 before coming to rest in a limited run on Broadway, have described it as one of the best music performances ever staged. Will Spike Lee's film of former Talking Heads frontman Byrne's show at the Hudson Theatre join Stop Making Sense in the pantheon of greatest ever rock docs? (They share some of the same songs.) What even makes a great rock doc?
Byrne pops around the stage like a man rejuvenated, or perhaps one who has never aged
It turns out David Byrne's American Utopia is one, a fitting companion to Demme's film (the late director is acknowledged in the end credits). And we're still no closer to defining the ingredients for greatness, although David Byrne may be one of them. At 68, he's still fiercely innovative, fizzing with intensity and unpredictability and the unexpected in this HBO doc which has found a sympathetic director in Spike Lee. There's the music, but there's also a message: vote. Also, and more powerfully, via Janelle Monae's protest anthem 'What You Talmbout' (also performed throughout the tour), that Black Lives Matter. Before, after, and during that vote. That's where you can see the hand of Spike Lee best through Byrne's calibrated routines.
There's a whole world of conceptual thought distilled into a single stage with chain curtains, carefully created lighting and a tight, joyful, percussion-heavy band which literally dances through the show without ever being restrained by a lead or a plug. As with Stop Making Sense, the film starts on stage with Byrne alone and expands. Unlike that front-facing film, however, Lee's documentary is a more delicate dance of shades thrown by lighting: it moves around with Byrne and his player-dancers, with rear and bird's eye views.
You miss the Heads of course (doesn't everyone miss the Talking Heads?). But their music is here: 'Road To Nowhere', 'Burning Down The House', 'Once In A Lifetime', 'Slippery People', 'This Must Be The Place' (all five feature on Demme's film, and the two versions are different but equal). Brian Eno worked extensively with the Talking Heads on the album 'Remain In Light' which formed the backbone of the concerts for Demme's film, and much of his later material with Byrne is included on American Utopia (including 'Everybody's Coming To My House'). The anthemic floss which is 'Lazy', written by Byrne with X-press2, shows off the range of the American Utopia band to perfection and Lee's camera moves rapidly with them as they shuffle in formation in their bare feet across the stage. It sees to bounce with the band during 'Once In A Lifetime'. They're practiced now with this show, but that hasn't leached spontaneity or joy from their performances.
Lee has to contend intitually with the sheer quantity and levels of grey on stage – from the suits to the shadows to the spotlight, from green-grey, to slate-grey and anywhere in between. The eye tires, despite the sophistication. American Utopia moves towards colour, however, as the show progresses, and Lee's sensibilities most closely chime with Byrne's when it comes to the more political agitprop of 'Talmbout', when the director brings on family members of the black men and women killed by police to hold their photos to the cameras. It was a barnstorming moment on the stage show, and it's the same in the film, with Byrne's convictions in no doubt.
When Talking Heads fell apart, there was much chatter about Byrne's ego, and a clue to this might lie in the clunky official title: David Byrne's American Utopia. Could that be part of what makes a great rock doc too? The power and ability to stamp your vision completely over proceedings – yet still work with big characters like Eno, and now Lee, to nail down and frame all those ideas? Byrne pops around the stage like a man rejuvenated, or perhaps one who has never aged, without as much as breaking a sweat. How wonderful for it all to be the same as it ever was.
Production companies: Radical Media, 40 Acres And A Mule, FilmWorks Inc, Todomundo
International distribution: HBO (US); Universal (international).
Producers: David Byrne, Spike Lee
Cinematography: Ellen Kuras
Editor: Adam Gough
Featuring: David Byrne, Gustavo Di Dalva, Daniel Freedman, Chris Giarmo, Tim Keiper, Tendayi Kuumba, Karl Mansfield, Mauro Refosco, Stephane San Juan, Andie Swan, Bobby Wooten III