Arnaud Desplechin's French-language adaptation of Philip Roth's 1990 novel is 'accomplished French filmmaking the way arthouse denizens like it'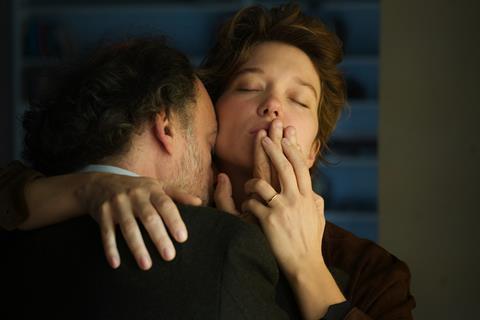 Dir: Arnaud Desplechin. France. 2021. 105mins
Talky as can be yet unfailingly cinematic, and shot entirely during lockdown, Arnaud Desplechin's French-language adaptation of Philip Roth's snatches-of-conversation 1990 novel 'Deception' touches and entertains. It also preemptively mocks and diffuses any brewing accusations of sexism or misogyny — terms that seem unavoidable of late where Roth is concerned — by providing an intimate framework for several of France's most interesting actresses to shine. This zig-zagging emotionally perceptive tale of an American writer abroad and the women he has bedded — or perhaps merely written about having bedded — is accomplished French filmmaking the way arthouse denizens like it.
Chamber theatre made constantly engaging through camera placement, shifting lighting, splendid editing and recognisable actors who melt into their roles
Desplechin and co-screenwriter Julie Peyr have found a more than honorable way to put on screen Roth's glee in blurring the line between reality and fiction. (Previous screen transfers haven't always been successful.) Chapter headings delineate the stages of a romance that seems to cover at least four seasons but reverberates further than that.
The film — based on material Desplechin has wanted to bring to the screen for three decades, a prospect to which Roth gave his blessing — is a form of chamber theatre made constantly engaging through camera placement (Norma Desmond would have envied the ratio of close-ups), shifting lighting, splendid editing and recognisable actors who melt into their roles.
Lea Seydoux appears in four films in Cannes this year; this venture premieres in the new Cannes Premiere sidebar. She does first-class work as the 33-year-old nameless and unhappily-married British mistress of 59 year-old married American writer Philip (Denis Podalydes, terrific, in his fourth outing with Desplechin.) It's 1987 and Philip is living in London with his wife, working in a separate studio apartment and obsessing about the place of Jews in the world when not revelling in the physical and conversational attributes of his gentile lover.
Philip (only he and former sweetheart Rosalie, — a playfully wrenching turn by Emmanuelle Devos — have names) is unapologetically an American Jewish male of his generation, who relishes real life observations as grist for his creative mill. Seen from the present moment his approach to writing is refreshingly devoid of self-censorship or second-guessing about the zeitgeist. (This was before the fall of the Berlin wall or the terror attacks of September 11, 2001 and way before #MeToo.)
The thrill in hearing these characters talk (and talk and talk…) is that they're interested in each other, reasonably self-aware and have senses of humour despite the hurdles of navigating the more selfish corners of romance. Philip's natural habitat is in his imagination via his typewriter, in his office. When his wife (Anouk Grinberg, excellent) confronts him about the affair she has reason to believe he's conducting, he argues that it's all in her head because other women are all in his head. Indeed.
The film not only acknowledges but revels in its theatricality. While the gambit may seem jarring at first, starting on the famous bare-bones stage of Paris' storied Bouffes du Nord theatre before branching out into more natural settings, the enterprise swiftly lays claim to the pleasures of good acting captured by an attentive, near-conspiratorial camera.
Faithful to the original text in translation it's salutary to see a guy who may be a jerk but who's true to what he believes to be an artist's stock in trade: storytelling. Feelings get hurt and loyal companions get betrayed. Multiple scenes are memorable for their humour or emotional intensity, especially the sequence ('Chapter IX') in which Philip is on trial in an all-female courtroom for supposedly hating women and sleeping with his students. As the prosecuting attorney, Saadia Bentaieb is a scathingly sharp source of vicarious delight.
Desplechin's longtime composer Gregoire Hetzel provides a wonderfully unobtrusive score. And there's an on-going sense of all-around mastery. If you don't care for the proceedings that's one thing but it's almost impossible to fault the spare yet rich execution.
Production company: Why Not productions
International Sales: Wild Bunch sales@wildbunch.eu
Producer: Pascal Caucheteux
Screenplay: Arnaud Desplechin, Julie Peyr based on 'Deception' by Philip Roth
Production Design: Toma Baqueni
Editor: Laurence Briaud
Cinematography: Yorick Le Saux
Music: Gregoire Hetzel
Main cast: Denis Podalydes, Lea Seydoux, Anouk Grinberg, Emmanuelle Devos, Rebecca Marder, Madalina Constantin, Saadia Bentaieb