Dir. Mick Jackson. UK, 2016, 110 mins.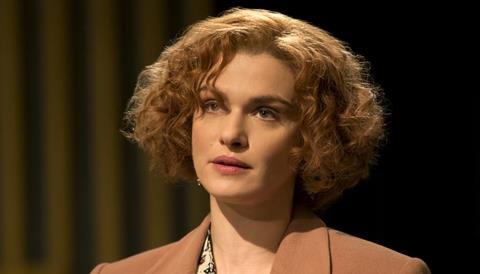 Denial assembles a strong, under-stated legal jigsaw puzzle, put together for the screen by David Hare, which shirks cinematic grandstanding to relay the famous British case of the 1990s which put a Holocaust denier on the stand.
Jackson's film is best enjoyed for the quality of the performances and the typical richness of Hare's screenplay
With Rachel Weisz playing the American academic Deborah Lipstadt, who was sued for libel in the UK by the controversial historian David Irving (Timothy Spall), Denial is a refined, almost dry chamber piece – a fact which will divide audiences. Yet director Mick Jackson remains steadfast in his sombre approach to Hare's satisfyingly rich screenplay, confident in its power and that of the assembled cast. Strong performances across the board include Andrew Scott as the prickly British solicitor Anthony Julius and Tom Wilkinson as barrister Richard Rampton.
The nature of the labyrinthine justice system in the UK may see Denial play better at home, where the case is well-known – as is the fact that Britain is a haven for those seeking justice in the libel courts due to its placing the burden of proof on the defendant. Hare's screenplay also sets Weisz's character – and strident Queens accent and mannerisms – at a distance from her legal team, meaning the heroine of the case doesn't get her day in court, nor do the survivors of the Holocaust.
Instead, Hare and Jackson take a nuts-and-bolts approach to the case as the team gets to grips with Irving's lies – Tom Wilkinson's barrister is more Rumpole of the Bailey than Alan Dershowitz. There is no speechifying in this film as the team approaches the Royal Courts of Justice and tries to figure out what will win this case and silence Irving for good.
Now completely discredited and with a criminal record, it is worth remembering that at the time, Irving's words were given much air – there was still a fuzzy notion of what constituted freedom of speech and opinion back then which the case silenced for good. As is pointed out, he was the one to sue Lipstadt and her publisher Penguin Books, so Lipstadt was not the one looking to curtail freedom of speech. Even the British Jewish community wasn't in favour of fighting the case.
Jackson's film is best enjoyed for the quality of the performances and the typical richness of Hare's screenplay – Denial is both the subject of the film and what Lipstadt must do to win the case by failing to appear on the stand. In its subject matter, it can't help but be reminiscent of Hare's adaptation of The Reader, but that self-same source material means Weisz's chances to shine are limited.
The film is split between almost-cursory sequences in Atlanta, where Lipstadt works as a history professor – she is baited by Irving, who crashes her lecture – and a wet, grey London where the bulk of the action takes place. When Deborah is sued by Irving after her book refers to him as a Holocaust denier, she decides to fight the case in Britain alongside her publisher. This risks giving Irving the oxygen of publicity, and she must place her trust in Julius, who successfully (and possibly concurrently) fought Princess Diana's divorce.
Andrew Scott delivers Julius as the dry, intelligent character he is; it's a satisfyingly layered performance. Wilkinson gets to add a twinkle to his portrayal of Richard Rampton, a boozy-barrister with a fiercely intelligent mind. Weisz, always fine, is often restricted to an accent and a frizzy perm, a reluctant bystander in these proceedings. Spall's Irving, meanwhile, is viewed solely through the prism of Deborah's perspective. As a bridge to the actual court case, Deborah and her team visit Auschwitz, which has become the focus of the trial, and director Mick Jackson takes a sensitive approach throughout.
It's probably not far from the truth to suggest this film was made on a modest budget from a production standpoint, its riches in the cast and a fine score from Howard Shore. Technically, it never quite transcends its limitations, and one of Denial's ultimate commercial restrictions may be the small-screen nature of its visual scope.
Production companies: Krasnoff/Foster Entertainment, Showbox Films, Participant Media, BBC Films
International sales: Cornerstone films
Producers: Gary Foster, Russ Krasnoff
Executive producers: Jeff Skoll, Jonathan King, Christine Langan, Joe Oppenheimer, Andrew Karpen, Guy Heeley.
Screenplay: David Hare, based on Denial: Holocaust History on Trial, by Deborah E. Lipstadt
Cinematography: Haris Zambarloukos.
Production design: Andrew McAlpine
Music: Howard Shore
Editor: Justine Wright.
Main cast: Rachel Weisz, Tom Wilkinson, Timothy Spall, Andrew Scott, Jack Lowden, Caren Pistorius, Alex Jennings.