Joaquin Phoenix stars as quadriplegic cartoonist John Callahan in Gus Van Sant's unconventional biopic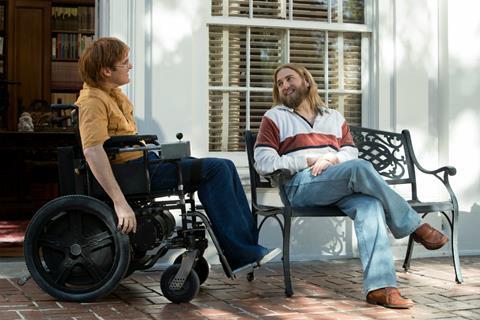 Dir/scr: Gus Van Sant. US. 2018. 114mins
Don't Worry, He Won't Get Far On Foot pays tribute to John Callahan, a cartoonist, alcoholic and quadriplegic who died in 2010 at the age of 59, and what's most touching about this intimate film is the modesty by which it honours its subject. Resisting the urge to bathe Callahan's life in superlatives, director Gus Van Sant's exceptionally warm biopic instead simply focuses on the humanness of his struggles. As a result, the movie radiates considerable compassion, sensitively addressing issues including addiction, recovery and forgiveness. Joaquin Phoenix's raw, wiry performance never strives for greatness, which only makes it all the more affecting.
Van Sant uses restraint to highlight the difficult, incremental work his protagonist must endure
Premiering at Sundance and set for a May 11 release in the States, Don't Worry will attract discerning viewers in speciality markets. Powered by a cast that includes Phoenix, Jonah Hill, Rooney Mara and Jack Black, this Amazon Studios production should enjoy sizable visibility even if general audiences won't be that familiar with Callahan.
Spanning more than a decade, and sometimes somersaulting around chronologically, the film fashions a mosaic-like portrait of Callahan (Phoenix) who, in the early 1970s, was paralyzed from the chest down in a car crash. A shiftless young man mostly interested in hunting down his next drink, Callahan is emotionally shattered by the accident, battling both his addiction and his radical new circumstances. The mental side of his recovery is overseen by Donnie (Hill), a hippie-ish sponsor who works to free Callahan of the pain that led him to drinking in the first place.
Based on Callahan's memoir, Don't Worry has seemingly predictable contours for a biopic, celebrating a flawed man who overcame extreme obstacles to find his artistic voice. But although Van Sant spends a little time dramatizing how Callahan developed his sardonic side to become a cartoonist after his accident, the movie fights to avoid genre conventions, instead pinpointing the particulars of this man's road to sobriety.
As a result, some patience is required to get comfortable with Van Sant's technique. Crucial moments occur out of order — or off screen entirely — and Van Sant (who also wrote the screenplay) sometimes digresses, devoting a little time to Callahan's love affair with a Swedish therapist named Annu (Mara), as well as his search for his birth mother (who gave him up for adoption). The audience receives bits and pieces of the man's experiences, but Van Sant doesn't worry about drawing all these disparate threads together.
And yet, the cumulative effect has its own kind of sneaky power, presenting us with snapshots of a life rather than presumptuously assuming that a straightforward narrative arc would somehow be more illuminating. As an added bonus, the film proves to be a richer ensemble piece than the typical biopic, especially as it develops the friendship between Callahan and Donnie and creates a crucial character in the form of the drunk driver (Black) who altered Callahan's destiny.
As Donnie explains, the breakthroughs that Callahan will experience regarding his sobriety will be minor and hard-earned, and Van Sant takes that advice in shaping his film. Working with cinematographer Christopher Blauvelt and composer Danny Elfman, the director uses restraint to highlight the difficult, incremental work his protagonist must endure — whether for his body or his addiction — to regain control over his life. There are no grand monologues or big moments, and the excessive sentimentality that can sometimes detract from his other films (Sea Of Trees being an especially irksome recent example) is largely absent.
In that spirit, Van Sant encourages his cast to give unfussy, in-the-moment performances, and Phoenix's skill at portraying oddballs and outcasts is well-served. Callahan is a joker laid low by crippling alcoholism, and the Oscar-nominated actor gives his character's addiction a queasy desperation. After the accident, Callahan must learn to live in an imprisoning body while still grappling with alcoholism, and Phoenix's mixture of dark humour and pathos has a welcome lack of pretence.
Hill is especially good as Donnie, whose long beard and flowing hair make him look like a charlatan but whose offhand intensity forces Callahan to dig deeper to unlock the roots of his addiction. Black perhaps over-does his character's party-boy behaviour, but his return later in the film is enormously moving. As for Mara, she's little more than a cipher. A more conventional film would have devoted much of its running time to Callahan and Annu's romance, but in Don't Worry it's only one piece in the puzzle — an afterthought that does demonstrate the limitations of Van Sant's narrative strategy.
Production companies: Iconoclast, Anonymous Content
US distribution: Amazon Studios, www.facebook.com/amazonstudios
International sales: FilmNation, Rcarney@filmnation.com
Producers: Charles-Marie Anthonioz, Mourad Belkeddar, Steve Golin, Nicolas Lhermitte
Executive producer: Brett J. Cranford
Screenplay: Gus Van Sant, story by John Callahan and Gus Van Sant & Jack Gibson & William Andrew Eatman, based on the book by John Callahan
Cinematography: Christopher Blauvelt
Production design: Jahmin Assa
Editors: Gus Van Sant, David Marks
Music: Danny Elfman
Website: www.dontworry.movie
Main Cast: Joaquin Phoenix, Jonah Hill, Rooney Mara, Jack Black, Mark Webber, Udo Kier, Carrie Brownstein, Beth Ditto, Kim Gordon