Counter-culture is alive in new documentary on the changing tides at New York's iconic Chelsea Hotel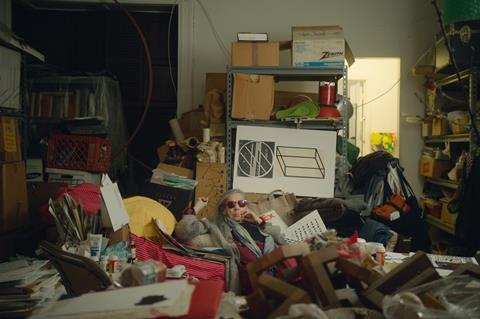 Dirs/scr: Maya Duverdier, Amélie van Elmbt. Belgium/France/Netherlands/Sweden/US. 2022. 80 mins.
"I've always liked to be where the big guys were," says a young Patti Smith to camera in the opening minutes of Maya Duverdier and Amélie van Elmbt's engaging film about the winds of change blowing through New York's iconic Chelsea Hotel. Patti certainly had a pick of big guys and gals to choose from, with other former visitors and residents running the gamut from Dylan Thomas, Bob Dylan and Janis Joplin to Arthur C Clarke, Jimi Hendrix and scores more, many of whom we see as ghostly projections on the brickwork in the film's more impressionistic sections.
Its strong historical resonance and eccentric collection of characters make it an arty crowd-pleaser
At the time Dreaming Walls was shot, just shortly before the pandemic hit New York, the Chelsea was in the ninth year of renovations – still ongoing – for a new incarnation as a luxury hotel. Inside its walls, along with its history, however, live a number of residential "hold-outs". Debut director Duverdier and van Elmbt – who already has two documentaries, Headfirst and The Elephant and The Butterfly, under her belt – take us from the construction-filled hallways over the thresholds into some of the individually less famous but often artistic and counterculture worlds that still exist within the Chelsea. Dreaming Walls should be noticed by festivals and arthouse distributors after its premiere in the Panorama section at this year's Berlin Film Festival, while its strong historical resonance and eccentric collection of characters make it an arty crowd-pleaser.
Among the Chelsea's notable current denizens is choreographer Merle Lister Levine, who previously appeared in Abel Ferrera's 2008 documentary Chelsea On The Rocks and who has been living in the hotel since the 1960s. She might use a walker to get about these days, but she shows no signs of slowing down as we watch her make the rounds through the hotel, taking notes on the ongoing construction and inquisitively catching the latest gossip from the workmen. She's also filmed working on a new project with a dancer in the stairwell, an echo of an earlier piece we see intercut via archive footage. This sort of blend is indicative of the directors' freewheeling approach, which is sometimes scant in terms of background detail and loose in structure, but their energy and poetic spirit are very much in keeping with the vibe of the Chelsea.
Duverdier and van Elmbt show little interest in the factual ins and outs of the renovation work itself, beyond its effect on the residents, letting us make up our minds about this tiny battleground between capitalism and culture/past and present but the film indicates that not everyone is against the hotel having a new life. Chief among those dreaming of the work to be finally complete are Zoe and Nicholas Pappas, who rail against their fellow residents stalling it with court cases. Others offering insight include artists Rose Cory, Skye Ferrante, and Susan Kleinsinger and her partner Joe Corey, whose relationship provides some of the film's most moving moments. Rose perhaps sums up the history of the building by saying, " I wouldn't say there was pressure to be unique or express yourself – but certainly there was no pressure to not".
Previous owner Stanley Bard is among those who appear in archive footage – much from a BBC Arena documentary on the hotel in 1981, with which this film shares a quirky sensibility. The archive is used in snippets that give it the quality of a fleetingly remembered dream, rather than chapter and verse. That sensation is echoed by the pop music and spoken word choices, including Allen Ginsberg reading Howl and Nico singing Chelsea Girls, which punctuate Michael Andrews' score.
Most poignant is the inclusion of reclusive artist and the Chelsea's then oldest resident, nonagenarian Bettina Grossman, whose work was explored more fully in Corinne van der Borch's 2010 film Girl With Black Balloons. Bettina died in between the film being shot and its premiere, lending her scathing comments about the new management extra weight. Duverdier and van Elmbt let the mythic past of the place haunt the edges of the film while focusing on the vibrant spirits of the here and now.
Production company: Clin d'oeil films, Les Films de l'oeil sauvage, Media International, Basalt Film, Momento Film
International sales: Dogwoof, ana@dogwoof.com
Producer: Hanna Phlypo, Quentin Laurent
Cinematography: Joachim Philippe, Virginie Surdej
Editing: Alain Dessauvage, Julie Naas, Marie-Hélène Dozo
Music: Michael Andrews