Dir. Ciro Guerra. Colombia-Venezuela-Argentina. 2015. 125mins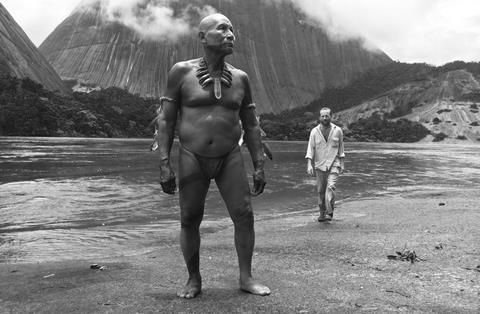 The sublime and the insane make engaging traveling companions in Embrace Of The Serpent (El abrazo de la serpiente), which traces the journey of two different scientists across the Amazon, their destination just as rewarding as the arduous road to get there. Colombian director Ciro Guerra (The Wind Journeys) has some familiar things to say about respecting the natural world and not overvaluing technological advancement, but this widescreen black-and-white odyssey, which crosscuts between two time periods, slowly but satisfyingly transitions from realism to the fantastical, even the cosmic.
The going can be a bit slow at first, but the interweaving narratives, which comment on (and sometimes echo) each other, begin to develop a hypnotic grandeur. It's a hell of a trip.
Screening in Directors' Fortnight, Embrace Of The Serpent looks to be a favourite on the festival circuit, whereas theatrical prospects may be a far trickier proposition. With no stars, a period time setting and a black-and-white colour scheme, this defiantly art-house offering will need glowing reviews to make commercial headway. That said, Embrace's increasingly wacked-out tenor might attract genre crowds, which could embrace the film's brand of stoned strangeness.
The movie takes inspiration from two men, Theodor Koch-Grunberg and Richard Evans Schultes who, separately, traveled down the Amazon in the early 20th Century looking for information about the primitive cultures that lived there. That factual jumping-off point allows Guerra to construct an almost mythical tale that has more than a passing resemblance to Joseph Conrad's Heart Of Darkness — or, at the very least, Francis Ford Coppola's audacious adaptation, Apocalypse Now.
In Embrace, Theo (Borgman's Jan Bijvoet) travels with Amazonian shaman Karamakate (Nilbio Torres) by boat in search of a fabled plant with healing properties, while 40 years later Evan (Brionne Davis) takes the same path with an older Karamakate (Antonio Bolívar), hoping to complete Theo's research.
Judged by its opening reels, Embrace seems to be a gorgeous-looking but rote travelogue where supposedly enlightened white Westerners discover how little they understand about nature's elemental powers. (Cinematographer David Gallego gives the locations an otherworldly quality, the black-and-white not just suggesting the past but, more specifically, a land out of time.) But Embrace's somewhat pedestrian opening is a bit of a feint, luring us into the expectation of one kind of story when, in fact, Guerra plans to go much darker and more philosophical than we imagine.
In keeping with the film's folktale-like simplicity, the performances are unadorned, bordering on stoic. Bijvoet plays Theo as a dedicated scientist who is about to realise that his years of painstaking research can't prepare him for what the jungle has in store. However, he's not a cartoon villain — an easy fill-in for the stereotypical Conquering White Man — and neither is Evan, who Davis portrays with sympathy while hinting at the man's overconfidence in his own intellect. Both Karamakate actors perhaps oversell the character's grim-faced solemnity, but their calm, powerful faces are enough to suggest this shaman's deep wells of wisdom and wizardry.
It would be unfair to reveal Embrace's surprises, but let it be said that everything from cannibalism to deranged religious cults are in the offing for Theo and Evan, and the deeper these men venture into the Amazon, the less logic has a place in their journeys. Instead, Guerra operates from intuition, incorporating a dream-like tone in which events occur almost by random — and yet, there's a coherent escalation of anxiety, wonder and madness. The going can be a bit slow at first, but the interweaving narratives, which comment on (and sometimes echo) each other, begin to develop a hypnotic grandeur. It's a hell of a trip.
Director: Ciro Guerra
Production companies: Ciudad Lunar, NorteSur, MC Producciones, Buffalo Films, Caracol Televisión, Dago García Producciones, FDC, INCAA, CNAC, Ibermedia, Hubert Bals
International sales: Films Boutique, info@filmsboutique.com
Producer: Cristina Gallego
Screenplay: Ciro Guerra, Jacques Toulemonde
Cinematography: David Gallego
Editors: Etienne Boussac, Cristina Gallego
Production design: Angélica Perea
Music: Nascuy Linares
Main cast: Jan Bijvoet, Brionne Davis, Nilbio Torres, Antonio Bolívar, Yauenkü Miguee