Timely social commentary satire falls short of its subject's worthy mark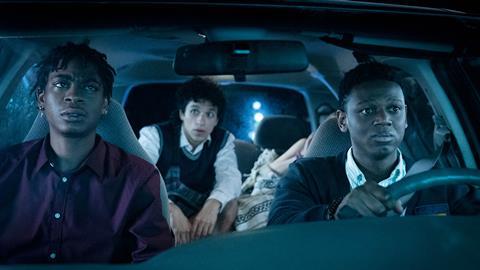 Dir: Carey Williams. US. 2021. 104 mins.
A one-crazy-night dark comedy that explores racism and white privilege, Emergency follows three college roommates who find a woman passed out in their house, leading to escalating stakes and anxious laughs. The second feature from R#J director Carey Williams, based on his award-winning 2018 short of the same name, has social commentary on its mind, although plot contrivances and thin characters dilute the message. One can feel Williams' anger at an America that imperils young Black and Latino men, viewing them only as potential threats, but the picture never fully gets a handle on its mixture of satire and seriousness.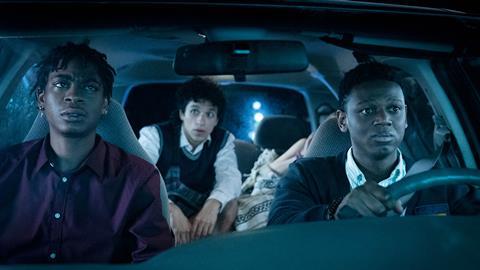 The incidents tend to be dramatised in heavy-handed ways
Like his debut film, Emergency premieres at Sundance, unspooling in the US Dramatic competition. Rising stars like RJ Cyler should add cachet to this timely, youth-oriented picture, and Amazon will give the film a major platform - on May 27, a week after its US theatrical release. However, notices may be mixed.
Best friends Sean (Cyler) and Kunle (Donald Elise Watkins) are a study in contrast: the fun-loving Sean isn't stressed about his future, while his studious college classmate is laser-focused on going to Princeton and pursuing a career in the sciences. They're only a couple months from graduation when Sean convinces Kunle that they need to take part in the university's "legendary tour", a string of epic parties all taking place on the same night. Kunle reluctantly tags along — although he's worried about an important bacteria culture he has sitting at the lab that needs to be refrigerated.
Before their night can even begin, they come home to discover that an inebriated woman they don't know (Maddie Nichols) is inexplicably unconscious face-down in their living room. Their Mexican roommate Carlos (Sebastian Chacon), who has been busy playing video games, has no idea how she got there. Kunle thinks they should call the police, but Sean advises against it: the two friends are Black, and this woman is white, so surely the cops will assume they put her in this state.
Emergency is about what these three students decide to do instead, sending the picture into darker emotional terrain as the friends try to find help for the woman without getting themselves in trouble. In the picture's earlier stretches, K.D. Davila's screenplay playfully juxtaposes Sean's motormouthed charm with Kunle's endearingly uptight demeanour, but even then we get a sense of the sombre themes that await — especially when they attend a lecture in which their white teacher provocatively uses a racial epithet to debate the loaded power of certain words. The moment foreshadows Emergency's concern about how these Black characters feel attacked in the world. The dangers will only grow more pronounced over the course of the story.
Cyler and Watkins make an enjoyable duo, but once the plot gets into gear, resulting in a series of convoluted misunderstandings that turn their evening from frustrating to terrifying, the actors are held hostage by a script that forces them to yell at one another most of the time. Their harried banter isn't particularly funny, and exposing buried tensions between the two young men fails to be poignant or illuminating. As for the sweetly dopey Carlos, Chacon doesn't have much to do beyond being an affable sidekick.
Sean insists that they can't go to the police because the white authorities will immediately suspect them of drugging the young woman, and while Kunle (who was raised in wealth, unlike his friend) refuses to believe that, Emergency intends to show him the error in his thinking. Repeatedly, the young men encounter racial bias — including in the form of the young woman's sister Maddy (Sabrina Carpenter), who lost her at one of the evening's parties and believes the guys have kidnapped her — but the incidents tend to be dramatised in heavy-handed ways. And as the picture nears its conclusion, Williams pulls out an especially manipulative finale that reaches for an emotional grandeur that the narrative hasn't earned.
For a film that argues that we need to look beyond the colour of each other's skin, Emergency can be a bit reductive, seeing its characters as types — nerdy or ditzy, jocks or stoners — without ever subverting those assumptions. To be sure, Williams is right about the social inequality that leaves some people feeling unsafe — a fear the film's white characters never have to contemplate — but Emergency's scattershot execution isn't up to the task of tackling such weighty and worthy subject matter.
Production company: Temple Hill
Worldwide distribution: Amazon
Producers: Isaac Klausner, John Fischer, Marty Bowen Screenplay: K.D. Davila
Production design: Jeremy Woodward
Editing: Lam T. Nguyen
Cinematography: Michael Dallatorre
Music: Rene G. Boscio
Main cast: RJ Cyler, Donald Elise Watkins, Sebastian Chacon, Sabrina Carpenter