Dir. Roger Mainwood. UK/Luxembourg, 2016, 94 minutes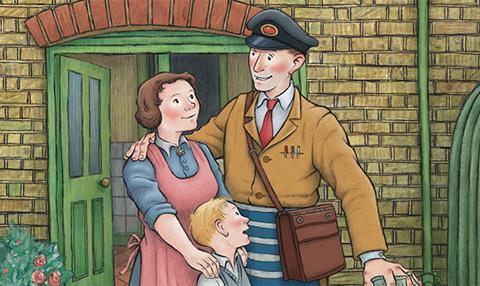 The second feature-length animated film adapted from a Raymond Briggs graphic novel, arriving a full 30 years after When the Wind Blows, is a loving tribute to the lives and 41-year marriage of the veteran author and illustrator's own parents. Exceedingly charming and sweetly nostalgic, Ethel & Ernest's period subject matter – covering the years 1928 to 1971 – makes a good fit with the film's unapologetically retro 2D animation style, working within a budget that is presumably exceedingly modest by contemporary Hollywood standards.
Ethel & Ernest is, at its heart, a fond character study
Not an obvious must-see for cinema audiences when Vertigo releases for Universal in the UK in late October, the film could easily fast become a beloved TV staple, although it will struggle to match the frequency of the annually broadcast 1978 festive short The Snowman.
A brief live-action prologue depicts Briggs at work in his home studio, explaining that the lives of his parents were "nothing extraordinary" and that they'd doubtless be embarrassed at the thought of being exposed in his illustrated memoir (published in 1998) and this film. With audience expectations of narrative incident now set at an appropriately modest register, we are introduced to milkman Ernest (voiced by Jim Broadbent) and housemaid Ethel (Brenda Blethyn), who waves her duster at him every day as he goes past her employer's home.
The events that follow are, indeed, nothing extraordinary, at least for those who lived through the World War II bombing blitz, were forced to part with their only child – despatched to the Dorset countryside for his own safety – or shivered in a homemade garden bomb shelter. For everyone else, however, those years count as fairly remarkable, or certainly far from our own experience.
Ethel & Ernest is, at its heart, a fond character study, and writer-director Roger Mainwood (an animator on a number of small-screen Briggs adaptations) draws out nice contrasts – if not exactly conflicts – between husband and wife. While exuberant, Labour-voting Ernest makes no bones about his working class origins, happily singing common Cockney ditties and harbouring no ambitions for promotion if it would tie him to a desk, Ethel's instincts are more for keeping up appearances and steady social improvement.
Much of the film's sly wit is at Ethel's expense, with her Little England conservatism, gender-coded conventionality ("You can knock that thing down now…" she gestures towards the shelter after VE Day, "…after I've finished tidying it"), and her uncanny knack for bringing any larger subject down to a quotidian realm. She's proud when her son Raymond (Luke Treadaway) achieves qualifications to enter higher education, and dismayed when he picks art as his impoverishing field of study.
Pastel-tending animation – by Lupus Films in London (Snowman sequel The Snowman and the Snowdog), Cloth Cat in Wales and Mélusine Productions/Studio 352 in Luxembourg – feels apt for the Briggs brand, and for the film's suburban Wimbledon setting. Occasional forays beyond this rather cosy realm, including a grimly realised short scene set in a hospital morgue, are all the more impactful for their rarity. Voice work is consistently characterful, including the likes of Roger Allam and Peter Wight in relatively small roles. Broadbent's jovial music hall ditties keep the nostalgia buttons steadily pushed, although they can't match the impact of the haunting theme song of Dixon of Dock Green, which emanates from the family's newly acquired television set.
Production company: Lupus Films
International sales: Little Film Company, robbie@thelittlefilmcompany.com
Producers: Camilla Deakin, Ruth Fielding, Stéphan Roelants
Screenplay: Roger Mainwood
Animation director: Peter Dodd
Editor: Richard Overall
Art direction: Robin Shaw
Music: Carl Davis
Main voice cast: Brenda Blethyn, Jim Broadbent, Luke Treadaway, Pam Ferris, Roger Allam, Peter Wight, Harry Collett, Gillian Hanna, Karyn Claydon