Marco Bellocchio returns to familiar territory with a TV series dramatising the kidnapping of Italian politican Aldo Moro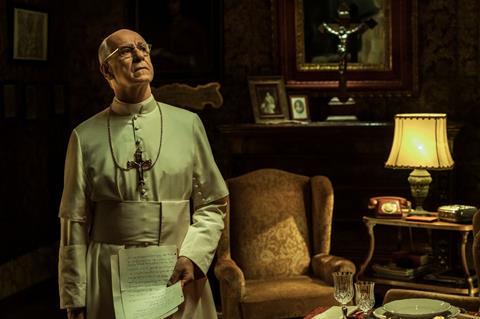 Dir: Marco Bellocchio. Italy/France. 2022. 326 mins
Some stories just refuse to lie down, even after you've turned them into a film and even when the law of diminishing returns is staring you in the face. Marco Bellocchio clearly feels that way about the Red Brigades' 1978 kidnapping and subsequent execution of Italian Christian Democrat party president Aldo Moro, which was at the centre of his intense, claustrophobic 2003 feature film Goodmorning, Night. Almost two decades later, he is back tussling with what still ranks as the biggest Italian national trauma since the end of World War II.
Makes a convincing case for this familiar reading of the 'Caso Moro', but it's one that often feels dramatically stretched
This time, Bellochio is doing it in TV form, in a six-part limited series produced by Italian production companies The Apartment and Kavac Film for state broadcaster RAI, which will show it free-to-air this autumn. Before then, Lucky Red will release Exterior Night in Italian cinemas in two parts, with the first opening on the same day as the series' Cannes debut, where it screens in the Premiere section in a single five-and-a-half-hour marathon.
The title is explained by Bellocchio's new external take on the story. In Goodmorning, Night, the Italian auteur came up with a dramatically fertile angle on his own script, telling the story mostly from the point of view of the only woman among the president's four kidnappers, who was not one of the two tasked with dealing with the hostage (instead, she got to do the shopping). The result was fascinating, suggesting that even for those who are supposedly at the heart of the action, information can be fragmentary, open to interpretation.
Returning to the same material, Bellocchio and his three fellow writers flip that 2003 work's 'inside but outside' view around, charting the fallout of the kidnapping on four groups who, while outside his prison cell, were deeply 'inside' Moro: his fellow high-ranking Christian Democrats, the elderly and ailing Pope Paul VI, two Red Brigade terrorists whose job it was to send out communiques and demands, and Moro's family. Each steps up to become the dramatic focus of one of the four central 55-minute episodes in the TV format, running through many of the same events from a new point of view. The first and last of the six episodes cut between all four strands as they present, respectively, the bloody beginning (with the killing of five bodyguards) and tragic end of Moro's calvary.
Fabrizio Gifuni brings a sober rigor to his affecting portrayal of Moro as a man who, like many of the Red Brigade's victims, was a moderate among hard-liners. He was one of the main architects of a deal (explained in an opening caption) which would have seen Italy's powerful Communist party lend its support to the coalition government led by Moro's fellow Christian Democrat party cadre Giulio Andreotti. The Red Brigades were not the only ones who opposed what they saw as a betrayal of the proletariat: many in Moro's party viewed the pact as, quite literally, a deal with the devil. Italians of a certain age, certainly those in Bellocchio's core audience, will have all this embedded deep in their memories and psyche – and in fact, Exterior Night feels very much like Bellocchio and his fellow writers are trying to solve a puzzle that has long haunted them by setting it out in a very classical, dramatic fashion. For this very reason, it will strike less of a chord with viewers abroad, though it is likely to get some airing – in series format – in territories like France where Bellocchio is a revered auteur.
Working with a sombre colour palette of greens, blues and browns, as if filming underwater, corralling production design to underline how even in the seventies, Italians' domestic and institutional spaces were stiflingly stuck in the past, the director paints a picture of a period when Italy was living a kind of strange fever-dream. But Exterior Night's big challenge is that it is attempting to dramatize a kind of inertia, one in which the desultory efforts of his fellow Christian Democrats to free their president, the spiritual agonising of Toni Servillo's frail Pope and the doubts that assail raven-haired Red Brigade messenger Adriana Faranda (Daniela Marra), go around in circles and end in nothing, as if they're being manipulated by a puppet master with a short attention span.
Only the anguish of Moro's family – presented above all in episode five – feels genuine. Close-knit, the family is led by the hostage's wife Nora, played convincingly by Margherita Buy as a woman who sees beyond the politicians who at one point fill the family apartment with their dark suits and their empty words of comfort. Moro, then, is the sacrificial victim whose inevitable fate is decreed as much by those who pay lip-service to saving him as to the terrorists who will execute him.
Exterior Night makes a convincing case for this familiar reading of the 'Caso Moro', but it's one that often feels dramatically stretched. Paradoxically, the most dramatically intense moment comes in the final episode when, in the company of a priest who has been smuggled in to give him absolution, we at last gain admission to the cubicle in a non-descript Rome apartment where Moro was kept prisoner. It's the long-postponed arrival of the 'interior' story of Exterior Night, and it makes us, above all, curious to watch the director's strong 2003 tilt at the same story all over again.
Production companies: The Apartment, Kavac Film
International sales: Fremantle, Daniela.dantonio@fremantle.com
Producers: Lorenzo Mieli, Simone Gattoni
Screenplay: Marco Bellocchio, Stefano Bises, Ludovica Rampoldi, Davide Serino
Production Design: Andrea Castorina
Editing: Francesca Calvelli
Cinematography: Francesco Di Giacomo
Music: Fabio Massimo Capogrosso
Main cast: Fabrizio Gifuni, Margherita Buy, Toni Servillo, Fausto Russo Alesi, Gabriel Montesi, Daniela Marra, Paolo Pierobon, Fabrizio Contri