Actor Charlotte Le Bon makes her directorial debut with this touching portrait of young love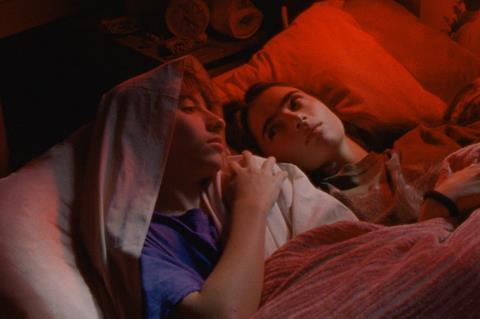 Dir: Charlotte Le Bon. Canada/France. 2022. 99 mins
The agonies of adolescence are sensitively captured in Falcon Lake. The first feature from Canadian actor turned director Charlotte Le Bon is freely adapted from Bastien Vivès' 2017 graphic novel 'Une Soeur' (A Sister) and gradually builds into a sympathetic portrait of emotional turmoil and young love. Le Bon's languid, admirably unsentimental approach to a melancholy tale should find a welcome at festivals even if it may prove too low-key to leave a significant commercial mark.
The end result is a delicate and ultimately touching evocation of first love's intensity.
Le Bon previously directed the Kafkaesque short Judith Hotel in 2018. Falcon Lake has a more familiar feel as a family arrive to share an old friend's lakeside cabin in Quebec. Production designer Alex Hercule Desjardins has a good eye for the happy chaos of family life. Discarded swimming goggles are allowed to drip on the floor, clothes are left in tangled mounds on half-made beds and everything appears suitably cluttered and lived in. As sun rays ripple across the lake, it all feels like one of those idyllic summers in which everything might change. Only a poster of Alfred Hitchcock's Psycho on a bedroom wall hints at anything darker.
One of Le Bon's best decisions is the casting of Joseph Engel as the central character Bastien. Thirteen, but "soon turning fourteen", Bastien is no longer a child but not quite a grown-up. The gangly Engel ideally embodies the awkwardness and insecurity of a teenager who has not grown into his body or his personality. Well-mannered and respectable, he is happy enough to listen to his music and play baby-sitter to his much younger brother.
The two boys are accommodated in bunk beds and must share the bedroom of 16 year-old Chloé (Montpetit). She is more of a stroppy teenager, making efforts to appear worldly as she smokes, swigs a bottle of wine and shares confidences. Being asked to spend time with Bastien feels like an imposition. He makes the first move by offering her a Pepsi and a friendship starts to develop. She invites him to parties, pushes him out of his comfort zone and tells him tales of a child's body found in the wildest part of the lake and a ghost that may still haunt the waters.
Falcon Lake is at its most persuasive as it charts the growing bond between Sebastien and Chloé. There is a connection that flirts with becoming something more serious. Engel's expressive eyes convey how much Chloé has cast a spell over him. She seems to bring out the best in him from a display of his dance skills to moments of dry humour and his daring to wade into deep water just to please her. There is no doubt that he is smitten. Engel has an ache of longing in his eyes as he observes Chloé and grows jealous when forced to share their precious time with others. Le Bon shows an understanding of those all or nothing moments in young lives.
Secondary characters make little impression in Falcon Lake, perhaps deliberately to emphasise that Bastien only has eyes for Chloé. Adults are often absent, Bastien's younger brother seems to be left to his own devices. The older boys drawn to Chloé, including 19 year-old Oliver (Anthony Therrien), seem one-dimensional which again may be deliberate. Nothing quite matches the calm understanding that Sebastien and Chloe find in each other's presence.
Le Bon keeps everything grounded in Falcon Lake. Her direction is unobtrusive, the pacing is measured and the slight supernatural element of the story is restrained until the closing scenes. Cinematographer Kristof Brandl never oversells the picture postcard beauty of the Quebec locations and the visions of rainy days and lakeside gloom enhance that feeling of everyday reality. The end result is a delicate and ultimately touching evocation of first love's intensity.
Production companies: Cinéfrance Studios, Metafilms, Onzecinq
International sales: Memento International, sales@memento-films.com
Producers: Nancy Grant, Sylvain Corbeil
Screenplay: Charlotte Le Bon with François Choquet, based on 'A Sister' by Bastien Vivès
Cinematography: Kristof Brandl
Editing: Julie Léna
Production design: Alex Hercule Desjardins
Music: Shida Shahabi
Main Cast: Joseph Engel, Sara Montpetit, Monia Chokri