A witch's curse and a Wiccan revival form the basis of this US indie thriller, premiering on the Piazza Grande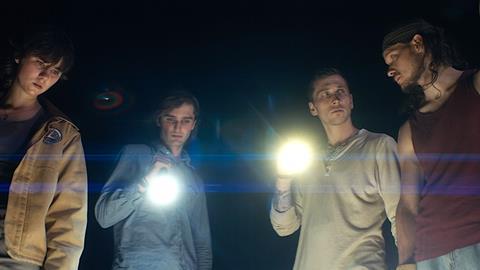 Dirs: Gabriel Bienczycki, Richard Karpala. US. 2023. 80mins
On a dark and spooky night in present-day Inland Empire, three brothers and their friend venture into the desert in search of the remains of a murdered witch - an expedition which will incur a curse that needs to be broken before dawn. This spirited, low budget apocalyptic US indie thriller premieres at the Piazza Grande in Locarno, marking the feature directing debut of cinematographer Gabriel Bienczycki, who co-directs with Richard Karpala (Galaxy Of Horrors). While its modest production value and talky tension will limit broad appeal, midnight and micro cinema should come calling for this riff on Wiccan mythology.
A riff on Wiccan mythology
The script by Karpala sets the tone. In this supernatural universe, witches live in the sky — they're referred to as 'falling stars' — and are sustained by an annual offering of fruit and herbs called the harvest; something that is not only dwindling every year, but arriving earlier and earler. Amid the black sand and scrawny brush, the attuned world building, fashioned mostly through slow revealing dialogue and clipped editing by Bienczycki and Karpala, echoes Andrew Paterson's extraterrestrial Sci-Fi flick The Vast of Night.
Oldest brother Mike (a measured Shaun Duke Jr) is the most level-headed of the three siblings, and the most knowledgeable of all things witch. "No one," he says "has ever seen a witch with their own eyes." Indeed, the closest viewers come to seeing one is the form of shiny dotted lights that jet across the sky. Mike gives his neophyte siblings and friend Rob (Greg Poppa) a few rules for when they find the witch's remains: you can look but no pictures, no touching, no taking of relics, don't look at it for more than five minutes, and don't piss on it (the smell draws them out). When youngest brother Adam (Rene Leech) accidentally spills beer on the witch's carcass, Mike immediately knows the deadly repercussions that will befall them.
The brisk, tightly-wound film doesn't hesitate in spelling out those consequences. After leaving the burial ground, Rob is immediately abducted. When the brothers arrive at his trailer to look for his wife, she too is gone, leaving her baby behind. Aware that anyone who comes in contact with them is also cursed, Mike takes the abandoned infant to their own alarmingly creepy mother (Diane Worman), who derives a strange satisfaction from smelling the baby's hair. An overwrought monologue by Worman, delivered in laborious, clenched tones by the actor, implores Mike to burn the witch's body before dawn.
Heavily teased but rarely shown supernatural elements either land firmly or miss the mark completely, depending on the individual prowess of the game actors comprising the small ensemble. The ropey dialogue tangles in ungainly melodramatic knots when Adam wails, "I'd die if you didn't come back, Mike. I'd die!" Yet it sometimes finds renewed vigour, whenever Mike or his middle brother Sal (Andrew Gabriel) share their worries about the oncoming danger. As a trio, though, the actors lack the kind of chemistry you'd like to feel from a supposedly tight-knit family.
Much like Paterson's The Vast Of Night, Falling Stars also features a radio element thanks to a fictional programme hosted by Barry Boyle (J. Aaron Boykin), in which crank callers share their oddball stories. The calls provide further exposition, such as the fact that witches are a worldwide threat and not just a celestial phenomena confined to this corner of California.
When Adam looks up at the sky towards the end of the film, it feels like a search for meaning amid this puzzling world. Committed and eager, yet too emotionally opaque, Falling Stars, tumbles toward a safe landing that leaves its attempted reinvention of Wiccan legends thematically thin, making for an ungraceful thud to earth.
Production companies: Latarka Studio, Zebra Visual
International sales: Raven Banner, sales@ravenbanner.ca
Producers: Richard Karpala, Gabriel Bienczycki
Screenplay: Richard Karpala
Cinematography: Gabriel Bienczycki
Production design: Ruth Guerra
Editing: Richard Karpala
Music: Patrik Herman
Main cast: Rene Leech, Shaun Duke Jr., Andrew Gabriel, Diane Worman, Greg Poppa