'Dogging aristocrats with intellectual pretensions'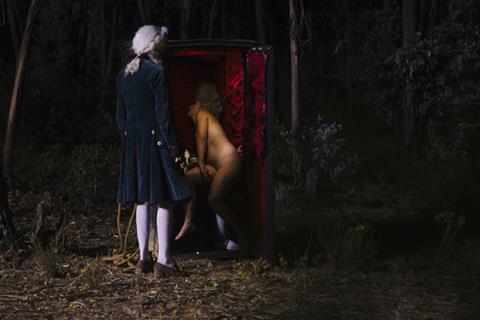 Dir Albert Serra. France/Portugal/Spain/Germany. 2019. 132 mins
The year is 1774. Louche aristocrats driven out of the French court for their debauched behaviour seek the support of their German counterpart, the Duc de Walchen. Their aim is to enlist him in their philosophical movement: libertinage. While all this sounds promising, in actual fact it just involves a bunch of guillotine-dodging grotesques battling ennui by lurking in the undergrowth, rummaging furtively in their breeches and embarking on a competitive bout of freak fetish one upmanship.
Not a particularly enjoyable experience
Albert Serra's fascination with this bewigged and decadent period in European history continues: Freedom (Liberté) follows Histoire De Ma Mort, The Death of Louis XIV and Roi Soleil. This particular film evolved from a play that Serra staged in spring of 2018 at Berlin's Volksbühne theatre, which dealt with the dark side of human desire. And dark it is, both spiritually and literally – the nighttime woodland backdrop for the cruising debauchees is so wanly lit, it's often difficult to make out which specific bit of doughy male anatomy is being grappled with at any particular time. Although you can usually hazard a guess. There's no such issue with the female bodies, meanwhile, which are glowingly displayed.
With its Sadeian overtones, and glumly perverse excesses, this is not a particularly enjoyable experience. It will be best suited to the more experimental fringes of the festival circuit and to audiences who thought that Salo: 120 Days Of Sodom was too much fun.
They talk a big game, these dogging aristocrats with intellectual pretensions. The film opens with the Duc de Wand (Baptiste Pinteaux) lasciviously recalling the execution by quartering of some unfortunate criminal. He later concocts a particularly lurid fantasy involving a niche branch of bestiality, and gives a petulant moue of disappointment when his female companion fails to match his depravity. But for all the braggadocio, when the libertines are borne into the woods in covered palanquins, there's an awful lot of awkward standing around, peering through the murk and twigs trying to catch a glimpse of the action. The camera takes the role of a peeping Tom, sneaking through foliage in order to play the voyeur.
We get hints of the al fresco activities in the muffled whimpers and screams which cut through the sound of the cicadas from outside of the frame. Serra does eventually get around to showing the libertines in action, in several gruellingly graphic scenes. You rather wish he hadn't. These are singularly joyless sex scenes – including the flogging of a pair of sad looking buttocks and the torture of an amputee's arm stump, among other things – between characters who are thinly drawn and tagged on to the writhing bodies almost as an afterthought.
The choice of title, combined with the dispiriting tone of the film, is intriguing. Is Serra suggesting that too much liberty is a bad thing? That given freedom, humankind will always gravitate towards its basest impulses? You could probably delve around among all the flaccid body parts and fluids and find a thesis about contemporary sexual mores in there somewhere. But, like much in this film, that would be a lot of work for little return. Roll on the revolution.
Production companies: Rosa Filmes, Idéale Audience, Andergraun Filmes, Lupa Film
International sales: Films Boutique simon@filmsboutique
Producers: Pierre-Olivier Bardet, Joaquim Sapinho, Albert Serra, Montse Triola
Screenplay: Albert Serra
Editing: Ariadna Ribas
Cinematography: Artur Tort
Music: Ferran Font
Cast: Helmut Berger, Marc Susini, Iliana Zabeth, Laura Poulvet, Baptiste Pinteaux, Théodora Marcadé, Alexander García Düttmann, Lluís Serrat, Xavier Pérez, Francesc Daranas, Cătălin Jugravu, Montse Triola, Safira Robens