Mimi Cave explores the dark side of modern dating in her visceral debut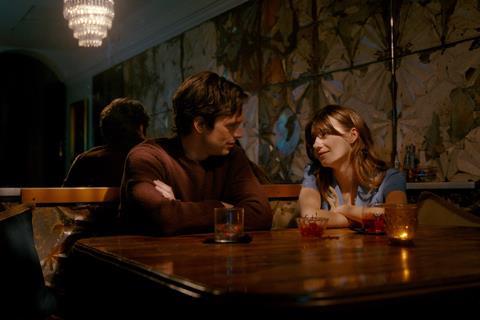 Dir: Mimi Cave. US. 2021. 114mins
Modern dating is literally a meat market in Fresh, Mimi Cave's attention-grabbing debut feature which offers a lethal cocktail of social commentary and gruesome horror laced with the blackest of comedy. There is more than enough blood and body parts to attract Midnight Madness genre fans here, and the classy cast and stylish approach could broaden that appeal - but only to mainstream audiences with the stomach for it. Searchlight Pictures acquired world rights prior to the film's Sundance premiere, and it is set to stream across all of Disney's platforms, starting with Hulu on March 4.
Cave builds a queasy, unsettling atmosphere particularly through her use of sound
Working from a smart, imaginative screenplay by Lauryn Kahn, Cave proves herself especially able at up-the-garden-path scene-setting. The first third of the film confidently depicts a world of single women stranded in a wilderness of feckless, unreliable men. Lonely, old-fashioned romantic Noa (Daisy Edgar Jones) spends her nights swiping left and enduring cringe-worthy dates with self-centred no-hopers. There is almost something of a Promising Young Woman vibe in these scenes.Then, Noa has a chance supermarket encounter with dashing plastic surgeon Steve (Sebastian Stan). He is funny, charming and cute enough to gain her phone number. He makes her laugh and a subsequent date exceeds her expectations. Could this be the miracle man she has long awaited, or is he a little too good to be true?
Cave effectively deceives the audience, playing with rom com notions as extreme close-ups fill the screen, focusing on kissable lips, flirty eyes, gleaming teeth and all the little sighs and smiles of a couple discovering a mutual attraction that could be the real deal. The shadowy seclusion of a bar and, later, Noa's bedroom add to the sense of intimacy and isolation. Soon, Noa has agreed to join Steve for a surprise weekend away. But the fact that there is no phone reception sets the alarm bells ringing. Deep in the woods, Fresh becomes a very different film as Steve is revealed as a combination of Hannibal Lecter and Patrick Bateman, and Noa is now at his mercy.
Fresh suggests elements of a twisted fairytale; a grizzly Beauty And The Beast or a version of Little Red Riding Hood where dream boy is actually the big bad wolf. The sexual politics of the piece are its strongest element, as Steve controls his captives; he is toxic masculinity at its most unhinged.
Cave builds a queasy, unsettling atmosphere particularly through her use of sound; Noa zones out from the insulting gibberish of a date and an idiosyncratic soundtrack is deployed for counterpoint and irony including Lou Reed's 'A Perfect Day'. Cave also enhances uneasiness with close-ups of flesh being chopped, carved, sliced, diced and minced or lips being licked and tongues rolled in anticipation.
For all its provocation and occasional nastiness, Fresh does slip into some overly familiar genre tropes of cellphones that don't work at the most inconvenient times and the character of Noa's best friend Mollie (Jojo T.Gibbs) who chooses not to call the police but sets out on her lonesome to discover the fate of her missing friend. The more conventional side of the film comes to the boil in its blood-spattered denouement.
The central performances give the film its conviction and keep you intrigued about the twisted, see-sawing power dynamics between captor and captive. Stan brings a quietly deranged relish to his performance as handsome charmer Steve while Edgar Jones confirms her rising star status, investing Noa with shades of vulnerability and steel that make her believable as someone determined to survive at all costs.
Production companies: Legendary Pictures, Hyperobject Industries
Worldwide distribution: Searchlight
IProducers: Adam McKay, Kevin Messic
Screenplay: Lauryn Kahn
Cinematography: Pawel Pogorzelski
Editing: Martin Pensa
Production design: Jennifer Morden
Music: Alex Somers
Main cast: Daisy Edgar-Jones, Sebastian Stan, Jojo T Gibb