Laure Calamy races against the clock in this grippingly tense French drama from Eric Gavel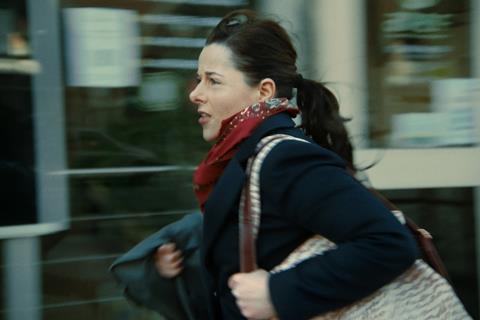 Dir/scr. Eric Gravel. France. 2021. 88 mins
A single mother's precarious balance of commuting and childcare is upended when an interview for a better job, one which might finally haul her out of her cycle of debt, coincides with a paralyzing transport strike. Call My Agent star Laure Calamy delivers a sympathetic but nerve-flaying performance as Julie, both a frazzled mum at the end of her tether and unflappable head chambermaid at a five-star hotel. It's a propulsively intense piece of filmmaking – at times a bit like watching a highwire chainsaw juggling act about to go horribly and catastrophically wrong.
Propulsively intense
Full Time (A Plein Temps) is the second feature from writer and director Eric Gravel, his first was another picture which dealt with workplace tribulations, Crash Test Aglaé. This is a creditable, satisfyingly lean addition to the 'desperate running woman' sub-genre – see also the Dardenne brothers' Two Days, One Night and Rosetta; Tom Tykwer's Run Lola, Run and Sebastian Schipper's single-shot panic attack Victoria. Calamy's terrific performance will be a selling point, both at further festival screenings, and, potentially, to arthouse cinema audiences.
It's not always an easy watch – there's no gun-based peril, gambling debt and gangsters involved admittedly, but in its way, the film is every bit as janglingly stressful as Uncut Gems. Perhaps more so, as Julie is repeatedly jeopardised by circumstances beyond her control rather than by her own bad decisions. If someone as capable and professional as Julie can't hold it together, what chance would the rest of us have in her perfect storm of a situation?
The scene is set for Julie's exhausting daily slog with an extreme close up of her unconcious face; her slow breaths deeply submerged in sleep. Then her alarm blasts her awake and she snaps into action. There's not a moment of stillness; both Julie and the camera are in constant motion. Jump cuts give a sense of panicky acceleration as she posts breakfast into the mouths of her still barely awake kids. And the score, by Irène Drésel, is all electronic urgency, a pounding synthetic pulse which weaves other stress-inducing sounds subliminally into the music. At one point, it sounds as though the rushing blood of an ultrasound scan is part of the score, at another we can pick up on an ominous rumble which sounds like circling helicopters.
But even without the considerable contribution of the score, the full tilt storytelling gives us barely enough space to breathe. A headlong dash for a train poised to leave the platform without her, cancellations due to "passenger illness", unwelcome calls from her bank demanding that she addresses her defaulted mortgage. Julie's childminder has graduated from grumbling about lateness to veiled threats of the involvement of social services. And she has an ex-husband who is missing in action along with his overdue alimony payments. At work, managing a SWAT team of ultra-professional hotel maids, the pressure rarely drops. The hints about her job insecurity from her supervisor don't do much to diffuse the situation as Paris grinds to a halt and Julie, who commutes into the city each day, clocks in late, time and again.
With no time to be anything other than a mother or hotel maid, Julie has little opportunity to just be herself. She has to be coerced into sharing a drink with the best friend who barely recognises her anymore; she badly misjudges an encounter with the father of her son's schoolfriend in one particularly mortifying scene. She cries through her mascara as she puts on her game face for Monday morning and another impossible week. And when Gravel, with a train announcement and a thunder of wheels on rails, gives the subtlest of hints of a possible way out of this unendurable grind, we realise just how invested we are in Julie succeeding against seemingly insurmountable odds.
Production company: Novoprod Cinéma, France 2 Cinéma, Haut et Court Distribution
International sales: Be For Films pamela@beforfilms.com
Producers: Rapahaëlle Delauche, Nicolas Sanfaute
Cinematography: Victor Seguin
Editor: Mathilde Van De Moortel
Production Designer: Thierry Lautout
Music: Irène Drésel
Main cast: Laure Calamy, Anne Suarez, Geneviève Mnich, Nolan Arizmendi, Sasha Lemaitre Cremaschi