Emily Watson puts in a commanding performance in this trad rural Irish mother-son drama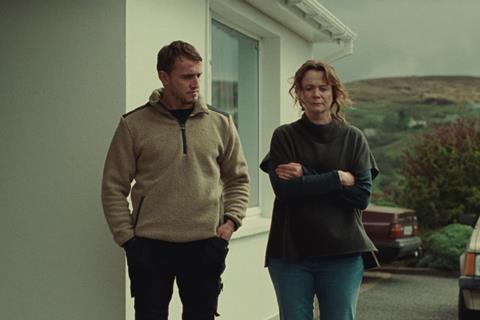 Dirs. Saela Davis, Anna Rose Holmer. Ireland/UK. 2022. 100 mins
A small, wild fishing village in Kerry is the centre of a timeless, elemental drama in God's Creatures, a lashing tale from directors Saela Davis and Anna Rose Holmer (The Fits), from the pens of newcomer Shane Crowley and producer Fodhla Cronin O'Reilly (Lady Macbeth). Perched precariously on the sea's edge and washed over with a peculiar mix of superstition and religion (fisherman refuse to learn to swim, but the blessing of the boats is a must-attend event), this is old Ireland meets the new as its women wrestle against the cosy patriarchy – and their own consciences.
The essence of God's Creatures is fascinating as we watch the force of women row back against the status quo.
Emily Watson leads the cast delivering, yet again, a stinging reminder of her talent. The feeling here is dark — think John McGahern, or John B. Keane's The Field, only these beds are full of oysters – as an apocryphal mother-son drama plays out against the tides. Occasionally, it tips over into the overwrought with its toothless, demented, grandfather, muttered novenas, and constant rolling, heavy weather in all senses, but the essence of God's Creatures is fascinating as we watch the force of women row back against the status quo. After a Cannes premiere (Director's Fortnight), God's Creatures can look forward to festival exposure, domestic and UK interest as well as American potential, given the diaspora and the 'prodigal son' themes at play (A24 has rights). It arrives in a promising moment for native Irish drama, as evidenced by The Quiet Girl's recent domestic success and potential awards run, and may benefit from increased interest. Watson's commanding performance is a real plus.
The timeframe is never specified as God's Creatures comes to life, starting out in a fish processing factory which is the epicentre of much of the drama, given its key role in processing the catches of the husbands and sons of the women who work here. Watson's Aileen is the floor manager, a new, doting grandmother. The village is modern enough that her daughter is a happy single mother, yet the Friday night dancing at Dan Nall's pub speaks to older traditions.
A death at sea heralds the surprise return of Aileen's son, Brian (Paul Mescal) from a prolonged absence working in Australia. Not everyone is as thrilled to welcome him back as Aileen, who comes to life in his presence, and there seems to be a backstory with Sarah (Aisling Franciosi), married to local strongman Francie and helping him cheat the factory's tallying system. With no explanation as to why he hasn't been in contact for so long, Brian decides he wants to bring the family's oyster beds back to life, delighting his mother. Yet his easy flouting of the rules at sea is a sign of his untrustworthiness on land.
Heavy symbolism and constant storm clouds work up to a moral dilemma for Aileen. God's Creatures takes a touch too long to arrive here, distracted by multiple complications at home and the factory (a demented patriarch who seems abusive of Aileen leads nowhere; mouldy oysters turnout to be red herrings). The truly black waters being navigated here involve the return of the prodigal son and how far Aileen is willing to turn a blind eye to his true nature. 'We're all God's creatures in the dark,' is an easy Irish saying, yet how much can we overlook, in those shadows? Darkness is a key theme for God's Creatures, from the sea itself to the interiors of these pebble-dash homes perched against the Atlantic.
The film is shot in Donegal, subbing for Kerry. And with its timelessness and insularity, this could be any remote community, even though the topography is identifiable. A string-laden score is an eloquent accompaniment to this ebb and flow drama of some mother's son.
Production companies: Nine Daughters
International sales: A24 films, info@a24films.com
Producer: Fodhla Cronin O'Reilly
Screenplay: Shane Crowley, from a story by Fodhla Cronin O'Reilly and Shane Crowley
Cinematography: Chayse Irvin
Production design: Inbal Weinberg
Editing: Jeanne Applegate, Julia Bloch
Music: Danny Bensi, Saunder Jurriaans
Main cast: Emily Watson, Paul Mescal, Aisling Franciosi, Declan Conlan, Toni O'Rourke