This Sundance Grand Jury prizewinner is an unconventional documentary about African American poet Nikki Giovanni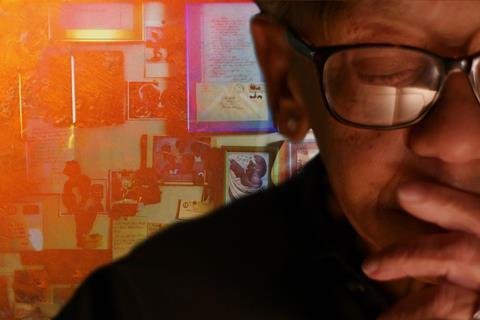 Dirs/scr: Joe Brewster, Michele Stephenson. US. 2023. 102mins
Poet Nikki Giovanni has been a beacon of hope and positivity for the past half century. Directors Joe Brewster and Michele Stephenson now pay tribute to the road she has travelled in an inventive, imaginative documentary, charting her life and times but also exploring her values, beliefs and unique perspective on the experiences of African-American women. There are similarities here to Raoul Peck's I Am Not Your Negro which could provide a template for its commercial future. The Grand Prize win in the US Documentary section at Sundance should be the start of a journey that seems perfectly timed for any events around Giovanni's 80th birthday in June.
Brewster and Stephenson seem determined to honour their subject in ways that avoid the conventional
Brewster and Stephenson seem determined to honour their subject in ways that avoid the conventional. We do learn elements of Giovanni's biography, but that is a lesser priority than conveying her view of the world. She is impish in her humour, provocative in her statements and clearly prides herself on saying exactly what she feels. "Childhoods are always a drag if you're black," she states at one point.
In the present day footage, we see Giovanni in her home in Christiansburgh, Virginia. It is crammed with books, photographs, memorabilia and cherished artefacts from the segregation era. She travels to book signings, festivals and literary events – abrasive at times, endearing at others she has little truck with any attempts to burden her with the label of national treasure. She also sets her own limits, refusing to answer questions that might involve revisiting past trauma. The film sets similar boundaries, providing little personal information on her 30-year relationship with spouse Virginia Fowler, or the causes of a past estrangement with her son.
Giovanni comes across as someone who is eternally true to herself and genuinely indifferent to the expectations of others. Having lived through segregation, the Civil Rights years, the Black Arts Movement and the Black Lives Matter era, she has an incredible ability to transform the negative into a positive. Times that could be remembered for their oppression and horrors are also seen as a source of love, understanding and progress.
The process of discovering who Giovanni is gives the filmmakers a chance to jump off into the times she has known. An impressive array of archival footage touches on the lynching of Emmett Till, the actions of Rosa Parks, the four black girls killed in 1963 in the Birmingham church bombing, and Giovanni's controversial response to the celebrity-led protests against apartheid in the 1970s. There are extensive excerpts from a fascinating conversation between Giovanni and James Baldwin in 1971, where they discuss patterns of violence and hopes for the future.
A bluesy, melancholy score from Samora Pinderhughes and Chris Pattishall lends a soulful edge to a film that also captures a sense of timelessness in scenes of a snowy New York, the thawing of a winter chill, trees in bud, tomatoes on the vine and the seasons passing. Readings from Giovanni's most famous poems (some by executive producer Taraji P. Henson) will encourage those less familiar with her writing to seek it out.
Going To Mars takes its title from Giovanni's belief that "the trip to Mars can only be understood through Black Americans." It is her belief that because black women survived the Middle Passage, there is nobody more qualified to explore the distant corners of the galaxy. They endured life in a strange new world, remained human through the horrors of slavery, sustained families and spread love – travelling to Mars or Jupiter should be well within their abilities. It is an assertion that makes more and more sense as the film unfolds. Images of starry skies, distant planets and deep space reinforce Giovanni's ability to look beyond the present and also reflect the way her mind is wired.
Giovanni can be prickly and truculent. The film finds her facing the death of close relatives and the infirmities of old age. Like most things, she endures and looks for the positives in a life that is all about love and being loved. Going To Mars doesn't soften her sharp edges or try to define her. It accepts her on her own terms and is all the richer for it.
Production companies: Confluential Films, RADA Studio, Just Films
International sales: Cinetic Media sales@cineticmedia.com
Producers: Joe Brewster, Michele Stephenson, Tommy Oliver
Cinematography: Greg Harriott, Alfredo Alcantara, Derek Wiesehahn, Shawn Peters
Editing: Terra Long, Lawrence Jackman
Music: Samora Pinderhughes, Chris Pattishall