An irrepressible New York teenager fights for her future in the latest from Dutch director Sam De Jong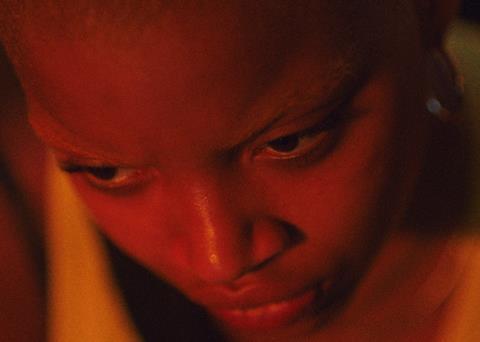 Dir/scr Sam De Jong. US. 2019. 88 mins
Day-Glo dreams of a better future crash into the grey reality checks of the present in Goldie. Dutch writer/director Sam De Jong's portrait of an irrepressible New York teenager is as spirited as the central character and should find a welcome in global festivals and territories with an audience for gritty, big-hearted American independent cinema.
Slick Woods brings out the vulnerability in this seemingly tireless spirit, transforming Goldie's story into a poignant coming of age
De Jong brings a jolt of brash energy to a social realist scenario that could easily have attracted Ken Loach or the Dardenne brothers. A charismatic, eye-catching debut performance from Instagirl fashion world star Slick Woods adds considerably to the film's appeal. Woods' Goldie is barely eighteen and considers herself a star in the making. She has the looks, she has the moves and brims with self-confidence as she bounds through the streets of New York or takes to the stage at a neighbourhood talent show. All she needs is someone to give her a break.
The swooping, lunging camerawork of Shawn Peters reflects the character's restless energy and naive belief that she can figure things out and make life better.
Her reality, though, is living in a hostel with her mother Carol (Marsha Stephanie Blake), her mother's boyfriend and her two sisters Sherrie (Alanna Renee Tyler-Tompkins) and Supreme (Jazmyn C. Dorsey). When Goldie loses her job and her mother is arrested, the teenager goes on the run with the two younger girls. She is determined to keep the family together and assumes responsibility for their wellbeing. She sets her heart on owning a canary yellow fur coat and pins her hopes on getting a part as a background dancer in a hip hop video.
There is a boisterous, guerrilla feel to the early stages of Goldie. Blasts of colour explode on the screen, animated drawings and doodles are scratched over the surface of the action as if a graffiti artist had been let loose on the images to rough them up. The use of slow-motion and smart phone footage adds to a mixture that risks feeling a little too overstated and casual. Like many of De Jong's artistic choices, everything is designed to reflect the emotional turmoil within Goldie and a journey in which her wild optimism slowly ebbs away.
The characters she meets along the way are introduced with a shout out on the soundtrack (Eli!, Janet! etc) and a scratch of their name on the screen. People help and hinder, displaying good intentions and secret agendas. Most of them offer pizza and the sound advice that Goldie really needs to call social services.
Goldie is no saint. She shoplifts, deceives, steals money and does whatever necessary to survive. It is her unwavering determination and concern for her sisters that make her such an engaging figure. Her toothy grin, cropped-to-the-bone hair cut and fondness for lurid yellow attire make her a striking figure. The strength of Slick Woods' performance lies in the way she finds the plaintive grace notes beneath the brash, sassy confidence of that exterior. She brings out the vulnerability in this seemingly tireless spirit, transforming Goldie's story into a poignant coming of age.
Production companies: Fox International Productions,Vice Film Holdings
International sales: Cercamon hello@cercamon.biz
Producers: Luca Borghese, Ben Howe
Cinematography: Shawn Peters
Production design: Nora Mendis
Editor: Robert Grigsby Wilson
Music: Nathan Halpern
Main cast: Slick Woods, George Sample 111, Danny Hoch, Khris Davis