Dir/scr. Ivan Sen. Australia, 2016, 109 mins.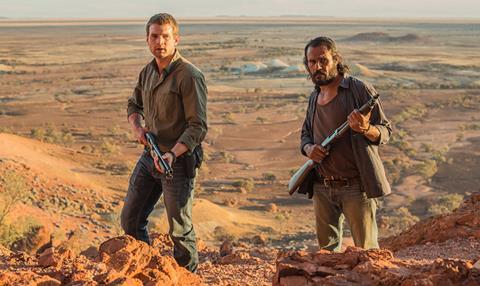 The sun-drenched expanses of the Australian outback have provided the backdrop to many a film and offered parallels to many a divided internal state, and yet no one shoots the country's landscape with as much conflicted emotion as Ivan Sen. Writing, directing, shooting, editing, and composing the score for Goldstone, the multi-talented filmmaker roams his homeland with an affectionate yet cautious eye. Given that his fifth feature tells of an Aboriginal police detective navigating several clashes of culture — stemming not only from his choice of employment and unexpected arrival in the titular town, but from ingrained national prejudices dating back centuries — seeing both beauty and danger at every turn is fitting.
A film of harsh landscapes of the physical, psychological and political kind
In fact, Goldstone is Sen's second neo western excursion into such a situation, and into the cases and intricacies of Jay Swan (Aaron Pedersen), following the director's 2013 effort Mystery Road. A stand-alone companion piece more than a conventional sequel, and one that could easily lead to further tangential chapters, the film further follows in its predecessor's footsteps by opening the Sydney Film Festival. Mystery Road then went on to play in Toronto and enjoyed an Australian theatrical run — and though the latter is already confirmed, with Goldstone bowing locally in early July, global showings on the festival circuit also seem likely.
With a collage of sepia-hued photographs of antipodean times gone by, Sen starts Goldstone with a clear statement; the archival snapshots might hail from the past, but whether anything has changed in similar insular communities across the nation is a question the filmmaker wants audiences to contemplate. Swan's first appearance serves to reinforce this, particularly when his fast-moving four-wheel drive is pulled over by area cop Josh Waters (Alex Russell). Last time the character was seen on screen three years ago, he was a picture of law and order. Here, Swan is so visibly drunk and disheveled that Josh falls back on cultural stereotypes, failing to realise that the speedster is a fellow officer until he finds a badge in his belongings.
Alas, with the nearby Furnace Creek goldmine the main employer in town, and ostensibly controlling the region under the guidance of site manager Johnny (David Wenham) as a result, that's the warmest welcome Swan receives. The bulk of the Goldstone populace doesn't take kindly to an outsider, especially a lone gunslinger on the trail of a missing Chinese woman potentially linked to a local brothel.
Johnny is attempting to broker a deal with indigenous elder Jimmy (David Gulpilil) and Aboriginal Land Council representative Tommy (Tommy Lewis) to expand the mining site, while pie-baking mayor Maureen (Jacki Weaver) is eager to grease the wheels of progress by any means necessary. Accustomed to maintaining the status quo, Josh is initially happy to see Swan on his way, but starts mounting his own investigation in the wake of a tragedy.
Accordingly, Goldstone proves a film of harsh landscapes of the physical, psychological and political kind, and of the burdened silences and pointed dialogue of a place where people hear everything but choose to say very little. Sen doesn't confine his exploration to the Aboriginal versus white divide, with the treatment of the trafficked Asian workers overseen by a ruthless madam (Hong Kong star Cheng Pei-pei) also in the spotlight. Nor is he always subtle in conveying his message about Australia's difficult terrain, or economic and cultural fights over territories and traditions, as the loaded dialogue in many of the feature's verbal exchanges demonstrates.
And yet, even when the lines uttered sound more like a statement than an actual conversation, Sen remains a master of everything he controls as Goldstone slowly inches towards its bullet-riddled finale. His images make every ochre stretch of dirt and pink-lit interior seethe with uncertainty, his soundscape evokes a feeling of both searching and struggling, and his perceptive pacing lingers and waits for the action to take place, crafting a heaving canvas for Pedersen to paint his lead performance upon.
Three years ago, the actor's initial turn as Swan earned him acclaim, but where his character was once a rigid and determined presence, now he's raw, rarely vocal, and long past the point of unraveling. The difference in Pedersen's portrayals between films cements his status as one of Australia's best working actors, and also affords Goldstone the thundering weight it needs to hammer home its contemplative core, though he's ably supported by his co-stars. More through physicality than dialogue, Gulpilil makes the most of his brief screen time, while Weaver peddles ruthlessness with a smile and Wenham oozes misguided arrogance. It's Russell, however, who best matches Pedersen's potency and embodies the tense, testing journey Sen wants viewers to take, peering past the everyday façade into the nation's hidden corruptions and complexities.
Production companies: Dark Matter, Bunya Productions
Sales: Arclight Films, gary@arclightfilms.com
Producers: Greer Simpkin, David Jowsey
Executive producers: Scott Otto Anderson, Craig Deeker, Oliver Lawrance
Cinematography: Ivan Sen
Editor: Ivan Sen
Production designer: Matthew Putland
Music: Ivan Sen
Main cast: Aaron Pederson, Alex Russell, Jacki Weaver, Cheng Pei-Pei, David Wenham, David Gulipilil, Michelle Lim Davidson, Tommy Lewis.