Dir/scr. Kôji Fukada. Japan-France. 2016. 118 mins.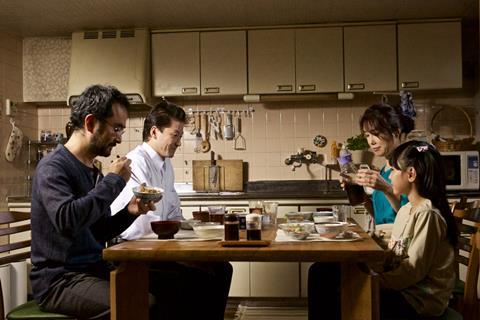 Japanese director Kôji Fukada may adopt a patient, pensive approach to writing, helming and editing his sixth feature, yet ensures his slow-burning, quietly told thriller commands attention from start to finish. Harmonium is stately-paced as it toys with unspoken truths and explores the cracks that form in a family after the arrival of an old acquaintance, but it's also expertly calibrated to reflect emotional realities. The film's insights into the isolation evident in the relationships most take for granted — marriages, parent-child connections and long-term friendships — don't merely hit their targets; they smash them with a sledgehammer.
The thematic astuteness of Fukada's feature would resound regardless of its high-profile premiere.
In fact, as much as the incremental nature of Fukada's storytelling sustains interest, it's the near blind-siding accuracy of his central concern — dissecting the plight of the individual within the bonds that form society's building blocks — that not only lures viewers in, but lingers long after.
While debuting in Un Certain Regard at Cannes is certain to lift Harmonium's profile, and to encourage prolonged festival play on the international circuit, the thematic astuteness of Fukada's feature would resound regardless of its high-profile premiere.
If those watching aren't quite prepared for how deeply the film cuts, then the protagonists on-screen can only be branded blissfully ignorant when the movie commences. Toshio (Kanji Furutachi), his wife Akié (Mariko Tsutsui) and their pre-teen daughter Hotaru (Momone Shinokawa) are hardly jumping for joy as they cycle through their daily routine, but they're happy enough until Yasaka (Tadanobu Asano) walks into their home workshop. Just out of prison and clearly linked to Toshio's past, he asks for a favour. That Toshio is quick to offer his long-lost pal a job and a place to stay without discussing the matter with Akié not only unsettles their household; it places the entire feature on edge.
Many a film has contemplated the splintering of the family dynamic, yet Harmonium burrows into just how tentative ties predicated upon affection, loyalty and even blood can be. Yasaka proves a disturbing force as well as a beacon of truth; as he sings "those happy times have been and gone" to himself after earning the affection of Akié and Hotaru, it's not a warning about developments to come but a statement of fact. When tragedy strikes, it's equally startling and inevitable — and when the tale picks up eight years later, with Akié, Toshio and their new apprentice Takashi (Taïga) sifting through the aftermath, their evident unease is, too. And while the film's title might refer to Hotaru's music instrument, which brings notes together, that's its sole source of harmony.
With unuttered sentiments and statements so influential in the narrative, performances prove pivotal, and if Fukada regular Furutachi and his more than capable co-star Tsutsui ever feel the burden of conveying such intricate emotions or navigating such a tense environment they never let it show. Each provides an insular portrayal, focused as much on physicality as dialogue, that gets to the heart of just how fractured their characters have become. With notions of perception sitting at the core of the screenplay, specifically the existence of innocence and guilt on the same emotional spectrum, both actors infuse their parts with startling texture. As does the understated, almost scene-stealing Asano, who manages to impart menace without clear-cut villainy, and adds another thoughtful effort to his sizeable resume.
The same balance of conflicting elements, notably darkness and light, also shines through the feature's technical credits — be it in cinematographer Kenichi Negishi's images, which use naturalistic light to cast telling shadows and happily place key figures against enveloping backgrounds, or in Hiroyuki Onogawa's score, which both punctuates and emphasizes important moments.
While Harmonium is certainly bleaker in tone than the likes of Fukada's earlier Human Comedy in Tokyo, Hospitalité and Sayônara, it retains one of his defining filmmaking characteristics: a sense not just of confidence, but of compelling humanity.
Production companies: Comme des Cinémas, Nagoya Broadcasting Network, MAM Films
Sales: MK2 Films, intlsales@mk2.com
Producers: Masa Sawada, Hiroshi Niimura
Executive producer: Tsuyoshi Toyama
Cinematographer: Kenichi Negishi
Editor: Kôji Fukada
Production designer: Susuki Kensuke
Music: Hiroyuki Onogawa
Main cast: Tadanobu Asano, Mariko Tsutsui, Kanji Furutachi, Taïga, Momone Shinokawa, Kana Mahiro.