Inside the mind of a musician played by Elisabeth Moss in this edgy Toronto Platform title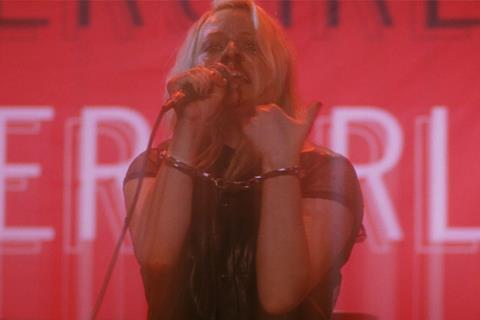 Dir. Alex Ross Perry. US. 2018. 135 mins
Wildly uneven, sporadically brilliant, occasionally unbearable, Alex Ross Perry's sprawling portrait of a self-destructive rock star is carried by a performance by Elisabeth Moss which is turned all the way up to eleven, and beyond.
Elisabeth Moss's screaming blitzkrieg of a performance is a selling point here, although equally it could also be a turn-off for some more delicate sensibilities.
Interspersed with camera phone snippets, the film is divided into five main chapters, each of which plays out almost in real time. Sound design is key, playing as important a role as any of the key characters in this story of girls, guitars and enough drugs to fell a rhino.
Her Smell is frequently rambling and incoherent, often uncomfortable and it suffers from the indulgent running time. But the filmmaking is nothing if not uncompromising and the highs, when they arrive, are piercing and pure enough to keep the audience hooked for the duration.
Of all the female rock star movies showing in Toronto – Her Smell follows A Star Is Born, Wild Rose, Vox Lux and Teen Spirit – this is likely to be the most challenging to market and the most divisive. But the film should find vocal champions and the critical support needed to connect it with an arthouse audience. Moss's screaming blitzkrieg of a performance is a selling point here, although equally it could also be a turn off for some more delicate sensibilities.
The first of the chapters introduces us to Becky Something (Moss), grunge icon and frontwoman for three-person punk band Something She, backstage after the last night of their latest tour. The camera lurches from room to room, as Becky ricochets between her ex-boyfriend (Dan Stevens), her band members Marielle and Ali (Agyness Deyn, Gayle Rankin), her manager (Eric Stoltz), the shaman she keeps on her payroll and her baby daughter.
The score and the sound design is a continual abrasive assault which only lets up when Becky is momentarily off screen. It's as though we are tuned into the cacophony of her mind. It's not an easy place to inhabit. There's a kinship with the disorientating hell trip wig-out of Gaspar Noe's Climax in the first three chapters of the film, in which Becky plummets, noisily, towards rock bottom.
The second chapter unfolds in a recording studio, which the band should have vacated weeks earlier. Drummer Ali, the grounding presence in the band, has finally had enough and quits. Bassist Marielle is blasted to the eyeballs, but even so she can't fail to recognise the disaster unfolding. It's subtle ache of a performance from Deyn, which, given the clamour for attention elsewhere in the picture, takes a while to make its mark. But it's noteworthy for the harmonics it adds to the more strident elements in the filmmaking.
The third section plays out backstage at a last-chance gig with a trio of rock-chick protegees (Cara Delevingne, Ashley Benson, Dylan Gelula). Moss pulls out all the stops – think Gloria Swanson in Sunset Boulevard meets Courtney Love, brandishing a broken beer bottle. The trash fire of Becky's career finally burns out.
It's not until one hour, 15 minutes into the picture that we finally get stillness and silence. But it's not peace exactly – the ticking of clock is an ominous reminder that time is running away from a now sober Becky who finds it hard to leave the house. An acoustic cover version of Bryan Adams' 'Heaven', played to her now seven-year-old daughter, packs an almighty emotional punch and heralds the reassuring group hug of a final act. Never has a happy ending been harder earned.
Production companies: Bow and Arrow Entertainment, Faliro House Productions
International Sales: Voltage Pictures office@voltagepictures.com
Producers: Matthew Perniciaro, Michael Sherman, Adam Piotrowicz, Elisabeth Moss, Alex Ross Perry
Screenplay: Alex Ross Perry
Production Design: Fletcher Chancey
Editing: Robert Greene
Cinematography: Sean Price Williams
Sound: Patrick Southern
Music: Keegan DeWitt, Anika Pyle, Alicia Bognanno
Cast: Elisabeth Moss, Cara Delevingne, Dan Stevens, Amber Heard, Agyness Deyn, Gayle Rankin, Ashley Benson, Eric Stoltz, Dylan Gelula