Jiang Wen closes his Republican Era trilogy with this bombastic revenge thriller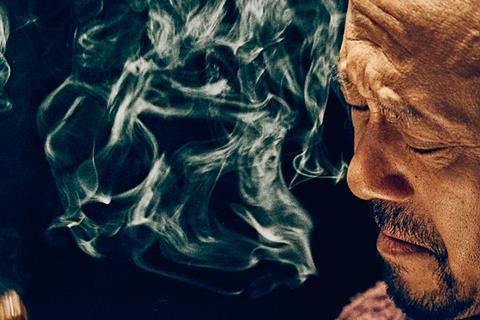 Dir: Jiang Wen. China. 2018. 134mins
Jiang Wen's Republican Era trilogy, which started in uproarious fashion with Let the Bullets Fly (2010) only to stumble with the rather bloated Gone With the Bullets (2014), reaches a spectacularly chaotic conclusion with Hidden Man. A convoluted spy thriller that takes place on the cusp of the 1937 Japanese invasion, it finds Jiang's bawdy humour in full flow but is less satirical of today's China than its caustic predecessors. Perhaps mindful of the current political climate, especially since the premiere of Gone with the Bullets was abruptly postponed because of censorship issues, Jiang has reined in his critique of China's capacity for corruption while taking a go-for-broke approach to escapist storytelling.
An aesthetically exhilarating piece of populist entertainment
Touted as a sure-fire summer blockbuster when it opened domestically on July 13, Hidden Man was caught in the slipstream of the surprise box office juggernaut Dying to Survive which became a must-see with its state-endorsed riposte to greedy pharmaceutical companies. Hidden Man's final tally of $85 million was decent enough, but noticeably lower than the $104 million grossed by Let the Bullets Fly back when China was still a burgeoning movie market. Although its predecessors failed to breakout internationally, Hidden Man could deliver robust specialty revenues if marketed as a stand-alone item, especially if its Gala Presentation in Toronto generates buzz.
Loosely based on a wuxia novel by Zhang Beihai, the film pivots on a quest for vengeance instigated in 1922 when a land-owning martial arts master (Liu Xiaoning) is slain by wayward pupil, Zhu Qianlong (Liao Fan). In partnership with his sword-wielding Japanese accomplice Nemoto (Kenya Sawada), Zhu wants to take over his mentor's land for opium growing. To cover their tracks, the greedy pair massacre the master's extended 'family', but the young Li Tianran (Zhao Jiale) somehow survives being shot and set on fire to be adopted by expatriate doctor Wallace Handler (Andy Friend).
Fifteen years later, Li (Taiwanese heartthrob Eddie Peng) has received a US education and grown into "Bruce", a formidably skilled American spy who is dispatched to Beijing (then Beiping) to gather intelligence. Sent undercover as a doctor alongside his 'father' at Concord Hospital, he soon learns that Zhu is now the Chief of Police while Nemoto runs a respected Confucius School but is still deeply entrenched in the wicked opium trade. Although he ostensibly adheres to the government mantra, "Mission before vendetta", settling the score is Li's palpable motivation.
Assistance and distraction are provided by two strident ladies who need the hero for very different reasons – Guan Qiaohong (Zhou Yun) is a crippled seamstress with her own grievances while Zhu's mistress Tang Fengyi (Summer Xu) wants to consolidate her own position in the power hierarchy. There's also influential businessman Lan Qingfeng (Jiang), who has seemingly conflicting allegiances with all the main players.
This is easily the most meta of Jiang's trilogy with character names that reference screen icons (Bruce Li) or blatantly call attention to plot functions (Handler); digs at the declining state of film criticism; and moments in which characters pause to clarify their actions. It's self-referential, too. The tiled rooftops which feature so prominently here in scenes of combat, surveillance and pure romance were a key element of Jiang's gorgeous debut feature In the Heat of the Sun (1994) wherein privileged youths left to their own devices during the Cultural Revolution explored the empty city from above. Jiang's decision to cast himself as the scheming Lan is a constant reminder of his directorial presence as the businessman exerts his will from the center of the conflict.
The uninitiated may, however, mistake Hidden Man as an unashamed vehicle for Peng, whose run of hits has mixed action movies like Operation Mekong (2016) with altogether gentler fare such as Fleet of Time (2014) and Duckweed (2017). Peng's frequently shirtless role requires him to do almost as much tearful emoting as courageous fighting. The star rises to the challenge with irrepressible gusto, even if he lacks the dramatic heft to spar effectively with Jiang or the tremendously versatile Fan in the verbal showdowns.
The rest of the stellar cast is also having a ball. As in Let the Bullets Fly, the wordplay, which here flits suddenly between Chinese and English, is as dynamic as the action scenes. A stretch when Li is operating under the influence of opium rapidly accelerates the labyrinthine plotting at an early stage with the delirious agent stamping the buttocks of Tang with the stolen personal seal of Nemoto, thereby setting off a combustible chain of accusations.
After a brief comedown, Jiang struggles to establish the rousing rhythm necessary for true investment in Li's quest with significant historical events (the Marco Polo Bridge Incident) being integrated in almost throwaway fashion. Indeed, for all of Jiang's evident love for the period, Hidden Man is curiously removed from it. The sets, which range from a bell tower hideout to the after-hours clubs of the Legation Quarter to a private residence where Lan claims the classic novel Dream of the Red Chamber was written, are certainly sumptuous yet too fantastical to allow full access to this turbulent time.
Yet as much as this keeps the awestruck spectator at a distance from what should be a full-blooded revenge yarn with a fascinating backdrop, Jiang's irrepressible flair ensures that this is an aesthetically exhilarating piece of populist entertainment.
Production companies: Beijing Buyilehu Film and Culture, Wuxi Zizai Entertainment
US sales: Endeavor Content, http://www.endeavorco.com
Producers: Mu Shen, Albert Lee, Kang Li, Andrew Lazar, Zhao Yijun
Screenplay: Jiang Wen, He Jiping, Li Fei, Sun Yue, based on a novel by Zhang Beihai
Production design: Liu Qing
Editing: Zhang Qi, Jiang Wen, Cao Weijie
Cinematography: Xie Zhengyu
Music: Nicolas Errera
Main cast: Eddie Peng, Liao Fan, Zhou Yun, Jiang Wen, Summer Xu, Andy Friend