Dir: Raoul Peck. US/France/Belgium/Switzerland. 2016. 93mins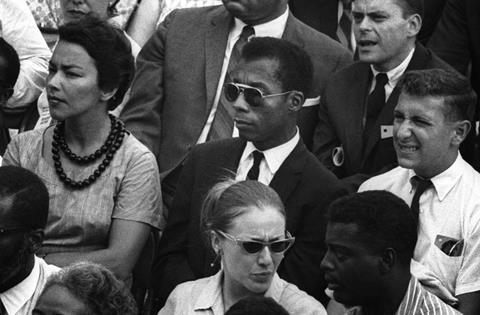 Despairing and angry in equal measure, I Am Not Your Negro forcefully argues that when it comes to race relations, America hasn't evolved significantly since the late 1970s. Using as its text the unpublished words of the late author James Baldwin — who was working on a book about slain activists Medgar Evers, Malcolm X and Martin Luther King Jr. before his death in 1987 — Raoul Peck's documentary/essay makes for a stirring meditation about being black in America. Baldwin's insights originate from 1979, but they still speak volumes, and Peck makes their observations sting.
I Am Not Your Negro deftly pairs footage of police brutality from the 1950s and '60s alongside recent African-American protests of the police shootings of unarmed black people
Premiering at the Toronto Film Festival and screening at the New York Film Festival, I Am Not Your Negro will be released in the US through Magnolia Pictures, which will no doubt position the documentary as another piece of the country's on-going conversation about race and inequality. Strong reviews will boost visibility, and Samuel L. Jackson's presence as the off-screen narrator could attract viewers as well.
The film's opening explains that in the summer of 1979, celebrated essayist and novelist Baldwin was preparing to start a book entitled Remember This House, in which he would tackle the assassination of his three friends, Evers, King and Malcolm X, as part of a larger rumination on the nation's history of racial strife. Jackson narrates Baldwin's notes for that project, as Peck intercuts the author's words with news footage and Baldwin's recorded television interviews.
With a light touch, Peck (Fatal Assistance, Murder In Pacot) slowly makes the case that, despite America electing its first black president in Barack Obama in 2008, there remains much racial division within the country. Working alongside editor Alexandra Strauss, he uses Baldwin's words as a framing device to acknowledge how the US has made some strides since the Civil Rights era. And yet, I Am Not Your Negro deftly pairs footage of police brutality from the 1950s and '60s alongside recent African-American protests of the police shootings of unarmed black people, illustrating that Baldwin's fears remain valid.
Baldwin's insights are often poetic as well as impassioned, and Jackson gives a sterling, understated performance. Speaking in a hushed, almost resigned manner, the Oscar-nominated actor embodies the writer's despondent, infuriated tone, bringing the words to life without over-embellishing them. As a result, I Am Not Your Negro has a restrained moral power, with Jackson's conveying Baldwin's pain over the loss of his friends.
This is even more impressive considering that plenty of films have eulogised these figures. But I Am Not Your Negro works hard to humanise them through Baldwin's memories. In Peck's hands, these aren't cultural figures as much as they are contemporaries, and their deaths feel more intimate as a result.
At the same time, the documentary also succeeds as an oral memoir of Baldwin's difficult relationship with white America. The author's book notes trace the man's life back to his childhood, when he watched movies that contained very few black faces in heroic roles. From there, the film skips around to other meaningful encounters with white culture, as well as Baldwin's complicated feelings about groups like the Black Panthers. Whether in Jackson's voiceover or in the footage of Baldwin giving lectures or appearing on talk shows, I Am Not Your Negro honours an influential 20th century writer by letting him speak for himself — which he does beautifully and persuasively.
Production company: Velvet Film, Inc.
US distribution: Magnolia Pictures, www.magnoliapictures.com
International sales: Wide House, pm@widehouse.org and ec@widehouse.org
Producers: Rémi Grellety, Raoul Peck, Hébert Peck
Screenplay: James Baldwin
Cinematography: Henry Adebonojo, Bill and Turner Ross
Editor: Alexandra Strauss
Music: Alexei Aigui