The Czech Republic bids for Oscar glory with Petr Vaclav's sumptuous period drama/musical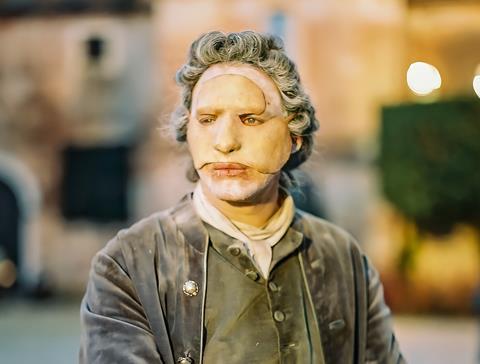 Dir: Petr Vaclav. Czech Republic/Italy/Slovakia. 2022. 140 mins.
The Baroque era, its music and its opera houses, have cast a spell on film-makers over the years – Milos Forman (Amadeus), Joseph Losey (Don Giovanni), Robert Altman (his segment of Aria) and Gérard Corbiau, in his 1994 musical biopic Farinelli. Of particular attraction to cinema are the contradictions of the culture – the squalor beneath the sublimity, the grime beneath the grandeur – and all of that is at the heart of Il Boemo, a sumptuous costume piece that's also an ambitious slice of musical archaeology. This prestige piece by writer-director Petr Vaclav (The Way Out, We Are Never Alone) unearths the forgotten biography of an 18th-century Czech composer, along with his work. The latter re-emerges to glorious effect in a visually and musically vivid film that, while it undoubtedly labours under some staid period drama conventions, largely transcends them with its ripely conceived backstage and bedroom intrigue.
Has the expansive feel of a de luxe mini-series in a elegantly compressed, handsomely gilded 140-minute frame
Il Boemo may seem like an anachronistic anomaly in the current international film climate, but lovers of classical music and heritage cinema alike should warm to it following its San Sebastian premiere, and international prospects will be boosted by the film's nomination as the Czech entry for the Academy Awards.
The film's subject is 18th-century Czech composer Josef Myslivecek (1737-1781), whose life Vaclav previously explored in 2015 documentary Confession Of The Vanished. If Myslivecek is not as famous as certain contemporaries, it may be because the world has found it as hard to pronounce his name, much like numerous characters n the film; but it's also perhaps because he died under a cloud, in penury and ravaged by syphilis.
Played by actor and pop star Vojtěch Dyk, Josef is first seen in Rome in the moments before his death, wearing a Phantom-style mask that hides a face severely disfigured by the disease. His grim end ironically overshadows the following story of his ascent to short-lived glory, as we jump back to Venice in 1765. He's first seen, a struggling musician, giving lessons to a young woman, a cellist of noble birth: she falls for him, and decides to sleep with him rather than lose her virginity with the elder man she's betrothed to. Meanwhile, Josef has formed a liaison with an aristocratic woman (Elena Radonicich) who is seriously committed to the libertine lifestyle of the period, and finds an eager acolyte in the young composer – leading to his young student's spectacular episode of attempted suicide from her box at the opera.
Another of the somewhat ineffectual hero's relationships with a string of forceful, self-possessed women, is with Caterina Gabrielli (Barbara Ronchi). A real-life legend in her day, albeit also soon forgotten, La Gabrielli is a prima donna – of the legendarily volatile variety – who agrees to sing the lead in a new opera of Josef's, to be performed in Naples. It turns out that this tempestuous star requires some serious coaxing to get her to the big aria, and the will-she-sing-or-won't-she? set piece is handled with delicious teasing suspense.
Much of the drama is handled with a certain decorous measure, and it could be said that Dyk's dignified lead performance suffers from the same problems as Ryan O'Neal's period role in Barry Lyndon: namely, that he comes across as a graceful hanger for the frockcoats and perukes, without revealing quite enough of the soul beneath. But overall, the drama requires Josef to respond to the figures around him – which include the scatologically obsessed young King of Naples ((a droll Mirco Ciccariello) and a precocious Viennese whiz named Wolfgang Mozart (in a delicious sequence in which the tyke improvises the bejesus out of a theme of Josef's).
With its action moving between Prague, Munich and various Italian cities, and dialogue mainly in Italian but with some Czech and touches of German and English, Il Boemo – the popular name given to the Czech, or 'Bohemian', composer – has the expansive feel of a de luxe mini-series in a elegantly compressed, handsomely gilded 140-minute frame. The narrative may be emotionally engaging only in fits and starts, and a Prague sequence - in which Dyk plays both Josef and his disapproving twin brother – feels more informative than properly dramatic. When the drama itself flags, however, the music catches fire magnificently. It is performed by the Collegium 1704 ensemble under harpsichordist and conductor Vaclav Luks, with an eminent cast of singers including Simona Saturova, who contributes the stage voice of La Gabrielli in all its stratospheric glory.
Production designers Irena Hradecka and Luca Servino capture the period to a tee, the gilt and the grit alike, with costumier Andrea Cavaletto providing a swoon of flounces, furbelows and brocades. Cinematographer Diego Romero Suarez Llanos offers a tour de force that couldn't be further from the poetic naturalism of his work with director Roberto Minervini, putting his own atmospheric spin on the age while observing the classic tropes of period style, candle-lit chiaroscuro and all,. In particular, he bathes the stage sequences in a glowing warmth that contrasts with the blue-grey chill of the harsh world inhabited by a working composer, for whom the job was as much a hand-to-mouth hustle as professional music is today.
Production companies: Mimesis Film
International sales: Loco Films, arnaud.godart@loco-films.com
Producer: Jan Macola
Screenplay: Petr Vaclav
Cinematography: Diego Romero Suarez Llanos
Production design: Irena Hradecka, Luca Servino
Editing: Paolo Cottignola, Florent Vassault, Florent Mangeot
Main cast: Vojtěch Dyk, Barbara Ronchi, Elena Radonicich, Lana Vlady