Rachel Brosnahan stars in this intriguingly unpredictable crime thriller.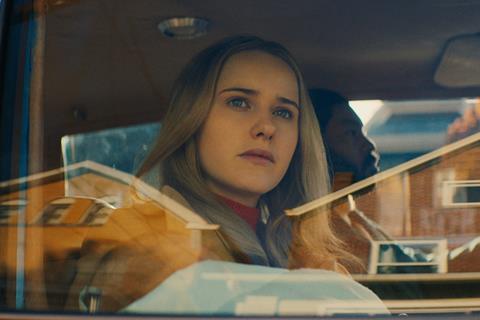 Dir: Julia Hart. US. 2020. 120mins.
Jean knows her husband is a thief, but over the course of I'm Your Woman, she'll learn a lot more about him — and herself. This idiosyncratic thriller stars Rachel Brosnahan as a sheltered 1970s housewife who must go on the run after her spouse runs afoul of some criminal associates, but director and cowriter Julia Hart is more concerned with her protagonist's personal evolution than with plot twists. I'm Your Woman benefits greatly from its off-kilter rhythms and intuitive digressions, even if it can be tonally uneven and a little obvious thematically at times. Jean is never sure what awaits her, and neither are we.
What's consistently engaging about I'm Your Woman is its unpredictability.
This AFI Fest opening night selection will come to US theatres on December 4 before launching on Amazon Prime Video the following Friday, hoping to attract fans of Brosnahan's star turn in TV's The Marvelous Mrs. Maisel, although I'm Your Woman could prove to be a little niche for a larger mainstream audience.
She plays Jean, who loves her husband Eddie (Bill Heck) but tries not to think about how he makes his living. Her wilful ignorance is challenged early in I'm Your Woman when Eddie comes home with a baby in his arms, offering it to her as their child. Where did Eddie get the baby? He advises her not to ask — after all, Jean has suffered several miscarriages, so why spend time worrying about such questions when she always wanted to be a mother?
The introduction of the baby is just the first of several shocks for Jean, who is awoken late one night by a knock at the door and a friend of Eddie's warning her that she must flee town immediately. A man she's never met, Cal (British actor Arinze Kene), will escort her and the child to a safe house, but he can't give her any details about what Eddie has done or where he is. "I've never been on my own," she anxiously tells Cal. In quick order, she's going to find out what's required to take care of herself.
Hart (Fast Color, Stargirl) enjoys taking established genres and then pairing them with intimate character studies, providing us with the perspective of a questioning protagonist navigating the obstacles in front of her. However, by setting this tale in the 1970s, an era in which the women's rights movement was flowering, the filmmaker risks being too on-the-nose with her narrative ambitions: The pampered, naive Jean will reluctantly go on a journey of self-empowerment as she tries to stay alive while getting to the bottom of precisely what Eddie does for a living. (She tells Cal that he's a thief. His look suggests it's not that simple.)
What's consistently engaging about I'm Your Woman is its unpredictability. After being presented with a mystery child — a surprising turn of events that would be enough for its own story — Jean then strikes up a tense friendship with Cal as they work together to evade Eddie's enemies. But eventually, Cal moves to the periphery and we're introduced to Teri (Marsha Stephanie Blake), who has a connection to Eddie that Jean couldn't have possibly anticipated. The film is generally measured in its pacing, giving us time to get to know Jean and the people she comes across, but then out of nowhere a jarring suspense sequence will rock us back on our heels.
A niggling limitation to the proceedings is that Jean has been a bit narrowly conceived. As played by Brosnahan, the transformation from demur housewife to assertive, independent woman isn't entirely convincing, and indeed sometimes the character feels more like a container for the film's themes — motherhood, commitment, self-actualisation — than a richly developed person in her own right. Brosnahan brings the right amount of innocence and fear, but when I'm Your Woman shifts into darker terrain in its second half, she's not quite as commanding.
One senses that Hart, as she has with her past films, longs to upend narrative conventions, delivering a crime drama that's really an emotional treatise on the desire to find connection in a hostile world. The costumes and period detail are superb, but ultimately I'm Your Woman's central mystery, which involves what has become of Eddie, isn't all that interesting. To be fair, that's partly by design — this is Jean's story, not his. And as the film reaches its unexpected but satisfying conclusion, the suspicion is that her adventure is actually only just beginning.
Production companies: Original Headquarters, Scrap Paper Pictures
Worldwide distribution: Amazon
Producers: Jordan Horowitz, Rachel Brosnahan
Screenplay: Julia Hart & Jordan Horowitz
Production design: Gae Buckley
Editing: Tracey Wadmore-Smith, Shayar Bhansali
Cinematography: Bryce Fortner
Music: Aska Matsumiya
Main cast: Rachel Brosnahan, Marsha Stephanie Blake, Arinze Kene, James McMenamin, Marceline Hugot, Frankie Faison, Bill Heck