A cursed dress haunts its owners in Peter Strickland's arty horror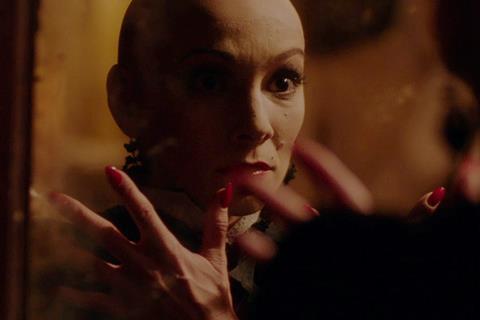 Dir/scr: Peter Strickland. UK. 2018. 118mins
Can you be nostalgic for an era you can't really remember? Director Peter Strickland may be in his 40s, and his films shot through with modern ambiguity, but they're driven by a fond appreciation of retro pleasures like early-`70s kitsch, sensationalist Euro horror and lost-in-translation dubbing jobs
In Fabric feels like some rediscovered, 40-year-old Italian giallo, which seems to be Strickland's intention
Premiering as part of the Toronto International Film Festival's Midnight Madness program, In Fabric combines all those directorial obsessions, and adds a few more. A perverse (and often perversely funny) genre film, it's sure to do well in similar festival berths although, like Strickland's previous works, seems unlikely to move past cult status to mainstream success.
Set in a dreary post-Christmas London, at its simplest the film is the story of a diabolical department store and a haunted dress. Red as hell and just as damned, the frock fits whoever buys it. But its flattery comes with a price, the toll ranging from scabrous skin conditions to exploding washing machines.
Frankly, that's just enough material for a short story, but Strickland's script stretches it out with sideshows. Although we spend most of the running time with one owner – played by the stoically long-suffering Marianne Jean-Baptiste, who only wanted a nice outfit for a blind date – it then falls into the hands of a second owner, slack-jawed Leo Bill, who brings it home for his wife.
Strickland's style expands this thin framework further, sometimes overloading the film with florid flourishes and surreal, stand-alone sequences. Several scenes consist solely of still-photograph montages; other, darkly Gothic, ones descend into the bloody baroque. Otherworldly sales clerks at the department store speak their own, highly ornate English; after the last customers leave, they join the manager for magical invocations and bizarre orgies.
As eclectic as the film's tones are – there are also a few interludes of Office-Space-style satire – the performance styles are just as far-ranging. As a weary single mother, suffering through an awful job while returning gingerly to the dating world, Jean-Baptiste does the sort of thrillingly realistic work she's brought to her roles since Secrets & Lies. An underplaying Hayley Squires is another quiet standout as one of the dress's fans, Bill's increasingly frazzled bride-to-be, yet other portrayals push things far further, ranging from the slyly ironic to the broadly grotesque.
Most of the time, though, In Fabric feels like some rediscovered, 40-year-old Italian giallo, missing an expository scene or two and inexpertly redubbed – which seems to be Strickland's intention. If his erotic The Duke of Burgundy channeled feverish Jess Franco, and the murderous Berberian Sound Studio evoked delirious Dario Argento, In Fabric combines both, while adding the cold Canadian detachment of David Cronenberg – and, maybe, sneaking in a nod to one of Strickland's first loves, Franz Kafka.
It's a mad mixture – and,one which sometimes descends into simple, maddening obscurity. Why are there what appear to be racks of clothes in a bank executive's office? What sort of bachelor party includes forcing the guest of honor to dance around in a dress? And what exactly is the point of all this the-devil-sells-retail business? What do these monsters hope to gain?
That both of the main characters in In Fabric take time to recount dreams they've had is perhaps the director's biggest explanation, or excuse. This is a film with the logic of a dream, which is to say, no logic at all. But it also has the power of a nightmare. And, like some of them, it lingers.
Production companies: Rook Films, in association with Head Gear Films and Metrol Technology.
Worldwide distribution: Bankside films@bankside-films.com
Producer: Andrew Starke
Production design: Paki Smith
Editing: Matyas Fekete
Cinematography: Ari Wegner
Music: Cavern of Anti-Matter
Main cast: Marianne Jean-Baptiste, Leo Bill, Hayley Squires