Dir/scr. Edoardo de Angelis. Italy, 2016, 104 mins.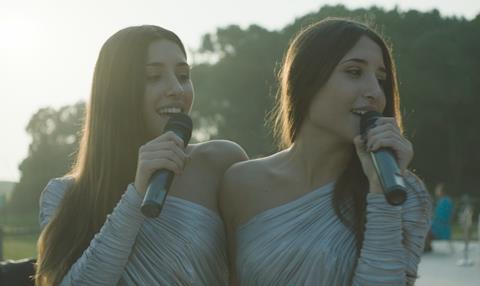 As he focuses on conjoined twins contemplating surgical separation, Neapolitan writer/director Edoardo de Angelis likes little more than looking at his protagonists. As they recline in bed, sing songs about unity for adoring locals, and argue about following their own paths, Indivisible peers and probes, offering a sensitive, insightful and sometimes even dream-like rumination on the cost of seeking and subverting normality.
The authenticity of the sisters' bond sits in stark contrast to the extremities of greed, arrogance and lust that swirls around them.
In his fourth feature following 2011's Mozzarella Stories, 2014's Perez and this year's Vieni a vivere a Napoli!, de Angelis views his characters with empathy and understanding; it's the demanding, devouring world around them that's grotesque in his pointed portrait. With the film's visuals often bordering upon ethereal and its lead performances dripping with intimacy, expect Indivisible to continue to garner festival attention following iVenice and Toronto screenings — and for debuting stars Angela and Marianna Fontana to kickstart their careers.
The concept of safety of numbers is more than just an age-old adage for Daisy (Angela Fontana) and Viola (Marianna Fontana), though it's the latter that finds the most comfort in literally being joined at the hip to her sibling. For their father (Massimiliano Rossi) and lay-about mother (Antonia Truppo), the girls are a meal ticket that pays dividends at weddings, baptisms and confirmations thanks to the combination of their appearance and their vocal talents. For Father Salvatore (Gianfranco Gallo), they're a means of raising money for a new church funded by donations from eager believers.
Indeed, everyone surrounding the sisters has a stake in, opinion about or interest in their conjoined status, including the smooth-talking potential manager (Gaetano Bruno) who promises fame and fortune, the ordinary folks that are driven to touch their flesh, and the Swiss-based doctor (Peppe Servillo) who claims he can achieve what they've always been told was impossible. Of course, once the idea of breaking their physical bond is lodged in the more stubborn and outspoken Daisy's mind, gaining her independence is an option she's determined to pursue.
As he proved with fellow Venice title Perez, de Angelis is keenly aware of the impact that his stylistic choices has upon his narratives. With co-writers Nicola Guaglianone and Barbara Petronio, he remains intent on thrusting both the firm connection and growing conflict between the central siblings to the fore in expressive sequences, while also ensuring that the authenticity of their bond sits in stark contrast to the extremities of greed, arrogance and lust that swirls around them.
Accordingly, just as keeping the camera trained on Daisy and Viola forces audiences to gaze deeper, so does focusing on their ordinary interactions. Whether his regular cinematographer Ferran Paredes is shooting one of their performances with a roving glow, finding muted tones in an energetic run to the beach, or letting sunlight shine as they later stroll, scream and disagree by the sea, much of Indivisible is content to watch the pair walk and talk.
Such an approach places a heavy burden upon the Fontana twins, though the first-timers show no signs of struggle. While the two aren't actually conjoined, they sell the physicality of their characters with ease; however it's their emotional range that cements their performances. They deliver delicacy and nuance, rallying against being put in their place, and proving to be the film's least outlandish figures as a result. That they do so while also wading through a selection of stylised sections says much about their efforts, and de Angelis's canny way of exploring such a distinctive tale.
Production companies: Tramp Limited, O'Groove
Sales: True Colours Glorious Films, catia@truecolours.it
Producers: Attilio De Razza, Pierpaolo Verga
Screenwriters: Nicola Guaglianone, Barbara Petronio, Edoardo de Angelis
Cinematography: Ferran Paredes Rubio
Editor: Chiara Griziotti
Music: Enzo Avitabile
Production Designer: Carmine Guarino
Cast:Angela Fontana, Marianna Fontana, Antonia Truppo, Massimiliano Rossi, Tony Laudadio, Marco Mario De Notaris, Peppe Servillo