A man embarks on a physical and spiritual journey in this arresting debut drama from Vietnam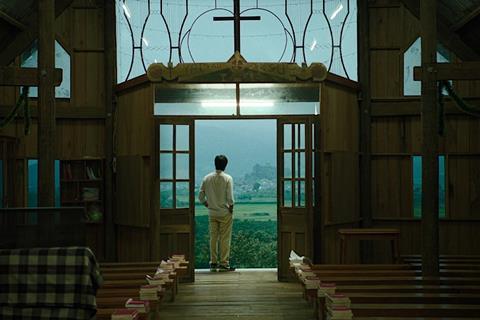 Dir/scr: Pham Thien An. Vietnam/Singapore/France/Spain. 2023. 178mins
A sudden death brings unexpected responsibilities in Inside The Yellow Cocoon Shell. The entrancing debut feature from Pham Thien An becomes a quest for understanding and certainty in a Vietnam that seems unable to provide any clear answers. The journey itself is what matters in a film defined by visual splendour and a complex questioning of faith. This hypnotic, haunting debut should attract festivals and hardcore audiences - it has arthouse potential, but this will be tempered by realistic expectations based around the lengthy running time, measured pace and some mystifying moments along the way.
A remarkable debut feature; provocative, absorbing and mysterious
Drawing on images and themes from his short films, particularly the one-take Stay Awake, Be Ready (2019), Pham begins his story in a bustling Saigon where people watch a televised football game during the 2018 World Cup. A trio of friends sits outside, sipping beers and discussing the future. One of them has sold his possessions and is leaving the city to live in the mountains. Thien (Le Phong Vu) quietly listens to the talk of life's meaning and true purpose. He finds it hard to believe in divine will, asserting that "the existence of faith is ambiguous". In many respects the film is about trying to replace that ambiguity with conviction.
Thien's sister-in-law Hanh is killed in a motorcycle accident leaving him with the task of accompanying her body to their home village and also taking care of his five-year-old nephew Dao (Nguyen Thinh). The youngster unsettles with his direct questions – " What is faith, uncle?" or " Where is heaven, uncle?" Thien's journey extends into a search for what has become of the boy's father, Thien's long absent older brother Tam. Pham acknowledges the sharp contrast between the teeming street life and crowded hospitals of Saigon and what Thien experiences as he heads into the countryside. The mist-shrouded mountains, lush, rain-soaked vegetation and sparsely populated villages provide room to breathe and think.
Thien's journey is marked by the rituals and ceremonies surrounding death, and his uncertain faith is challenged in pivotal encounters with two figures. Mr Luu once fought in the military and now finds meaning to his life by preparing funeral shrouds. Thao (Nguyen Thi Truc Quynh) is a young nun who teaches at the home where Dao may board, and who shares a past history with Thien. Key conversations are witnessed at a distance with a static two-shot where the camera slowly starts to hone in on the protagonists. The movement invites us into the moment, demanding concentration.
Cinematographer Dinh Duy Hung (who also shot Pham's short films) works in perfect harmony with Pham. There are beautiful images of nighttime forests, rushing waterfalls, windswept trees and the caged silk worms with their brilliant yellow cocoons. There is also a great sense of flow in the camera movement, focusing on key moments but often prowling, tracking and travelling at speed as the action requires. There is an assured sense of a director in command of his storytelling. The title only appears thirty minutes into the film, a plaintive cello or jangling guitar provide rare moments of musical accompaniment, there are telling fades to lingering black. All of them are carefully deployed, underlining Pham's confident approach.
Thien remains a dogged, diffident figure throughout his quest, drawn to the convictions of others but still hesitant in finding a way to define his own beliefs. Connections between past and present provide more questions and create moments in which the viewer is left to ponder the meaning of what they have just witnessed. Pham's ear for the sounds of the natural world, interest in death, faith, reincarnation and the metaphysical provide obvious affinities with the films of Apichatpong Weerasethakul but this is also a film that suggests connections with the leisurely, contemplative tone of Theo Angelopoulos's work.
This is a remarkable debut feature; provocative, absorbing and mysterious. There are no easy answers to the big existential questions, just a desire to seek them out with a kind heart and good intentions. In the end you just have to have faith.
Production companies: JK Film, Potocol
International sales: Cercamon sebastien@cercamon.biz
Producers: Jeremy Chua, Tran Van Thi
Cinematography: Dinh Duy Hung
Production design: Pham Thien An
Editing: Pham Thien An
Main cast: Le Phong Vu, Nguyen Thi Truc Quynh, Nguyen Thinh, Vu Ngoc Manh