Olivier Assayas reworks his own film in this cannily crafted and enjoyable meta investigation of today's image culture and early cinema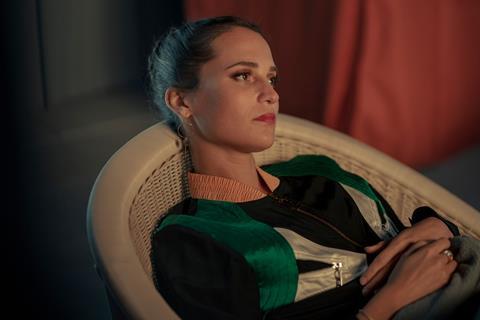 Not that the Nouvelle Vague directors weren't already obsessed with American cinema – but Olivier Assayas' 1996 film Irma Vep was where late 20th-century French art cinema really began to engage with Hollywood, and with the new Asian cinema, and with French cinema's origins. That film was a dizzying mirror game that showed auteur Assayas nudging his own national cinema towards a new self-reflexive modernism. Now he's further bumped up the meta factor in a TV mini-series that reworks his own previous film as a vehicle for, among other things, a witty cogitation on how streaming culture actually has its origins in the very roots of cinema. More overtly comic than the 1996 film, this TV Irma Vep – with three out of eight episodes previewed in the Cannes Premiere section – is a tantalising glimpse of a cannily crafted, enjoyable and sometimes cheekily scabrous show that might nevertheless prove a super-niche proposition of most appeal to hardcore cinephile viewers.
He hasn't aimed for the addictive speediness of the Netflix era, rather choosing to offer extended sections focusing on individual characters
Assayas' original film had Hong Kong action star Maggie Cheung – playing a version of herself – arriving in Paris to star in a remake of Louis Feuillade's 1915 crime serial Les Vampires. In the new series, Alicia Vikander plays American star Mira, fresh off a superhero blockbuster called Doomsday and ready to don the iconic black catsuit as anagrammatic femme fatale Irma Vep in a new Vampires remake – this time, a TV series helmed by respected but troubled director René Vidal (Vincent Macaigne). On arrival in Paris, however, Mira finds herself outvamped and outflanked by her former assistant and ex-lover Laurie (Adria Arjona), who still has the actress wrapped cruelly round her little finger.
Meanwhile, the production is in trouble because René's history of erratic behaviour and current use of anti-depressants is causing insurance problems. Things get wilder with the arrival of crack-addicted German co-star Gottfried, drolly played by Lars Eidinger as a satanic combination of the three Ks: Klaus Kinski, Udo Kier and Keith Richards. Throw in loftily wilful costume designer Zoë (Jeanne Balibar) and posturing lead male Edmond (a deliciously up-himself Vincent Lacoste), and it becomes clear that for all her star glamour, Mira is actually the least diva-like person on set.
Along with the film shoot itself, the series muses on Feuillade's original Vampires, clips of which are interspersed throughout, along with scenes from Vidal's remake-in-progress. One of the running gags throughout is the fact that Vidal is implausibly going for a very faithful remake, leading characters to point out that things that worked in the 1910s don't really make sense today (indeed, why would a ruthless criminal conspiracy choose to record all its dark secrets in a little red notebook? and why is Feuillade's investigative reporter hero such a wet blanket?). Key to the whole thing – and characteristic of Assayas' film historian tendencies – is an investigation of the relationship between today's image culture and that of silent cinema (as someone points out, even at the dawn of cinema, narratives were 'content' intended to boost the bankability for a new technology).
What's intriguing about Assayas's series – although this may be of little interest to those not acquainted with his career or film-critical ideas more generally – is the way that it muses on its own status as both a serial and an extended movie in the form of a serial. But it also muses openly on its own roots, notably in a surprising, and oddly touching episode in which Vidal's shrink reminds him that he's already remade Les Vampires once before – which would make Macaigne's character at once a reincarnation of the auteur played in the 1996 Irma by Jean-Pierre Léaud, and an avatar of Assayas himself. Weirdly, Macaigne appears to be at least semi-imitating Assayas in his delivery, and when Vidal muses on aspects of his own psyche, he seems to be pretty directly commenting on certain motifs of Assayas' cinema, and even of his personal history.
Among Assayas' themes reworked here are lesbian desire and mistress-servant power relationships, as depicted in Demonlover, Personal Shopper and The Clouds of Sils Maria: here that relationship plays out on one side between Mira and Laurie, on the other between Mira and her new assistant, Deleuze-reading film graduate Regina (Devon Ross, exuding know-all hipster snarkiness à la Aubrey Plaza). A further self-referential touch is the way that Assayas has gathered together cast members from several of his previous films, including Nora Hamzawi and Nathalie Richard, Zoe in the original).
Admirers of the ever-venturesome Assayas will be fascinated to see how he's adapted to (or rather, adapted) the mini-series format. As it happens, he hasn't aimed for the addictive speediness of the Netflix era, rather choosing to offer extended sections focusing on individual characters, as opposed to building up a complex, rapidly progressing narrative. And, truth be told, his style – however glossily it is presented here – can't compete with that of the French media comedy series it's hard not to see him channelling here, Call My Agent. As it is, Vikander's playful, engagingly laidback performance forms a strong unifying thread, while Macaigne and Lacoste are altogether priceless. Irma Vep occasionally swerves into movie-world cliché – although, given Assayas' smarts, it can't help but register somewhat as meta-cliché, but it will be fascinating to see where it's all going. And, this being the kind of show it is, the very idea of 'going somewhere' may end up being slyly deconstructed out of existence.
TV Series. Dir. Olivier Assayas. France /US. 2022.
Cannes Premiere. 180 mins, 3/8 episodes.
Production companies: HBO, A24
International sales: Warner Bros Discovery, evelyne.pillet@warnerbros.com
Executive producers: Olivier Assayas, Alicia Vikander, Sylvie Barthet, Daniel Delume, Ravi Nandan, Hallie Sekoff, Kevin Turen, Stuart Manashil, Sam Levinson, Ashley Levinson
Producer: Jes Anderson
Screenplay: Olivier Assayas
Cinematography: Yorick de Saux, Denis Lenoir
Editor: Marion Monnier
Production design: François-Renuad Labarthe
Music: Thurston Moore
Main cast: Alicia Vikander, Vincent Macaigne, Jeanne Balibar, Vincent Lacoste