Khalik's Allah delivers an imposing work of absolute individuality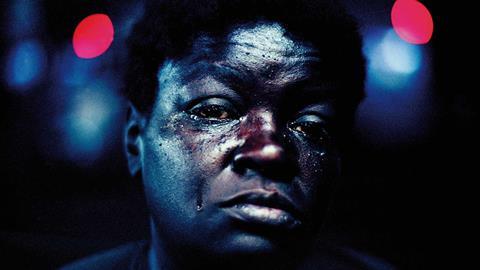 Dir. Khalik Allah. US. 2020. 200 mins.
Offering a total immersion into the art and worldview of New York film-maker/photographer Khalik Allah, IWOW: I Walk on Water is a daunting, arguably unwieldy venture, but for the most part a genuinely exhilarating one. Allah made his name with the confrontationally-titled Field Niggas (2015), a one-hour portrait of life on one particular corner of Harlem, originally issued on YouTube and Vimeo; and followed up with the acclaimed Jamaican study Black Mother (2018). IWOW returns to the scene of the former, much more expansively, but also functions as a portrait of the artist, his world, his (sometimes eccentric preoccupations) and his relationships with his loved ones.
The film can feel like an overwhelming watch over three hours plus, but there is no denying that Allah has a formidable talent for capturing character and image alike
IWOW feels at points like the sort of artist's work that might be at home in a gallery, and it invites a floating attention span that might make some viewers want to dip in and out. Whether it strictly merits its 200-minute running time is moot, and IWOW might have been more effective if economically sculpted. But then, encyclopedic expansiveness and structural looseness are part of its raison d'être, and despite qualms, this CPH: DOX selection is an imposing, at times electric work of absolute individuality, and potentially a landmark statement in new American documentary and African-American cultural identity.
Shot in various formats which reveal their nature (timecodes in the video section, visible sprocket holes and stretches of coloured leader for the 8mm and 16mm), the film is partly a free-ranging, free-associative study of street people who frequent the corner of 125th Street and Lexington in Harlem, previously visited in Field Niggas. Variously casualities of drink, drugs and deprivation, some have incurred mental damage, notably the film's central figure Frenchie, an elderly Haitian man with schizophrenia, first seen holding a rose to the camera (many of Allah's subjects hold similar floral tributes).
Frenchie and Allah – heard talking mainly in voice-over – clearly have a warm closeness, and at one point the director invites him to his mother's home. This causes the film-maker's friend, artist and renowned graffiti pioneer Fab 5 Freddy, to applaud his compassion while telling him, "You go a little too far with some of those cats." For sure, Allah isn't objective or journalistic in his conversations with his subjects, but the rapport he enjoys with them is palpable; and when he fits a rhythm track to Frenchie's personal chanted anthem 'Frenchie Is a Good Man', it makes for a particularly tender collaboration.
Other people seen and heard from the streets and from Allah's life include a young woman named Olivia, who walks barefoot and talks about her time living in hospitals; a gentle white-bearded character, seemingly old before his time, named Mark Wilson; and assorted friends, collaborators and hip-hop practitioners, including rapper and Wu-Tang Clan associate Killah Priest. We also meet the film-maker's mother Reason, who shows concern at her son's strange Christ-identified ramblings, apparently inspired by his fondness for psychotropic mushrooms. She also wonders why he's making another film about Harlem, when he already did that in his first movie – and indeed, some of IWOW offers a self-conscious reflection on the film-making process, beginning with Allah musing about wanting to emulate Space is the Place, John Coney's 1974 feature celebrating jazz visionary Sun Ra.
But the film isn't confined to the street. Allah, working as his own editor and switching between colour and black and white, also cuts in footage of the stately spaces of a New York museum, a conference venue where he has a speaking appearance, and much nature footage, including the lapping sea shots that close the film. An extended, self-contained section acts as a portrait of, and love letter to, his Italian girlfriend Camila, with whom he takes a trip to Europe (including the original Haarlem, in Holland); some might find the digression self-indulgent, although it's undeniably poignant, as well as bringing us closer to the sensibility behind the camera.
The film can feel like an overwhelming watch over three hours plus, but there is no denying that Allah has a formidable talent for capturing character and image alike, many of the shots having a richness, rawness and intensity of texture that make IWOW feel like a photo gallery exhibition come alive, in the very best sense. Whether we're watching the street person, their facial textures vivid and exposed as they gaze back at the camera, or the harsh flickering black and white of an overexposed night-time streetscape (the images are predominantly nocturnal), this is the work of a hyper-alert artist – and one who seems to be permanently on, driven by a hunger to film.
Sound is just as essential as vision, with most of the dialogue, much of it in the form of phone calls, heard off-screen, and voices credited in captions: some comes from the people Allah films (although there's only occasional use of direct sound), and some from Allah himself, getting into discussions on race and religion that can be pretty idiosyncratic. Another Wu-Tang collaborator, 4th Disciple, is both composer and sound designer, his eclectic choices knitting the sometimes dizzying diversity of Allah's imagery into a powerful and sometimes mesmerising flow.
Production company: Gospel of Matthew
International sales: Capital K Pictures, sofian@capitalkpictures.com
Producers: Sofian Khan, Vikki Tobak
Cinematography: Khalik Allah
Editor: Khalik Allah
Music: 4th Disciple