Christian Schwochow's political thriller focuses on the rise of the youth far-right in his country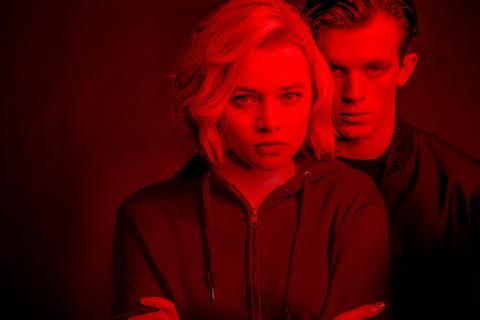 Dir. Christian Schwochow. Germany/Czech Republic. 2021. 126 mins.
German political thriller Je Suis Karl casts the spotlight on what Susan Sontag famously called 'fascinating fascism' – though here it's more a case of fashionable fascism. A study of the youthful, shiny and – superficially, at least – respectable face of Europe's new far right, Je Suis Karl is serious-minded, certainly timely, and not without invention and insight. But this Czech-shot feature proves less striking than initially promised, largely because of narrative contrivance, an inclination to melodrama, and polished but unexceptional execution with a TV series feel (of the old school, before the streaming boom upped the stylistic stakes). After premiering in the Berlinale Special section, this film by Christian Schwochow – after several theatrical features and TV work including a stint on The Crown - should make dependable home viewing, but seems unlikely to cause wider ripples.
It is more than a little awkward that a drama decrying racism barely bothers to have any non-white characters.
A breathless opening begins with iPhone-style footage showing middle-aged couple Alex (Milan Peschel) and Inès (Mélanie Fouché) smuggling a young Libyan refugee, Yusuf (Aziz Dyab) over the German border from Budapest. Back home in Berlin, they are joined by their teenage daughter Maxi (Luna Wedler), returning from a spell in Paris – but chances of domestic togetherness are shattered when their block of flats is destroyed by a parcel bomb, in what is immediately assumed to be an Islamist terror attack.
Shocked and grieving, Maxi – suddenly in the media spotlight - is fleeing journalists when she is befriended by a handsome, sympathetic young man, Karl (Jannis Niewöhner). He advises her to get away from the pressure, and invites her to a summer youth 'academy' in Prague. Maxi signs up for the event, where - under the banner Re/Generation Europe - hip-looking, bright-eyed, optimistic young people attend seminars, listen to bands and listen to motivational speeches, not least from the charismatic Karl himself. If Maxi's suspicions are not aroused by the fact that the crowd is very conspicuously white, they might be when a young woman shouts, "Sieg heil!" – only to be told off by Karl: "That was yesterday – get over it."
Karl is the leader of a trans-European far-right movement that accepts the term 'fascism' only reluctantly because it's rather passé, and which presents itself in bright, positive, Instagram-friendly colours. But beneath the veneer of soft-spoken reason and pierced-septum cool, Re/Generation has a vehement anti-immigrant agenda, and ultimately intends a complete takeover of Europe. It also has some viciously ruthless methods – and Maxi is part of their plan.
The opening episode with Yusuf establishes Maxi's parents as compassionate left-wingers – setting up the realisation that it's all too easy for those people to have children who turn to the right. Sure enough, Maxi falls for Karl's aura and persuasiveness; it doesn't hurt that he's a pin-up hunk, and soon becomes her lover. Meanwhile, Alex is haunted by the horror of the attack, often in heavy-handed dream sequences involving the dead birds first seen in the altogether effective explosion scene.
The story builds to a climax with Karl planning his decisive move at the rally of a French far-right candidate, imagined as a younger, glossier version of Marine Le Pen. In the lead-up to that, however, things turn florid and over-baked, as Karl and cohorts bubble over with loved-up mutual admiration at a rave night where a French neo-Nazi techno-rapper shares the bill with sensitive pop balladeers.
The young leads are engaging - Luna Wedler confidently pulls off a conflicted mix of pain, vulnerability and full-on rage, while Niewöhner conjures up Karl's narcissistic demagoguery with a troubling swagger. But Je Suis Karl can be excruciatingly on the nose, not least in the insipid and explicit English lyrics of Max Rieger's songs for the Re/Generation crooners, which come across like 'Tomorrow Belongs To Me' reworked for the Billie Eilish generation. It is also more than a little awkward that a drama decrying racism barely bothers to have any non-white characters.
And yes, the title does indeed echo the slogan that responded to the Charlie Hebdo killings – here reworked in a way that brings Karl's cynical fanaticism to the fore. There's undeniably a well-intentioned seriousness to the film, and to Thomas Wendrich's script. And there's plenty to be said right now about a new European right that courts followers by playing down traditional recognisable extremist rhetoric and imagery (a theme examined in a more measured way by Lucas Belvaux's 2017 drama This Is Our Land). With its glossy thriller-romance premise, and affecting leads, Je Suis Karl should find an intrigued audience of around Maxi's age - although there's always the chance that for some viewers, the new fascism may look just as sexy as Karl's PR efforts intend.
Production companies: Pandora Film Produktion, Negativ Film Productions
International sales: The Match Factory, info@matchfactory.de
Producers: Christoph Friedel, Claudia Steffen
Screenplay: Thomas Wendrich
Cinematography: Frank Lamm
Editor: Jens Klüber
Production design: Tim Pannen
Music: Tom Hodge & Floex, Max Rieger
Main cast: Luna Wedler, Jannis Niewöhner, Milan Peschel, Edin Hasanović