Searching for the truth about his brother's mysterious death, Peter McDowell creates a compassionate picture of a hidden gay life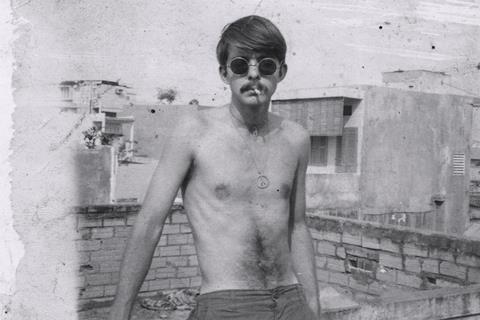 Dir: Peter McDowell. US. 2022. 90 mins.
There is a spectre looming over Peter McDowell's search to uncover the truth behind his older brother Jimmy's death in Vietnam, a mystery he describes as a "veil of sadness over his family". Peter has his parents' archive of letters from both Jimmy and his 'girlfriend' at the time, which he uses as both sleuthing and documentary materials to untangle the secrecy shrouding Jimmy's death, sexual orientation and rumoured drug abuse. The result is a compassionate picture of a hidden gay life. In lifting that veil, McDowell turns his debut feature documentary into an overdue act of mourning and the sentimental mystery at its centre becomes a journey of personal healing.
Peter and his film are fuelled by the drive to make historical amends; to give visibility to queer love kept secret.
When the McDowell family received the telegram in 1972 notifying them of their eldest son Jimmy's death, Peter was just five years old. He remembers the sombre mood surrounding the news with greater clarity than the actual person it concerned. Jimmy, aged 24, didn't die in battle - he had returned to war-time Saigon as a civilian from his home in Illinois after being discharged. His letters explain the choice as a rejection of 1970s American values of consumer-capitalism, and a desire to re-immerse himself in the sensory experiences he got a taste for as a young conscript in Saigon – sex, drugs, food and music, unlike anything from his former middle-class, all-American family life. Today, Peter is comfortably open with his family about his own gay sexuality, but he and his film are fuelled by the drive to make historical amends; to give visibility to queer love kept secret. It's this sincerity and purpose that should assure the film's further play at LGBTQ+ festivals and events following its world premiere at Flare.
Due to the film's historical and investigative nature, there is a natural dearth of visual materials to bring Jimmy's story to life. One of Peter's four surviving older siblings, John, reads Jimmy's letters in voiceover while postmarks anchor them to their context. At times, for emphasis, the typed or handwritten words appear in Kelly Creedon and Liz Kaar's busy mix of superimpositions along with the envelopes, photographs and stock footage they've assembled to give historical weight to the findings. Accompanied by John McDowell and Sabina Sciubba's imposing score, Peter brings a sense of immediacy to the narrative that took him a decade to construct.
Attempts to enliven the otherwise serious tone come through collective and pop culture references, including Peter's reminiscences of seeing the movie Hair. Struck by its homoerotic content and moved by the plot about a young man who went to Vietnam and didn't come back, Peter speaks candidly about how his life has been marked by Jimmy's death – a pain that both deepens and eases when his suspicions about Jimmy's sexuality are finally proved to him.
The film is at its most intriguing when it shows how Peter used the mere fragments available to assemble Jimmy's story: climbing up a rickety old ladder to peer through a window in Jimmy's old neighbourhood, Peter matches the skyline to a dogeared photo, locating his precise former digs. But for all of the discoveries that he does make, much remains unsaid, and unseen.
There is plenty of archive footage to keep things moving at a brisk pace, but there is absence and quietude where the spirit of Jimmy ought to enter the frame; cinematographer Bret Hamilton shoots an entire sequence of silent, empty rooms at the McDowell house in Champaign, Illinois. Some efforts are made to fill this void, through the opening title sequence and with a beautiful short flourish at the film's end, both animated by Vietnamese filmmaker Triet Le, who finally brings Jimmy and his lover to life. Remembered and re-imagined, Jimmy's shadow becomes Peter's light.
Production companies / sales: Peter McDowell, jimmyinsaigon@gmail.com
Producers: Peter McDowell, Lucia Palmarini, Dan Savage, Peter Schulman
Cinematography: Bret Hamilton
Editing: Kelly Creedon, Liz Kaar
Music: John McDowell, Sabina Sciubba