A Russian teen endures a deeply troubled relationship with his mother in Ivan I. Tverdovskiy's latest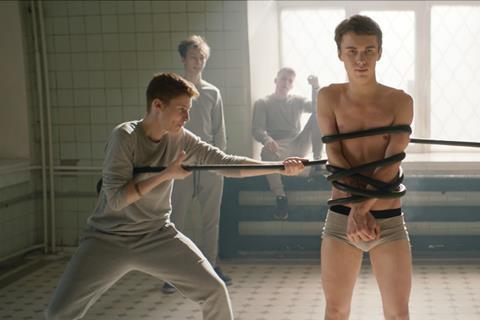 Dir: Ivan I. Tverdovskiy. Rus-Lith-Ire-Fr. 2018. 90mins
Karlovy Vary favourite Ivan I. Tverdovskiy follows up Zoology with a very different animal, a lean and mean thriller that offers a potent indictment of the endemic corruption in Russian society. With Tverdovskiy's growing reputation and some saleable thriller tropes, Jumpman could build upon Zoology's theatrical showing, with healthy festival attention a given.
Continues the director's interest in the travails of outsiders in Russia's cruelly conformist society
While lacking the audaciousness, devilish wit and sheer strangeness of the earlier film, which won Karlovy Vary's special jury prize in 2016, Jumpman does continue the director's interest in the travails of outsiders in Russia's cruelly conformist society. It also notably shares a pessimistic theme with Andrey Zvyagintsev's Loveless; namely that their country has become so morally bankrupt that parenthood itself has become affected. With his twisted imagination, Tverdovskiy gives his errant mother the attributes of a femme fatale.
It's hard to believe, but the image that so strikingly opens the film is culled from something that actually exists, controversially, in Russia and a few other countries: the baby hatch. When a woman drops her unwanted child into what looks like a rubbish chute, there is none of the Dickensian pathos of a child in swaddling clothes left outside a church door, and the screams from behind the closed lid are incredibly disturbing.
The hatch is attached to an orphanage, where, 16 years later, Oksana (Anna Slyu) returns to retrieve her son Denis (Denis Vlasenko). This blonde, youthful, self-consciously sexy woman offers no guilt, regret or excuse, only a keen desire for custody of her all-too-willing teen; when it isn't granted, she breaks him out of the institution. If Denis were a little older and wiser, he might have observed the warning signs.
Denis suffers from congenital analgesia, an inability to feel pain that his fellow orphans test and bet upon in a manner that, however Denis may or may not physically feel, is certainly painful to watch. Oksana intends to exploit the condition to more yet more nefarious ends – enlisting him in a criminal scam (again borrowed from reality) in which he jumps in front of speeding cars in order to blackmail the hapless drivers who hit him. Denis is now part of a gang that involves a judge, lawyers, police and a doctor – every one of them corrupt, and who depend on the boy to literally jump into harm's way, time and time again.
The teenager's exploits are jaw-droppingly well executed. Once the scam is established, however, the plot is pretty much over. In keeping with a certain crime thriller template, as long as Denis delivers his bruised and broken body, his criminal buddies applaud and mummy loves him with a scantily-clad fervour that is borderline incestuous. When he fails, he's "trash" – a word of shuddering resonance given his first experience of Oksana's disinterest.
Tverdovskiy presents a closed milieu of designer bars, sleek cars and caricatured corruption, in the midst of which Vlasenko's sweet-faced and goofily naïve Denis cuts an increasingly sad figure. The director orchestrates some memorable set-pieces, not least a fantasy in which Denis's body reacts to its abuse in spectacularly gory fashion. The most powerful moments, however, involve the emotional gulf between mother and son, and the latter's heart-breaking need for human connection. "I love you so much," croaks Oksana, the sentiment negated by the fact that she's blind drunk and urinating in the street. "I waited so long to hear those words," his mournful reply.
Meanwhile, Tverdovskiy's political intent is bluntly voiced by an intended victim who keeps eluding the gang. "There are jumpers and those who make others jump," he says. "There are millions of jumpers."
Cinematographer Denis Alarcón Ramírez alternates between raggedy handheld and sumptuous composition, which has the effect of flipping the film between realism and noir, while composer Kirill Richter's synth and strings lend layers of dark atmosphere to proceedings.
Production company: New People Film Company, Film and Music Entertainment, Tremora, Arizona Productions
International sales: New Europe Film Sales jan@neweuropefilmsales.com
Producer: Natalya Mokritskaya, Uliana Savelieva, Mila Rozanova, Mike Downey, Samantha Taylor, Ieva Norvielene, Guillaume de Seille
Screenplay: Ivan I. Tverdovskiy
Production design: Olga Kovalenko, Ekaterina Shcheglova
Editing: Ivan I. Tverdovskiy
Cinematography: Denis Alarcón Ramírez
Music: Kirill Richter
Cast: Denis Vlasenko, Anna Slyu, Danil Steklov, Pavel Chinarev, Vilma Kutavičiútë